The American Frozen Food Institute (AFFI) concluded its annual AFFI-CON convention on February 28 and announced that attendance topped 1,500 over the four-day event in San Diego, California. It brought together over 600 companies from across the global frozen food supply chain.
"More and more consumers have turned to frozen food in recent years and the category has experienced exceptional growth as a result," said AFFI President and CEO Alison Bodor (pictured above).
"There has never been a better time for frozen food," she added. "Category sales grew an astounding $19.4 billion between 2018 and 2022. At the same time, today's core consumer base includes the Millennials and Gen Z audience who represent a bright future of growth opportunities as they turn to its convenient nutrition."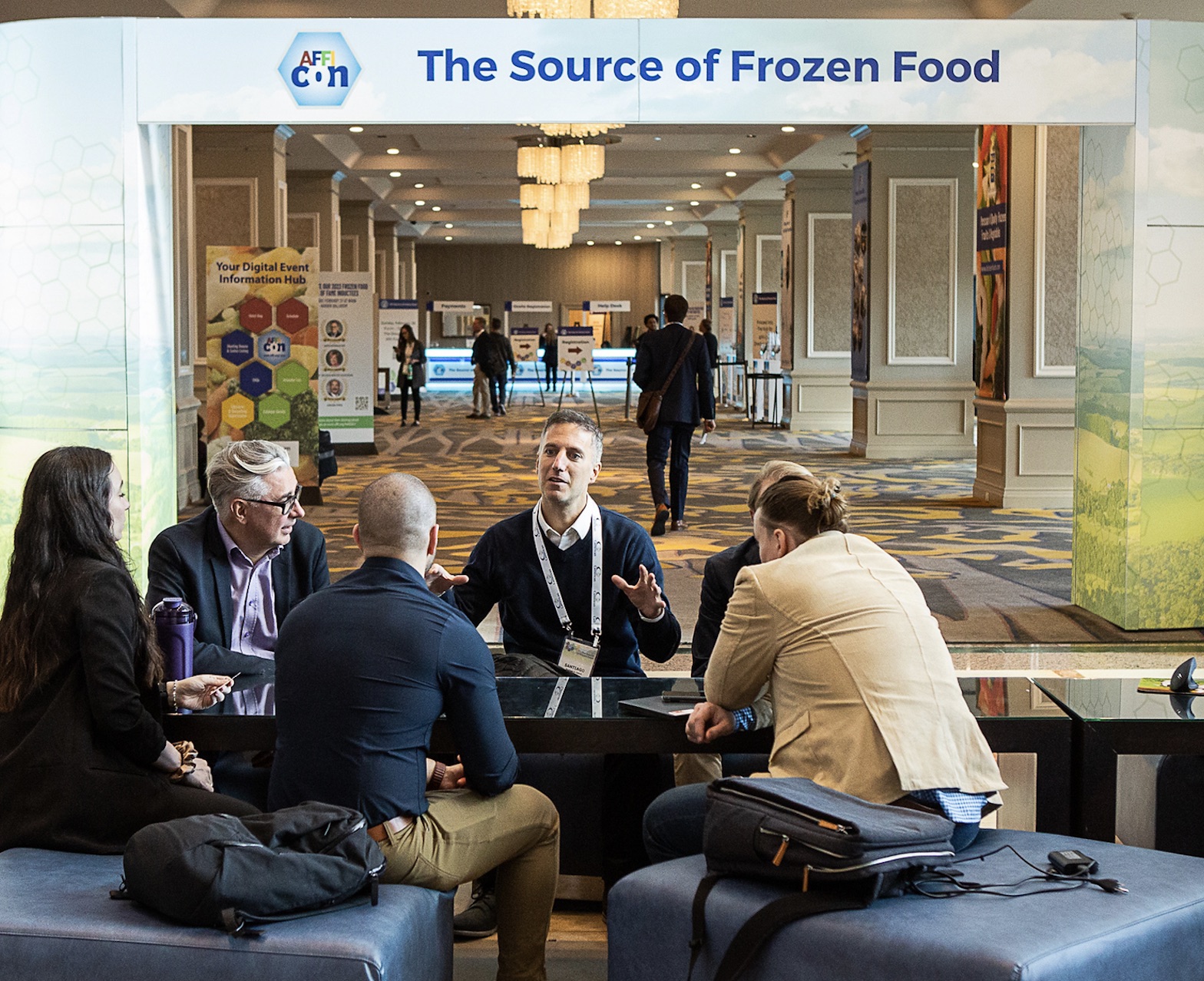 Board of Directors Officers Elected
Also at the conference, AFFI processor membership unanimously elected a new slate of officers for the board of directors. The following persons were nominated and elected to the board for a one-year term for 2023:
•  Chair: John Tentomas, President and CEO, Nature's Touch Frozen Foods
•  Chair-Elect: Suvan Sharma, CEO, Jain Farm Fresh Foods
Immediate Past Chair: Julia Sabin, Vice President of Government Relations, The J.M. Smucker Co.
The following members were elected to the executive committee to serve a one-year term:
•  Tracey Beck, Vice President, Chief Counsel – Marketing & Government Affairs, Conagra Foods
•  Rick Drummond, Senior Vice President of R&D, Quality and Consumer Affairs, B&G Foods
•  Tony Shurman, President & CEO, Jasper Wyman & Son
Jeff Varcoe, Vice President, Manufacturing Technical Services, Schwan's Company
The following were elected to serve on the AFFI board for the 2023-2026 term:
•  Gary Crowder, President and CFO, Smith Frozen Foods
•  Adnan Durrani, Founder and CEO, Saffron Road
•  Brian Fox, CEO, Richelieu Foods
•  Kelley Martin, Vice President of Sales for North America – Foodservice, Nortera Foods
•  Suvan Sharma, CEO, Jain Farm Fresh Foods
•  Terry Stover, Vice President of Special Markets, Ebrofrost/Riviana Foods
•  John Tentomas, President and CEO, Nature's Touch Frozen Foods
Michael Thomas, Vice President of Corporate Purchasing, Ajinomoto Foods North America
"The AFFI board of directors provides the strategic vision and oversight that guide the industry through future challenges and opportunities. Their time, dedication and expertise help our association be the effective advocate for all segments of the frozen food and beverage industry," stated Bodor."
Three Zerocrats Inducted
AFFI-CON 2023 also included a special celebration of leaders who helped transform the frozen food landscape and develop productive teams. Bodor led the induction ceremony for the Distinguished Order of Zerocrats' Frozen Food Hall of Fame Class of 2023. This year's inductees are Ed Flanagan, former President and CEO of Jasper Wyman & Son, Leslie Sarasin, President and CEO of FMI – The Food Industry Association, as well as former President and CEO of the American Frozen Food Institute; and Dave Yanda, former President and CEO of Lakeside Foods.
Looking ahead, AFFI-CON 2024 is scheduled to take place February 24-27, 2024, again in San Diego. For more information about the event, visit www.affi.org/affi-con.

Building a Healthier Future During Frozen Food Month
Meanwhile, one day after the conclusion of AFFI-CON 2023, the American Frozen Food Institute commenced celebration of March Frozen Food Month by spotlighting the ways frozen help build a healthier future for families and households across the country. The many positive attributes of frozen food allow for shoppers to enjoy delicious food and nutrition solutions, all while reducing their food waste at home.
"With the diverse options available in the frozen food aisle, the category offers a range of solutions to help families enjoy mealtime," said AFFI President and CEO Alison Bodor. "Frozen food can help shoppers better access the nutrition solutions that work with their needs and conveniently prepare meals despite a busy schedule."
Frozen foods are an important part of the kitchen for Americans due in part to features such as a longer shelf life and easy-to-follow preparation instructions. Category sales have grown by more than $19 billion since 2018, reaching $72 billion in 2022, and virtually all households (98.6%) report purchasing frozen products at least once a year. As policymakers and thought leaders look to ways to further advance long-term public health and dietary goals, AFFI stresses some of the top ways frozen food can play a supporting role, as detailed below:
Frozen Food Helps Consumers Overcome Barriers to Healthy Eating
A 2012 study by the US Department of Agriculture (USDA) identified barriers faced by participants in the Special Supplemental Nutrition Assistance Program (SNAP) that prevent them from having access to a nutritious diet. Identified barriers included a lack of cooking capabilities and lack of time to prepare foods. Frozen food helps households due to its cost efficiency, reduced preparation time, and minimal equipment needs. Frozen produce is peeled and chopped in advance, which provides additional convenience to consumers and removes one more barrier to healthy eating. At the same time, pre-packaged servings allow for portion control, an important factor in helping consumers meet caloric goals, and include a variety of options to meet varying cultural norms.
Frozen Fruits and Vegetables Make Produce Consumption Easier
Frozen food helps facilitate increased access to produce consumption. When consumers have various forms of fruits and vegetables available in their home, their produce intake increases1. Plus, research shows that the nutritional value of frozen fruits and vegetables is equal to, and in some cases better than, fresh produce. Freezing is simply nature's pause button and a natural way to lock in the freshness and nutrition of fruits and vegetables.
Frozen Food Helps Consumers Reduce Food Waste
Consumers throw out up to $2,275 worth of food each year, which translates to both an environmental and financial cost. With an extended shelf life and pre-portioned servings, households are able to only prepare what they need. This means reduced greenhouse gas emissions from landfill usage and cost savings for shoppers.
A complete suite of informational resources detailing the benefits of frozen food can be found online at www.frozenadvantage.org.