Alpha Foods has unveiled a brand portfolio renovation marked by its recent partnership with Every Co. (formerly Clara Foods), in addition to an upcoming collaboration with Just Egg (the US market leader in plant-based egg innovation) and the integration of new high-moisture extrusion (HME) technology into its production process.
The revamp, announced by the Glendale, California-based company on July 17, is driven by consumer and retailer input suggesting that the plant-based food category is in need of a refresh and more convenient and accessible high nutrition products.
Alpha's incorporation of high-moisture extrusion techniques in processing its plant-based Chik'n Strips has resulted in end products that cook, shred and taste like their animal-based counterparts. The technology integrates a specialized cooking and stirring method at high heat and pressure, resulting in products with fewer ingredients while maintaining uncompromed nutrition, including higher protein content, lower carbohydrates and fewer calories.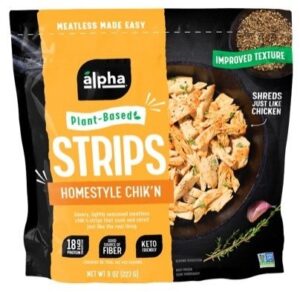 The Homestyle Chik'n Strips provide 18 grams of protein, 7 grams of carbohydrates, and 160 calories per serving. Among other new products, Alpha has brought out a plant-based Chik'n & Maple Waffle Sandwich. Still more debuts are scheduled later this year.
Meanwhile, Alpha is also renovating its core range with formulation changes that provide more nutritional eating at a reasonable price point. All-Day Burritos, for example, now have an enhanced meaty and cheesy flavor profile. Original Chik'n Nuggets and Crispy Chik'n Patties will also be updated with a formulation refresh that improve juiciness and flavor.
"These partnerships with Just Egg and Every Co., combined with our use of our new HME protein and enhanced formulations, will enable us to continue bringing innovative, craveable, and delicious products to our consumers, thus solidifying Alpha's position as a leader that continues to create the most convenient and accessible options in the plant-based market," said CEO Cole Orobetz. "These partnerships are key to our company's growth and contribute to raising awareness about the continuous innovation needed within the plant-based category."
Alpha products are available nationwide in the United States, with a presence at 11,000 retail outlets including Costco, Sprouts, Kroger, Whole Foods, Safeway and H-E-B, among others. They are also distributed through various foodservice channels, including the military, colleges and universities.