Shaking, flaking and baking at the Ardo stand during the recently held Anuga trade fair in Germany was a tasty assortment of frozen herbs and seasonings. Newly launched offerings are distributed in 50-, 75- and 100-gram boxes designed for opening at the top to scoop out measurements by the spoonful, and also for tapping on the side to sprinkle smaller amounts as desired.
The selection of herbs features chives, parsley, basil, coriander and garlic, as well as Provence, All Italiana and Green Herb Mixes. Seasonings include red chili, ginger, shallots and onion.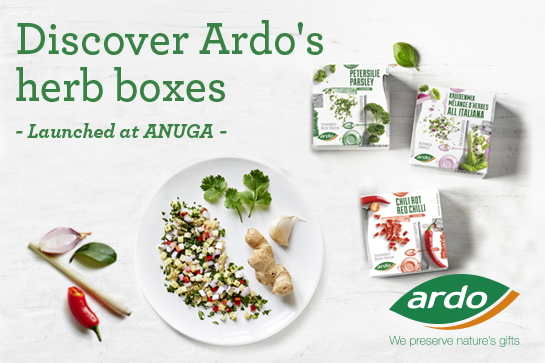 The fine herb varieties from Ardooie, Belgium-headquartered Ardo are primarily sourced from ideal growing areas in France and the United Kingdom. They are carefully selected at harvest time, cleaned and further prepared for deep-freezing to preserve freshness for an extended period of time.
Noting that these herbs offer consumers a robust way to enhance flavor in meals while reducing salt intake, Ardo adds that taste, color and aroma are indistinctive from non-frozen offerings on the market. At the same time, there is zero waste and no chopping is necessary in the kitchen.
Among other newly introduced items now being marketed by Ardo, though not yet available in 50- to 100-gram boxes, are Thai Herb and Tartare Herb Mixes. The Thai recipe, boasting an Eastern mélange of ginger, coriander, shallots, chopped lemongrass, crushed lime leaf, garlic and red chili, is presented as an "outstanding seasoning for Thai dishes, soups, sauces and marinades." The second offering is profiled as "the perfect base for a delicious tartare sauce. Just add some mayonnaise and stir to make an ingredient for a traditional 'steak tartare' or for use in fish dishes."