Ardooie, Belgium headquartered Ardo N.V., Europe's largest producer and supplier of sustainable frozen vegetables, fruit and herbs, will be in high profile in Hall 4.2, Stand E011 during the October 10-14 Anuga food trade fair in Cologne, Germany. Innovative chefs will be on the scene each day preparing creative dishes featuring Ardo's wide range of ingredients – which include herbs, purees, pasta and mushrooms as well as hundreds of mono and mixed vegetable and fruit offerings – for show-goers to see and sample.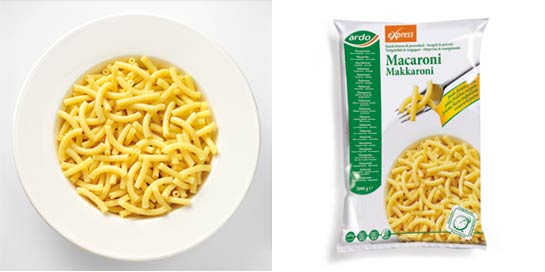 New product launches in 2015, such as Macaroni, will be spotlighted at the exhibition. The al dente pre-cooked pasta can be served cold or quickly heated to make the classic Macaroni & Cheese dish or another popular hot recipe.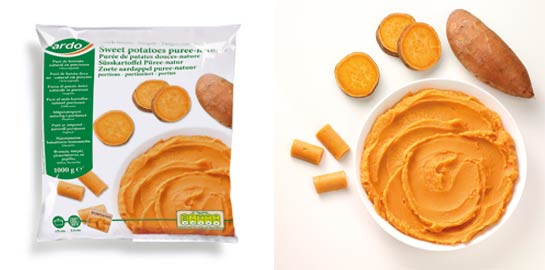 Sweet Potato Mash
As sweet potatoes are such a hit, the company has expanded its range of vegetable mashes to include a sweet potato mash that can be simply seasoned or served with cream or cream cheese, according to taste. The product is an ideal base for soups and dips.
Pre-Cooked Quinoa
Quinoa, the "pseudo-cereal" originating in the Andes Mountains, is classified as a "super food" as it is extremely nutritious. Rich in high-quality proteins, dietary fiber, vitamins and minerals, it is also gluten-free and an ideal vegetarian substitute for meat. Ardo's quinoa is pre-cooked for use in a wide variety of quick-to-prepare hot and cold dishes.
The Belgian professional trade fair organization Horeca Expo has saluted Ardo's quinoa with the presentation of a Pioneer Award for being the most innovative product within the food category.

Herbs, Spices and Seasonings
Following the merger with Dujardin Foods, a number of new flavoring ingredients have been added to the Ardo portfolio. The foodservice range is available in resealable 250g bags and includes all of the favorite classics, as well as several spicy seasonings. The assortment of herb mixes has also been expanded to include several trendy mixes, such as Mix Salsa Mexicana, Mix Smoky BBQ and Persillade. The Bio line, meanwhile, consists of four organic classics. Furthermore, the food industry range is now even wider, with exotic and pure flavorings to suit every dish.