Ben & Jerry's has added two more core flavors to its extensive collection of certified vegan, super premium non-dairy desserts.
Non-Dairy Boom Chocolatta is a mocha and caramel frozen delight with fudge flakes, gluten-free chocolate cookies and a gluten-free chocolate cookie core, while Non-Dairy Bananas Foster has a banana and cinnamon base with almond toffee pieces and a salted caramel core. Both have a spoonable center that goes straight down the middle of the pint. "Core" flavors are the result of a Ben & Jerry's innovation that allows treat lovers to customize each bite.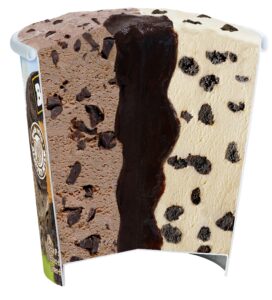 "We know that people who choose non-dairy frozen desserts love variety," said Dena Wimette, head of Innovation at Burlington, Vermont, USA-headquartered Ben & Jerry's. "They want to avoid dairy and still have amazing taste. These two new flavors will satisfy their cravings for something different and delicious."
Ben & Jerry's began making non-dairy frozen desserts in 2016, due to rising demand. There was even a petition from fans pleading their case! Since then, the company's non-dairy strategy has been to offer classic favorites with an almond or sunflower base, and some new flavors created exclusively for the line.
Boom Chocolatta and Bananas Foster bring Ben & Jerry's non-dairy options to a total of 18 in the United States – almost 40% of the entire range of flavors. In addition to being non-dairy and vegan, both new additions are also certified gluten-free. 
"Our flavor gurus believe in creating concoctions for all. "We want everyone to be able to have some Ben & Jerry's joy, including those who choose gluten-free," said Wimette.
Pints of Boom Chocolatta and Bananas Foster will be on store shelves soon, priced at between $4.49 and 5.79.