Cavendish Farms has announced plans for construction of a potato research and plant-breeding center in New Annan, Prince Edward Island (PEI), Canada. The $6 million facility, which is fully funded by the company, is an investment in the sustainability of PEI's potato industry. Scheduled to open in 2020, it will and create four fulltime jobs and up to 12 seasonal positions.
As witnessed over the last two summers, the growing season in the province is changing with hotter temperatures and less precipitation at critical times. This is a challenge for growers and places their potato crops at serious risk.
The new research facility, with a state-of-the-art greenhouse, will allow Cavendish Farms to conduct crucial research year-round. Different lines of potatoes with promising traits such as superior yields and a reduced environmental footprint specific to soil, climatic and seasonal conditions on PEI will be evaluated
"In the face of this changing climate, our research will be focused on high yielding potatoes that can withstand and be resistant to hot dry summers and disease pressures," said Robert K. Irving, president of Cavendish Farms. "Developing a potato variety that grows better yields in shorter seasons with less fertilizer will be beneficial to the PEI environment."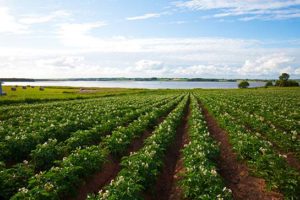 The Cavendish Farms Research Center will be studying various potato varieties. All seeds will produce a different type of plant so that the best lines can be used in future potato growing seasons.
"A locally driven approach to developing varieties that are more suitable to our specific climate will be an asset to the entire potato industry on Prince Edward Island," said Greg Donald, general manager of the PEI Potato Board.
About Cavendish Farms
A member of the J.D. Irving Group of Companies, Cavendish Farms produces a wide range of frozen potato and appetizer products for the North American and international food industry, supplying customers in the retail and restaurant sectors. It has four potato processing plants – one in Lethbridge, Alberta, and one in Jamestown, North Dakota, USA, in addition to the two facilities on Prince Edward Island. Cavendish also operates a fifth plant specializing in appetizer products in Wheatley, Ontario.