Coming on the back of recent research from Foodhub, which reports that apple pie is the most popular sweet pie in Britain, frozen food distributor Central Foods has launched a pre-sliced deep dish apple pie for the foodservice sector. The Menuserve product is packed with juicy, sliced apples encased in shortcrust pastry and is pre-portioned into 12 slices, which can be individually defrosted as required to help reduce wastage. It has a defrosted shelf-life of four days when chilled.
"It's a versatile dessert which can be included on eat-in menus in restaurants, bars, hotels, cafés and other venues and also works well as a takeaway or delivery dessert option," said Gordon Lauder, managing director of Northamptonshire, England-based Central Foods.
The deep dish apple pie, which is suitable for vegetarians, joins a top quality selection of Menuserve desserts offered by Central Foods to the foodservice industry, including roulades and cheesecake-style desserts.
Oliver Sampson Named Commercial Manager
Meanwhile, Central Foods has announced the promotion of Oliver Sampson to commercial manager. He has been with the company since 2013, originally working in sales and business development.
Central Foods managing director Gordon Lauder said: "Oli has been with us at Central Foods for more than nine years and, in that time, he has brought commitment, professionalism and expertise to each role that he has had within the company. I'm delighted to announce his appointment as commercial manager as the food service sector continues its bounce back from the effects of Covid.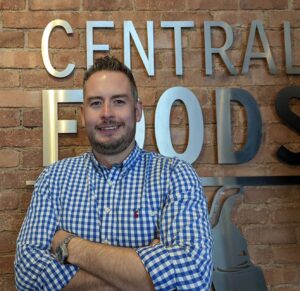 "We are in a strong and buoyant position to serve foodservice customers by continuing to offer top quality frozen food from our manufacturing partners, as well as our ever-expanding range of own-brand products, and Oli will play a key role in supporting the directors as we move forward," said Lauder.
Sampson will continue to oversee the company's business with Brakes, the UK's largest frozen food distributor, as well as taking on additional commercial duties.
Central Foods offers a wide variety of products to over 180 independent wholesalers, as well as larger national and regional wholesalers in the United Kingdom.