By John Saulnier, FrozenFoodsBiz Editorial Director
There have been a number of interesting, though not exactly appetizing, morsels of Chinese food news – or rather, food news from China – served up à la carte from PRC officialdom in the past week or so.
Let us start at the top with Chairman and CCP General Secretary Xi Jinping's clarion call for food conservation. The paramount leader is urging citizens to do their part to end the country's "shocking and distressing" food waste problem.
Another problem for the powers that be in Beijing and provincial capitals to tackle is rising food prices. The trend began before the novel coronavirus (SARS-CoV-2) contagion broke out in Wuhan and began wreaking havoc domestically early this year and has since infected populations around the world. The cost of pork, an especially popular protein in China, has jumped considerably due to African swine fever-related shortages. Increased imports have been filling some of the supply gap, and it is hoped that prices will stabilize.
More recently there has been heightened concern that extreme flooding submerging thousands of hectares of farmland along the Yangtze River basin will result in an uncontrollable surge in produce prices. According to analysts at Nomura, agricultural losses in seven southern provinces could exceed the equivalent of $1.7 billion. Shenwan Hongyuan, a Chinese brokerage firm, estimates that harvest shortfalls could result in an 11-million ton food production reduction this year.
On a positive note in Beijing, Xinhua has reported that the large Xinfadi wholesale market for vegetables, fruits and meats reopened for business on August 15 (as seen in the photo below) after being shuttered for two months following a Covid-19 cluster outbreak related in the Fengtai district area. The site, which supplied approximately 70% of the capital city's vegetables, 10% of its pork, and 3% of its beef and mutton before the shutdown, is expected to be fully operational by September 10.
However, noted the state-run press agency: "The market will cease its retail business and close doors to individual consumers after the reopening – and all sellers and buyers are required to complete real-name authentication before entering."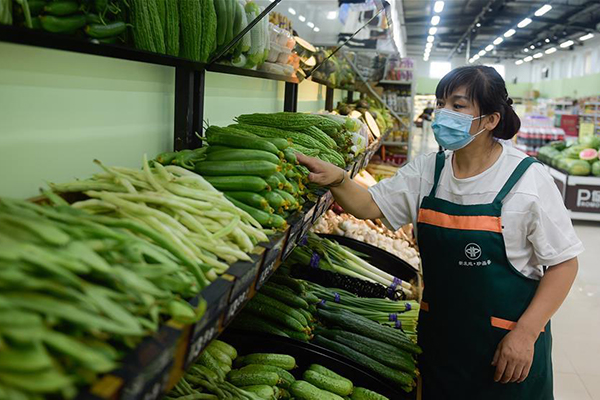 Netizens Assail the Scale in Changsha
Meanwhile, restaurant operators have heeded Chairman Xi's food conservation message by offering customers smaller portions of their favorite dishes. And it has also been observed that popular binge-eating entertainment videos have vanished or been banished from websites and online platforms since declaration of the war against waste.
But at least one eatery may have weighed in a bit too heavily with its "Operation Empty Plate" campaign zeal to appeal to party protocol. According to an Agence France Presse (AFP) report, employees at a beef specialty restaurant in Changsha asked incoming diners to step upon a scale and scan their kilo and other measurement data into a Smartphone app that recommended menu choices based on their weight. The aim was to have them patriotically contribute to the cause by being "thrifty and diligent."
The suggestion to order one fewer dish than normal apparently did not go over well with banqueting clientele, as the restaurant's management soon learned from negative commentary posted by customers and other netizens on the Weibo social media platform.
This was followed by a "Deeply Sorry" video uploaded by the restaurant to address the negative publicity on August 15. The explanation, as translated by AFP, stated: "Our original intentions were to advocate stopping waste and ordering food in a healthy way. We never forced customers to weigh themselves."
Shenzhen Authorities Clip Brazilian Chicken Wings
In other news related to the cuisine scene, customs officials and inspectors in the PRC are increasingly on the prowl for food safety breaches. Running afoul of authorities lately have been value-added foul imports from Brazil – specifically frozen chicken wings produced at a Central Cooperativa Aurora Alimentos plant in Xaiam, Santa Catarina. Authorities in Shenzhen say that a surface sample sourced from the facility tested positive for novel coronavirus contamination, and thus imports from the site have been prohibited. This followed reported detection of the bug on recent shipments of shrimp packaging from Ecuador as well as salmon from Europe and elsewhere.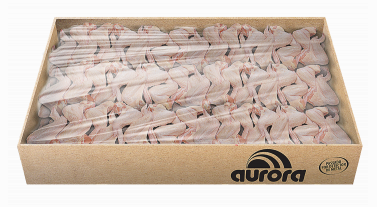 Subsequently, noted Caroline Yuen in a USDA GAIN Report issued on August 14, the Hong Kong government has enhanced sampling of frozen chicken meat from Brazil at import and wholesale levels for virus testing and temporarily suspended the license application for the import of poultry meat from the Xaiam location. The ban does not extend to other meat plants in Brazil, which number approximately 400.
The Brazilian Association of Animal Protein (ABPA) was quick to clarify that there is no evidence that the coronavirus is transmitted to consumers by food, and that it may well take the controversial issue to the World Trade Organization on grounds that the ban in the PRC "lacked a scientific base."
Furthermore, Brazil's Agriculture Ministry has pointed out that Shenzhen authorities have stated that other samples from the same shipment tested negative. It also emphasized that meat plants in Brazil follow stringent sanitary procedures to assure products for both export and domestic consumption are safe.
Nonetheless, Aurora has announced that it begin testing approximately 11,000 workers for Covid-19 in Xaiam as well as at three other production sites on August 21.
Brazil ranks as the No. 1 exporter of frozen chicken by far, generating $6.3 billion in sales during 2019, or almost 37% of the total export market value. It is the third-largest poultry supplier to Hong Kong, with shipments valued at US $306 million last year. That compares with $349 million and $486 million in sales, respectively, rung up by the United States and mainland China in the market last year.

"Frozen meats have sold well since the pandemic arrived in Hong Kong in January 2020, because more people are buying online and purchasing frozen meats, which have a longer shelf life," reported Yuen.
Interestingly, if not coincidentally, the USDA predicts that China's domestic production of chicken meat is could hit a record 14.85 million tons this year. At a time when pork prices have spiked, this could be good news for price-sensitive consumers partial to poultry. The development may not bode so well for chicken product exporters to the PRC.
Recently, according to the USA Poultry & Egg Export Council (USAPEEC), China's importance to chicken producers in the United States has risen significantly. From January to June of this year shipments to mainland China increased from zero to 205,896 tons, while exports to Hong Kong fell from 136,671 to 55,749 tons. Overall, broiler exports to the entire China/Hong Kong market increased from 136,671 tons to 261,645 tons.