Vancouver, British Columbia, Canada-headquartered Daiya Foods, a maker of dairy-free products that melt, taste and stretch like dairy-based cheese, has collaborated with Beyond Meat, a producer of 100% plant-protein meat alternatives, to extend its frozen pizza line. The result is a new Supreme Pizza offering that combines Daiya's dairy-free Mozzarella-style Shreds with Beyond Meat's meatless sausage, peppers, onions and tomato sauce atop a gluten-free crust.
"At Daiya, we are passionate about producing delicious products that are also dairy-, gluten- and soy-free, and contain no animal products, cholesterol, trans fats or preservatives," said Michael Lynch, vice president of marketing.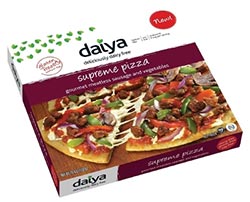 "Beyond Meat is happy to provide plant-based meats for those seeking to reduce their intake of animal protein," said Ethan Brown, the Los Angeles, California-based company's chief executive officer and founder. "With Supreme Pizza from Daiya, consumers can conveniently enjoy their favorite pizza now topped with meat (substitute) made from plants, containing all the protein and taste found in meat, but with none of the saturated fat, cholesterol, antibiotics, hormones or GMOs."
The suggested retail price for Daiya Supreme Pizza is $8.99. The new product joins five existing take-and-bake pizza varieties including Cheeze Lover's, Margherita, Fire-Roasted Vegetable, Mushroom & Garlic, and Pizza Bianca, available at retail stores in North America.
Daiya's other dairy-free foods include recently launched Cheezecakes in four flavors, in addition to its core line of dairy-free Shreds, Blocks, Slices and Cream Cheese Style Spreads.

Established in 2009, Beyond Meat is a privately held company backed by investors who include Bill Gates, Twitter co-founders Biz Stone and Evan Williams, Honest Tea founder Seth Goldman, Kleiner-Perkins Caufield & Byers, Morgan Creek Capital, Closed Loop Capital, and the Humane Society of the United States.