DOM International Limited of Toronto, Ontario, Canada won the "Best New Retail" award in the 2022 Seafood Excellence competition at the Boston Seafood Show on March 13 for its frozen Reserve Singles Salmon Poke marinated in lime and soy sauce. 
Distribution to supermarkets, grocery stores and other sales points is in 22-ounce (625g) packs contains five thaw-and-eat servings. The product is promoted as "perfect for meal prep, a quick lunch, or an impressive dinner whether enjoyed in a wrap, salad, or bowl."
Taking the "Best New Foodservice" award was Native Hebridean Smoked Scottish Salmon from Bakkafrost. The hand cured fillets are gently smoked in traditional pebble-lined kilns using wood shavings of aged Scotch whisky barrels for a traditional and unique taste of the islands off the northwest coast of Scotland.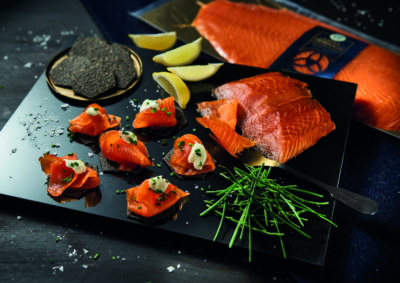 Winners were selected from a group of finalists during a live judging at the Boston Show (formally known as Seafood Expo North America/Seafood Processing North America) by a panel of seafood buyers and industry experts from the retail and foodservice sectors Among panelists were representatives  from BJ's, Albertsons and Levy Restaurants.
Finalists were previously selected through a screening of products participating in the SENA Showcase. The New Product Showcase features seafood products, condiments and culinary dishes launched in the past year by exhibiting companies.
The 2022 edition of the Boston Seafood Show, which is produced by Diversified Communications, runs for three days through March 15.