Georgia (…the road leads back to you…) is most definitely on their minds! Farm Rich will go NASCAR Sprint Cup Series racing once again, returning to David Ragan's No. 34 Ford in the company's and the driver's home state.
The frozen snacks and appetizers brand will be the primary sponsor of Ragan's Ford Fusion at Atlanta Motor Speedway on August 31 for the Atlanta 500. The 28-year-old Ragan hails from Unadilla, Georgia, and is proud to have a Georgia-based partner at his home track.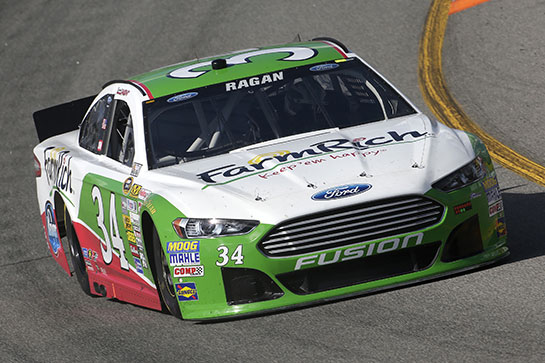 Retail supermarket chain Kroger is teaming up with Farm Rich for the Atlanta race week, hosting Ragan for autograph appearances and other in-store promotions in the Atlanta area during the weeks leading up to the race. The Kroger logo will appear on the No. #34's rear quarter panel.
Farm Rich is also partnering with Atlanta Motor Speedway for the "Ultimate Fan Giveaway," which will award a lucky winner with a four-pack set of VIP tickets to "Club One" at the speedway for the Sunday night race on Labor Day weekend. The luxury suite offers an ultimate spectator experience, including the track's only rooftop observation deck available to fans. NASCAR fans may enter the Ultimate Fan Giveaway via the Farm Rich Facebook page at facebook.com/FarmRichSnacks. They can also follow all the race-week activity on Twitter at @DavidRagan.
The 28-year-old Ragan hails from Unadilla, Georgia, and is proud to have a Georgia-based partner at his home track.
"The Atlanta race is special to me every year, of course, because it's my home state and Atlanta Motor Speedway is one of the tracks where I grew up racing," Ragan said. "Farm Rich has been a great partner, really embracing the sport and its fans, and this race will be a big deal for them because of its Georgia ties. You can call us the 'Georgia home team' that week."
"Racing fans across Georgia and around the country love to support David, and he has a great reputation among fans and fellow drivers. We're thrilled to support him and the 'Georgia home team' once again, in one of NASCAR's biggest races of the year, and right here in our own home state," said Shannon Gilreath, Farm Rich senior brand manager. "We can't wait to see the Farm Rich No. 34!"
About Farm Rich
Farm Rich (www.farmrich.com), a brand of Buffalo, New York-headquartered Rich Products Corporation, is based in St. Simons Island, Georgia, and features a portfolio of snack and appetizer products sold at grocery and club stores throughout the USA. The brand has partnered with Front Row Motorsports and Ragan in previous races, including a May 2013 trip to Victory Lane at the Talladega Super Speedway in Alabama.
About Kroger
Kroger's Atlanta division is one of the largest retail grocery chains in the southeastern United States, with over 184 stores covering Georgia, eastern Alabama and South Carolina. Recognized by Forbes magazine as the most generous company in the nation, its charitable efforts focus on hunger relief, K-12 education, and women's health initiatives.
About Front Row Motorsports
Front Row Motorsports is an organization that competes in the NASCAR's premier Sprint Cup Series, fielding the No. 34 of David Ragan, the No. 38 of David Gilliland and the No. 35 Ford. The team is owned by Bob Jenkins and is headquartered just outside of Charlotte, North Carolina. FRM was named to INC Magazine's "INC 5,000" list in 2012, recognizing the 5,000 fastest-growing private companies in the United States. The team's partnership base is representative of more than $200 billion of the USA's economy and includes organizations such as Ford Motor Company, CSX Transportation, Love's Travel Stops, Farm Rich, Taco Bell and Long John Silver's.