The shopping is sure to be quite serious, not casual, among those attending the first ever Casual Dining show in the United Kingdom, slated for February 26-27 at the Business Design Centre in London. While some buyers may be dressed casually, each and every one will no doubt be going about their business in a decidedly non-casual manner, deliberately seeking out good deals after listening to the spiels of sellers of food, drink, equipment and services.
Catering specifically to the business needs of operators of casual dining restaurants [a market segment positioned somewhere between bargain-priced fast food fare and upscale fine dining cuisine], the inaugural trade event is targeting Britain's £6.7bn casual dining sector with a myriad of services from 120 exhibitors.
Among them will be a number of leading suppliers of value-added frozen and chilled potato products, including Aviko BV. Visitors to the Steenderen, Holland-headquartered company's Stand U121 will be able to rock 'n' roll into its 1950s-inspired "Aviko Diner," where a wide range of premium french fries will be served.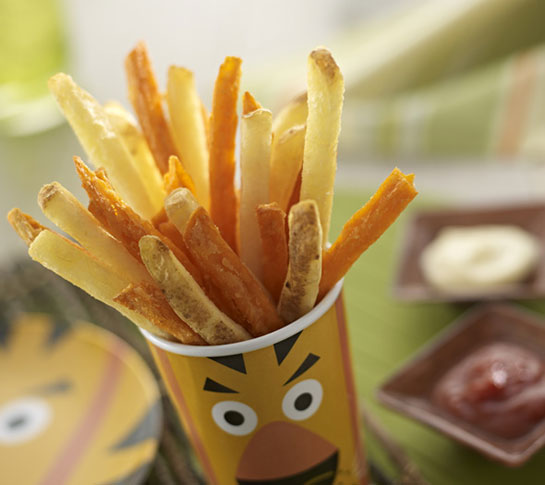 Aviko's Tiger Fries presentation will be available to sample at the Casual Dining show.
With the rise of the "posh nosh" trend, Aviko's premium fries reportedly have been growing in popularity as side dishes for casual dining outlets across the United Kingdom. Whether operators are looking for a point of difference through crunchier, longer, healthier or rustic fries, Aviko has a full range to satisfy each need.
"Fries account for a massive 72.3% of the 1.86 billion servings of potato products in the out-of-home market in the UK, and the average portion generates a phenomenal gross profit," according to Mohammed Essa, Aviko's general manager in Britain. "Superior versions can really add another dimension to a dish, and with Horizon's Menurama identifying gourmet fast food such as burgers and hot dogs as the fastest-growing menu items, there has never been a better time to trade up in fries."
Visitors who step into the "Aviko Diner" will be able to sample the spud specialist's Sweet Potato Fries, Supercruch and Superlongs, among other products. Supercrunch Fries feature a thin batter coating that delivers a crisp, crunchy texture, while retaining heat up to 50% longer than standard fries. Superlongs are longer than average, meaning operators will be able to get more portions per kilogram and better plate coverage. They come in two varieties: Original (in 7.4mm and 9.5mm cuts) and Skin-on (9.5mm and 11mm cuts).
Aviko's Sweet Potato Fries have a dramatic orange-hue visual impact. They can be mixed with golden-colored Skin-on Superlongs to create Tiger Fries, a creative presentation concept developed for children's menus.
Dedicated to the foodservice sector as well as retail segment, and ranked as the fourth largest potato processors in the world, Aviko offers a wide assortment of both frozen and chilled potato specialties ranging from hash browns and hash brown bites to premium fries, mash and roast potatoes.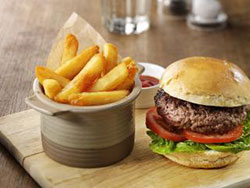 McCain Gastro Thick Cut Chips pair well with thick burgers and other casual dining menu offerings.Scarborough, Yorkshire, England-headquartered McCain Foodservice (GB) will spotlight the two latest additions to its premium Signatures product range at the London venue, namely Gastro Thick Cut Chip and Skin-on Fry, both of which have been developed specifically for the casual dining sector. Show-goers visiting the company at Stand G1 will have the opportunity to taste each product, as well as see them being cooked and served seasoned in a number of creative ways.
"Together they are the perfect pair for operators who demand convenient, high quality solutions to meet increasing consumer demand for a casual dining style experience," said Rebecca Rowlands, McCain Foods' profit sector product manager.
Launched to help operators achieve menu standout with a premium chip offering, Gastro Thick Cut and Skin-on Fry are formulated to deliver consistent quality, while offering restaurateurs the ability to customize with house seasonings, and complement a wide range of main meal items while increasing operational efficiency and profit opportunities.
"Our research shows that consumers place huge emphasis on the quality and choice of chips (fries) they are served when eating out of home in casual dining environments," said Ms. Rowlands. "Differentiated chip options that are unique to the operator, either through cut size, toppings or seasonings, are also popular within casual dining outlets. The launch of McCain Signatures Gastro Thick Cut Chips and Skin-on Fry means that we can make it easier for operators to meet the specific requirements of casual dining consumers. Our two new premium products are intended to help operators deliver menu stand out, whilst helping to increase operator profits, as a result of customer satisfaction and by delivering operational efficiencies."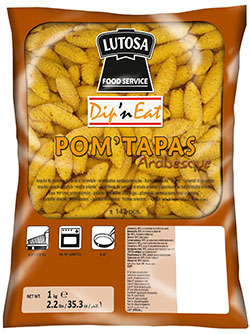 Pom'Tapas Arabesque, distributed under Lutosa's Dip'n Eat range of foodservice products, is among a raft of products aimed at the casual dining market.Leuze-en-Hainaut, Belgium-headquartered potato specialist Lutosa, which was acquired by McCain Foods last year, will be on the scene at Stand U104 with a cornucopia of products. Among them will be Rustic Slices, which are promoted as "perfect for sharing platters or as a new alternative to fries." Made from Bintje variety spuds, they are cut extra thick, with skin-on to maximize flavor. Preparation is quick and easy, either by frying or oven baking.
Also on tap under Lutosa's Dip'n Eat range will be Pom'Tapas Arabesque in one-kilo foodservice packs. The pre-fried finger food snack is seasoned with coriander, cumin, curcuma, pepper, fennel seed, aniseed, allspice and celery seed. It joins other ethnic Dip'n Eat Pom'Tapas, which include Sirtaki- (Greek), Argentinean- and Italian-style offerings.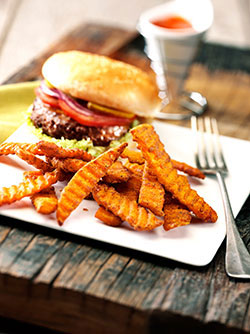 Sweet'n Savour Sweet Potato Fries will be one of many value-added spud offerings showcased by Lamb Weston at the London event. The product was a Taste 13 award winner at last October's Anuga exhibition in Cologne. Kruiningen, Holland-based Lamb Weston will hold forth at Stand U408 with three new ranges to see and sample. Sweet'n Savour Sweet Potato Fries are said to "add a unique and exciting twist to any menu," while Potato Dippers are promoted as a "perfect sharing and dipping experience." Then there are Mini Cheese Balls, which come in three flavors: Cheddar, Cheddar & Onion and Gouda & Jalapeño.
In addition to value-added potato items, other frozen products on exhibit will range from pasta and pizza to seafood, baked goods, ice cream and additional desserts.
Offingen, Germany-based Keck Spezialitäten GmbH will be showcasing precise portion pouches of IQF pasta, noodles and rice at Stand U228. The size and weight of the pouches are customized to meet individual requirements, and may be personalized with logos. Furthermore, chefs will find it convenient to prepare the portion pouches without the need for precooking.
If fish is your dish, then check out what Pacific West Foods (UK) has to offer at Stand U101. Among new additions to its range of value-added frozen seafood products is Prawn Kiev. The butterfly shrimp are marinated in garlic, herbs, and a buttered paste, prior to being hand-coated in Panko breadcrumbs. Distribution is in cases containing 10 boxes of 500 grams, 20 pieces per box.
On the poultry front, Milton Keynes, England-based Plusfood UK will be presenting its Hot 'n' Kickin' Chicken range at Stand U223. Incorporating 100% breast meat fillets, goujons and poppin' chicken, plus chicken wings, enrobed in Plusfood's signature crispy coating, all products in the line are quick and easy to prepare.
Ypres, Belgium-based Pidy (Patisserie Industrielle Dehaeck Ypres) will be presenting two new products at Stand U537, namely its Spicy Cup Canapé range, featuring African Falafel, Asian Curry, Mexican Chili and Southern Pepper flavors; and a pre-baked frozen sweet sable assortment.
Ice Cream and frozen dessert manufacturer Silver Pail Dairy of Country Cork, Ireland, will showcase its assortment of award-winning products, including Glenown Farm French Vanilla Ice Cream and Raspberry Sorbet (winners of Great Taste Gold Star awards in 2013). A new opulent ice cream dessert range will also be available to sample at Stand U127.
Purbeck Ice Cream of Wareham, Dorset, England, will be exhibiting its award-winning Dorset Blue Vinney Ice Cream and Dorset Watercress Ice Cream at Stand U139. Each treat may be served with starters, offered as a main course, or presented as a traditional dessert, and is available in retail packs as well as catering size boxes.
Among other frozen food producers and equipment suppliers that will show their stuff at the Casual Dining event are: Nestlé Professional, with an extensive range of cakes, pies and other sweet treats; pizza manufacturer Chicago Town; baked goods maker The Artisan Bakery; freezer technology specialist Gram UK Limited and commercial refrigeration expert Adande Refrigeration.
The Casual Dining event will also feature speakers and panel discussions. Among those providing insights on the restaurant industry will be Jens Hofma, ceo of Pizza Hut UK; Alex Reilly, managing director of Loungers; Andrew Guy, ceo of Ed's Easy Diner; and Peter Martin, vice president of CGA Peach.
The show is organized by Diversified Communications UK Ltd (Diversified UK). The company is a division of Diversified Communications, which puts on seafood industry exhibitions in Boston, Brussels and Hong Kong, among other B2B events around the world.
Registration information for Casual Dining is available by contacting Chris Brazier, group event manager, via e-mail at: cbrazier@divcom.co.uk