Flavourites, a new frozen finger food range from Frostkrone, is made using a special technology that allows the size and weight of products to be flexibly adapted in line with customer requirements. There is also a high degree of flexibility when it comes to the choice of ingredients.
In catering to the finger food and snacks segment, a category that is quite trend-oriented, there exists a large number of possibilities for new product development and production.  As such, the Reitberg, Germany-headquartered Frostkrone Food Group is now offering three finger food variations in the Flavourite style:
• Crispy Cream Cheese Jalapeños Pops. This crunchy coated treat (pictured above) features the hot piquancy of the jalapeños paired together with the mild and velvety aroma of cream cheese.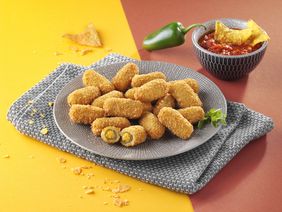 • Crispy Nacho Cheese Jalapeños Bites. These are a little bigger than the Pops described above. Their crispy coating surrounds hot and tangy jalapeños and aromatic Nacho cheese.
• Crispy Cream Cheese Paprinos Pops. The crispy coating is followed by a sweet and spicy combination of red cherry peppers and cream cheese.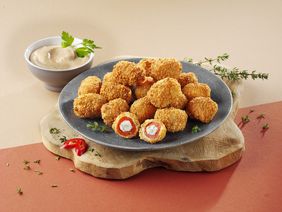 The Flavourites variations may be prepared in conventional ovens or in deep fryers and consumed as a finger food, snack or side dish with salads or burgers.
Founded in 1997, the Frostkrone Food Group operates production facilities in Germany, France, Great Britain and the USA. From the beginning it has concentrated in creating innovative frozen convenience food products for customers in both the retail and foodservice sectors.