As price inflation and the cost of living crisis continues to pinch the budgets of consumers in Britain, the frozen pizza sector has benefited from shoppers seeking value options in supermarkets and other grocery stores.
According to figures shared by Kantar with the British Frozen Food Federation (BFFF), the frozen pizza segment in the United Kingdom has experienced continued growth, with retail sales value increasing by 7.9% over the 12-month period through November 11, 2022 – rising from £562,281 to £606,629.
The Aldi discount chain reported a 30% surge in sales of its frozen and fresh pizzas in 2022, as savvy shoppers enjoyed fakeaways at home. Future Markets Insight attributes growth in the category to consumers' rising demand for ready-to-cook options that require minimal preparation.

HFSS Impact
The restriction of HFSS (high in fat, salt or sugar) products by location came into force on October 1, 2022, as part of the UK Government's plans to tackle the obesity problem. This means food and drinks that are high in fat, salt or sugar content must be moved away from checkout counters in supermarkets and cannot be placed at the ends of aisles or at store entrances.
This could have a major impact on the retail frozen sector as the ice cream and pizza categories are worth over £1.9 billion to retailers, accounting for over 26% of the frozen category (Kantar), and are driven by promotions in aisle-end cabinets, which will be banned under the new legislation. According to Neilsen, the frozen pizza category generated over 60% of its volume on deals offered by the top four retailers during the 52-week period that ended on June 11, 2021.
The BFFF predicts that these regulations will drive major changes in space allocation in the category, as retailers try to counter lost volume from end cabinets. Despite the fact that HFSS products will not be present in gondola ends, demand will remain strong for these products.
"Retailers will need to ensure that traditionally HFSS sectors are clearly signposted and additional point of sale prompts might be needed to ensure best-selling HFSS products remain top of mind for the shopper," said Kate Forbes, senior category manager at Birds Eye. "Bringing these sectors to life is key and will require creative thinking to engage the shopper through in-store POS or by using more technological solutions, such as digital screens. Merchandising disciplines are also key for sectors such as pizza – penny stacking is a common hindrance on look and feel and could be addressed to bring the fixture to life."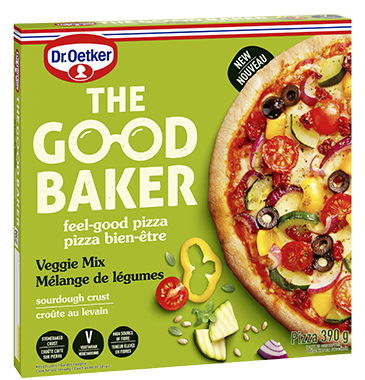 The HFSS restrictions are likely to drive brands and retailers focusing on healthier options within the frozen sector. The Good Baker "better-for-you" pizza range from Dr. Oetker is a prime example of a brand introducing SKUs that not just comply with the new HFSS regulations, but are aimed to appeal to younger shoppers by offering quality and sustainable products.
Once again Aldi is proving to be a trail blazer in the sector, winning a gold award in Best New Pizza/Bakery Retail Product of the Year competition for its Bacon Double Cheeseburger with a Cheese Stuffed Crust pizza.
Pitting its fakeaway frozen pizza range against high street restaurants like Zizi, Aldi introduced the Carlos Sharing Pizza priced at £2.49. Branded as a colossal sharing pizza, which serves up to four people, flavor selections include The Big Cheese and Triple Pepperoni.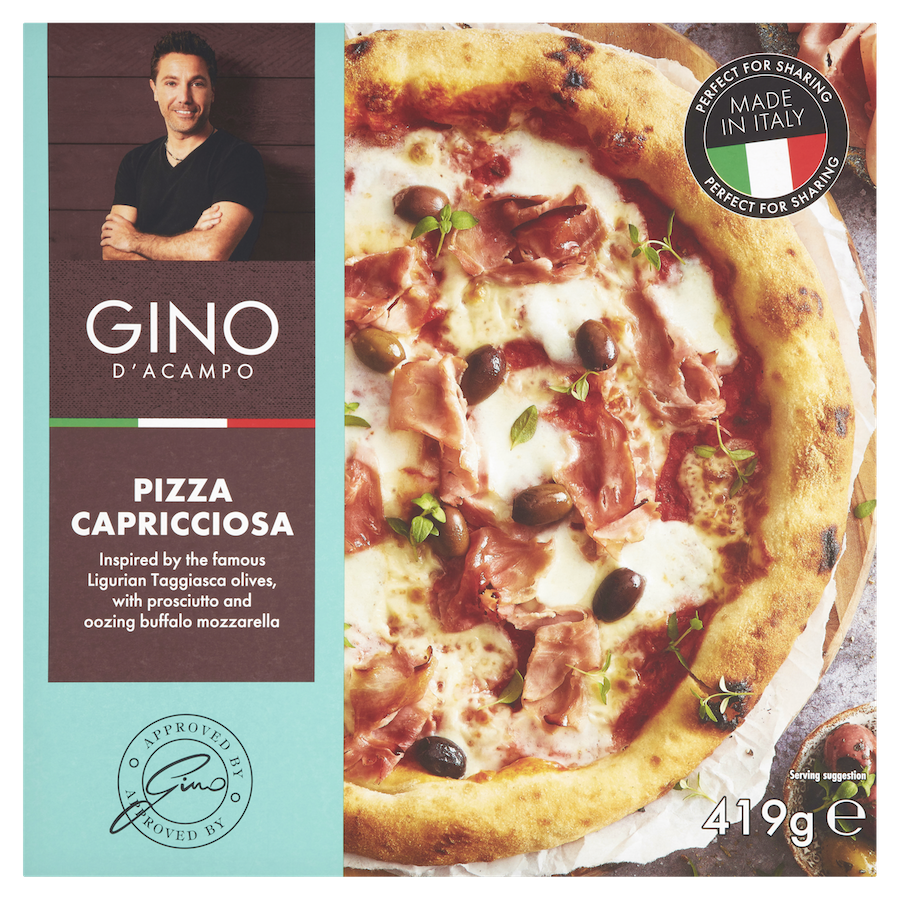 Leading frozen pizza manufacturers have been focusing on new product launches that offer variety in terms of size, flavor and crust. Meanwhile, retailers including ASDA and Iceland have unveiled celebrity-endorsed products, such as the Gino D'Acampo's pizza line. With the power of social media and celebrity endorsements, this is a trend that is likely to continue moving forward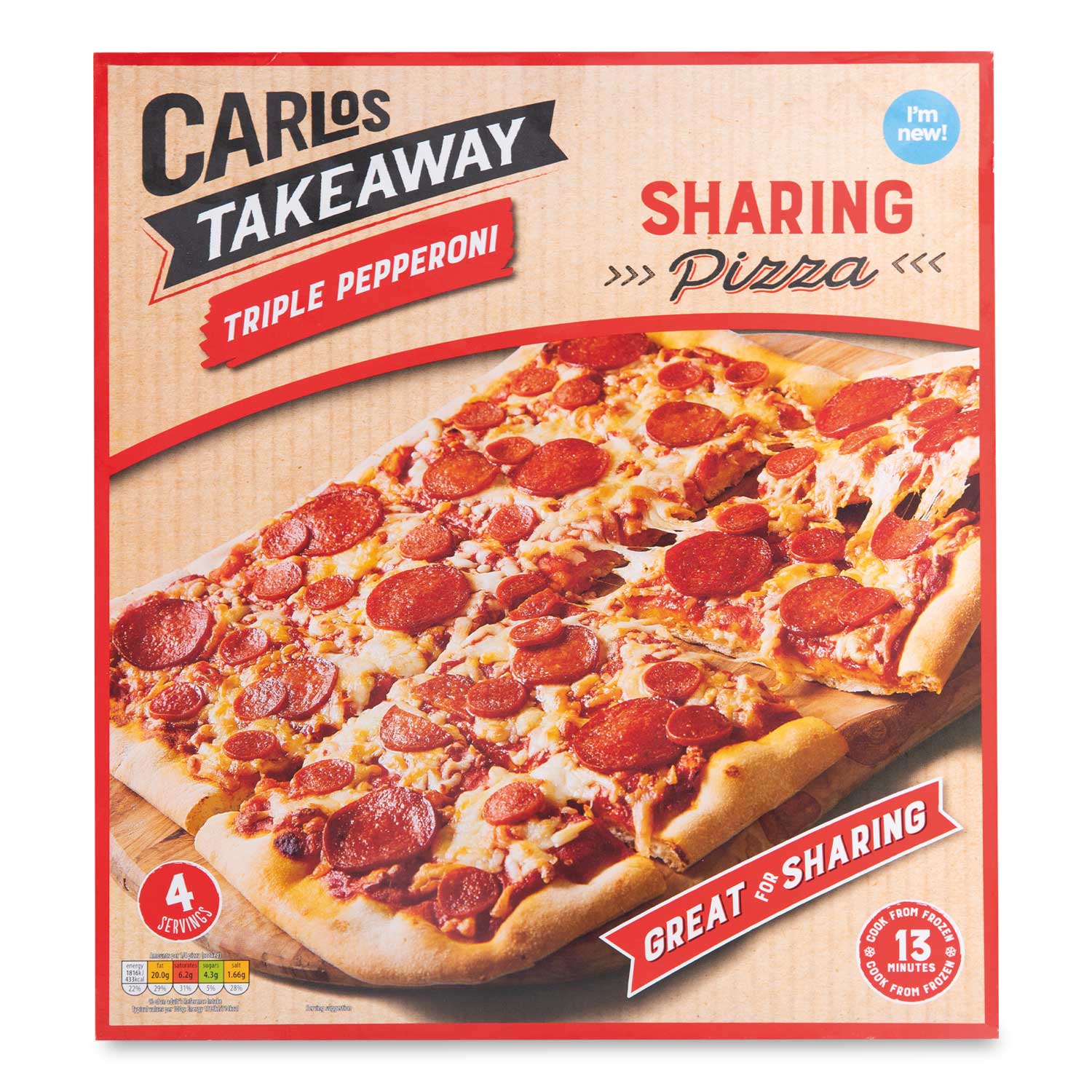 Appealing to time-strapped consumers, Aldi also debuted Carlos Takeaway Microwave Pizzas in 2022 at a budget friendly £1.49. Taking just four minutes to prepare on a supplied microwaveable dish that ensures a crispy result, they are available in three flavors: Classic Cheese, Peppery Pepperoni or All American Cheeseburger.
Dr. Oetker's Chicago Town brand has introduced premium tiers to its popular Takeaway and Deep Dish ranges. New to Takeaway and offered at a fraction of the price paid for pizza on the high street, the Weekender delivers all the indulgence and taste of a takeout product, with two tempting topping choices: Salt and Pepper Chicken and Philly Cheesesteak.
New to Deep Dish, The Ultimate One serves up two new flavor choices aimed at younger clientele looking for interesting ingredients: Chilli Pepper Crust with Picante Nduja, and Black Pepper Crust with Peppered Cheesesteak. Both offerings are in compliance with HFSS parameters.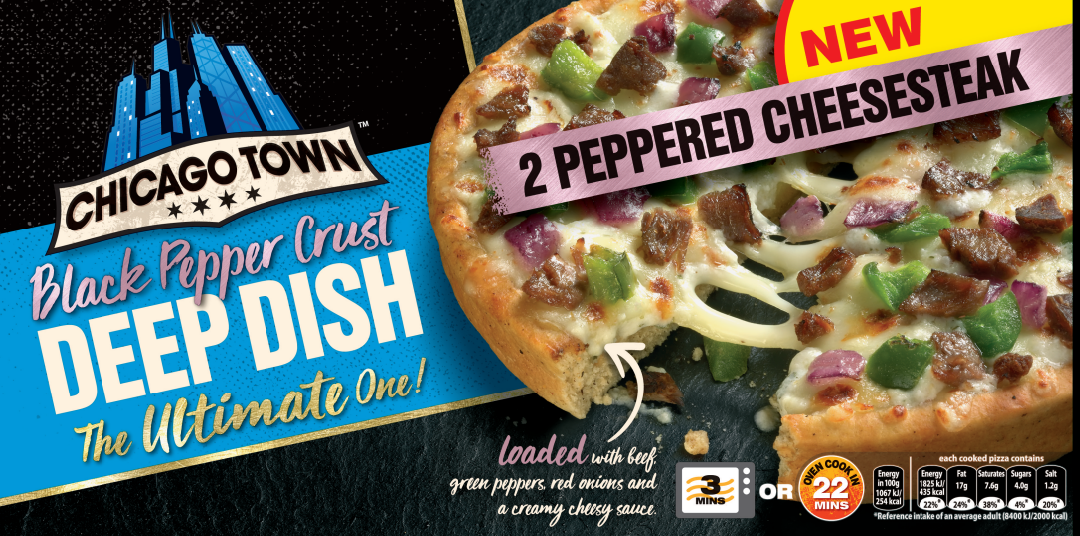 "Innovation is crucial to our brand growth strategy," said Paula Wyatt, head of pizza marketing for Chicago Town and other Dr. Oetker frozen pizza brands. "We know that consumers are really motivated by 'new,' and look to us for exciting new pizza experiences. Investing heavily into research, we regularly send our entire team to Chicago to gather first-hand insight and pull in pizza experts. This has allowed us to deliver our most ambitious program of new products in some time, bringing first to the frozen category flavors like Nduja, Philly Cheesesteak and Salt and Pepper Chicken."
She added: "We know more and more consumers are discovering that frozen food offers outstanding quality, great value and now more than ever can help manage household budgets. Our aim is convince more pizza lovers to look to frozen."
Meeting demand for additional vegan options, Dr. Oetker launched a new addition to its meatless pizza range – the Meat-Free Chicken Style Pizza. Available at Morrisons and Sainsbury's for an MRRP of £3.50, the HFSS-compliant offering combines the brand's signature stone-baked crust with creamy mozzarella, marinated chicken-style pieces, peppers and red onions.
"This product launch is an exciting step in The Good Baker's journey, and we're still just getting started," said Wyatt. "We're confident that it will be hugely popular with consumers, bringing even more choice to those on a vegetarian diet, or looking to reduce their meat intake."
With new product development focusing on variety, health and value, the UK frozen pizza category looks set to continue on an upward trajectory.
– Reported by Sarah Welsh