A different kind of "March Madness" countdown is now taking place in Boston. No, it's not for looming St. Patrick Day festivities on the 16th (Erin Go Bragh!) or for the beginning of NCAA men's basketball Tournament action shortly thereafter. The clock is ticking for those awaiting the opening day of the Seafood Expo North America and Seafood Processing North America, formerly known as the International Boston Seafood Show, which will take place from March 16-18 at the Convention & Exhibition Center (BCEC) near South Boston's waterfront.
More than 1,090 exhibitors and approximately 19,000 buyers and sellers from around the world are expected to attend the 33rd running of the annual event, which will showcase processing equipment, packaging and logistics services in addition to finished products, raw materials and ingredients for the fish and seafood industry. Exhibiting companies hailing from 47 countries will occupy in excess of 197,000 net square feet of space at the record-breaking event, which is up by 11,200 square feet and more than 80 exhibitors in comparison with 2013.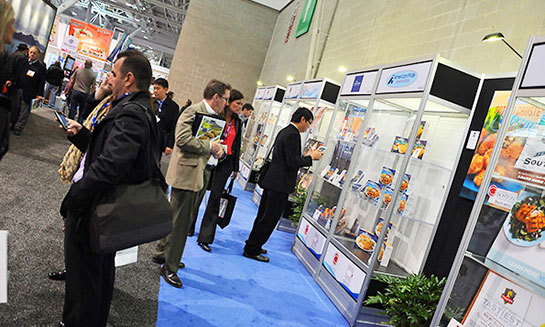 "We are excited by the interest of companies who have signed up for the 2014 expo, especially in times when the economy in the United States has been slowly recovering," said Liz Plizga, director of the show organized by Portland, Maine-headquartered Diversified Communications.
"For over three decades, the exposition has lured thousands of seafood buyers, processors and suppliers from around the world to meet face to face, do business, and make connections in Boston," continued Ms. Plizga. "Seafood Expo North America is truly an international event. Reports indicate that just over 90% of seafood consumed in the US is imported. This is reflected by this year's expansion of international exhibitors including companies from Colombia, Denmark, Estonia, Greece, Maldives, Myanmar and Portugal."
The increasing demand to do business in North America is met with the presence of high-volume buyers looking for new products, ideas and technologies emerging into this market. Companies represented at the event this year will include Aramark, Au Bon Pain, BJ's Wholesale Club, Captain D's Seafood, Costco, Darden Restaurants, Delhaize America, Disneyland, Legal Seafoods, McDonald's Restaurants, Loblaw Companies, Metro AG, MGM, P.F. Changs, Red Lobster, Safeway, Sam's Club, Shaw's Supermarkets, Sodexo, Target, Walmart, Whole Foods Market and many more.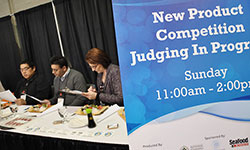 A highlight of the trade show is always the prestigious Seafood Excellence Awards competition, and this year's "Final 10" list of new product contenders contains, as usual, a number of innovative frozen items. They range from Aqua Star Harvest Grain Wild Alaskan Cod to King & Prince Seafood Bacon Wrapped Stuffed Shrimp in the retail category, to foodservice sector entries Flame-Seared Guinness Barbeque Glazed Atlantic Salmon from High Liner Foods, Freskot Seafood Burgers from Freskot USA/Kontoveros SA, and Handy International's Fiesta Chipotle Fish Cakes. Winners will be announced during an awards ceremony at 3:30 PM on March 16 in the BCEC's Demonstration Theatre.
A synopsis of the hot competition being waged in the frozen department follows.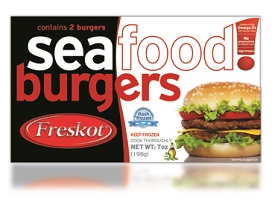 Imported from Kontoveros SA of Athens, Greece, Freskot USA's Seafood Burgers are formulated to be a healthier alternative to traditional BBQ fare. Enriched with Omega-3 and made of premium Octopus vulgaris, New Zealand Arrow Squid (Nototodarus sloanii) and a proprietary mix of herbs and spices, the product is said to be ideal for consumers who chose to add more seafood to their diet. The burgers are positioned to offer a tasty alternative to red meat, with identical look, preparation and serving methods.
Based in Waldwick, New Jersey, Freskot USA distributes a wide assortment of Mediterranean-inspired heat-and-serve frozen seafood meals as well as burgers and sausages. Its products range from calamari croquettes and seafood risotto to octopus with onions and cuttlefish with spinach.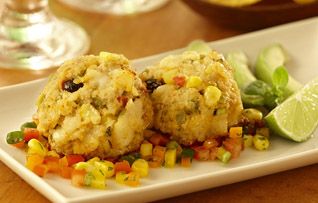 From Salisbury, Maryland, Handy International will be on hand with Handy's Fiesta Chipotle Fish Cakes. Said to be made especially to allow consumers to "enjoy a culinary journey to the American southwest," they feature a combination of flaky Pacific cod and zesty chipotle chili peppers with cumin, coriander, lime, cilantro, black beans and corn.
Bacon-wrapped Stuffed Shrimp from Brunswick, Georgia-based King & Prince Seafood is promoted as ultimate party food. "We take large shrimp and stuff them with cream cheese and a touch of jalapeno for just a bit of kick, and then wrap them in apple wood-smoked bacon," said Mike Tigani. "Our bacon-wrapped shrimp bake up quickly in the oven, with crispy bacon on the outside and succulent shrimp with a slightly spicy, creamy center on the inside."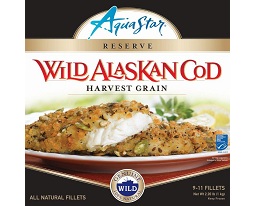 Seattle, Washington-headquartered Aqua Star, meanwhile, is in the running for a prize with its hand-cut Wild Alaskan Cod Fillets, dipped in a healthy coating of oats and seeds (flax, sunflower, poppy, pumpkin). The fillets, frozen at sea to lock in freshness, contain no artificial colors, flavors or preservatives.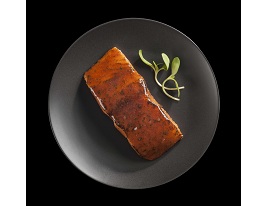 Portsmouth, New Hampshire-based High Liner Foods' Flame-Seared Guinness Barbecue Glazed Atlantic Salmon is a premium seafood product made from salmon fillets that are drizzled with a glaze spiked with real Guinness, the world's top-rated stout beer. Blending original Guinness Irish Stout with salmon follows previously successful pairings of the dark brew with cod, tilapia and shrimp.
Pasta del Mar from Shenzhen, Guangdong, China, will be also be on the scene competing for an award. Produced by Gradient Aquaculture Ltd., a Hong Kong-registered company, the product features a rich mixture of 45% seafood ingredient content.
One more contender, Secaucus, New Jersey-based Uoriki Fresh, Inc., is serving up "Sushi at Home", a turnkey retail program designed for supermarkets. It promises to deliver incremental sales to seafood departments by delivering products not previously available. Uoriki Fresh offers the highest possible certification for a food processor – SQF 2000 Level 3 – assuring consumers the "absolute safest sushi items." The program includes proprietary, ultra-low temperature retail freezers, first-fill, in-store marketing, demo programs and more.
Of course there will be plenty other new products and tried and true established fare at the show that, while not up for Seafood Excellence Awards, are nonetheless highly creative in preparation and extraordinarily innovative in presentation.
Among tried and true, tested and trusted high-value shellfish offered will be wild-caught, sea-frozen black tiger shrimp (Peneaus monodon) distributed under the Prim7Stars brand by Hendrik Ido Ambacht, Holland-headquartered Primstar BV. The top quality shrimp is sourced from its Nigeria-based partner, Atlantic Shrimpers Limited (ASL).
Other products marketed by Primstar include white shrimp (Litopenaeus vannamei) farm raised in Ecuador, as well as crab, cuttlefish and various species of finfish.
On the surimi front (once-frozen only, not twice!) Gadre Marine Export Pvt. Ltd. of Ratnagiri, Maharashtra, India, will be promoting a number of value-added, ready-to-eat seafood products. Its range runs the gamut from surimi-based crab claws and sea sticks to lobster and prawns.
As for genuinely new products at the show, though some may have been introduced previously to the foodservice sector before entering the retail realm, here's a rundown on what to look for in Boston:
Seafarer brand 1.5-pound "Family Pack" Crab Flavored Seafood Flakes & Chunks (surimi) made from wild-caught Alaskan Pollock and Pacific Whiting. Produced by Sumner, Washington-based Shining Ocean, Inc. and shipped frozen, the "heart-healthy" product is low in fat, with zero trans-fats, and high calcium.
SeaWings Giant Calamari Fries from Baltimore, Maryland-headquartered Phillips Seafoods, Inc. Cut from the thick tube walls of giant squid (Dosidicus gigas) harvested from the Peruvian coast, the Calamari Fries are lightly tossed in corn flour and sprinkled with salt and other seasonings. They go from freezer to fryer in as little as three minutes, and may be positioned as an alternative to traditional french fries, or served as an appetizer or as part of a main dish.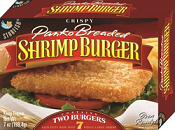 Panko Breaded Shrimp Burgers in retail packs were recently launched by Portland, Oregon-headquartered Starfish Inc., the value-added products division of Pacific Seafood. Previously available only to foodservice operators, the offering features seven Vannamei white shrimp in each burger.
"We do not use fillers, and the consumer experiences whole shrimp in each bite," said Bob Leavengood, national sales manager. "The retail pack consists of two 3.5-ounce crispy panko breaded shrimp burgers that are processed in the USA. Ready to serve in minutes, they have been very well received in preliminary trials."
Retail packs of Mussels in Mexican-style Sauce from Wilmington, Delaware-based Bantry Bay America Inc. The mussels are sourced from Ireland.
Teriyaki Tuna Patty from Azuma Foods International Inc. of East Rutherford, New Jersey.
Glacier 51 Toothfish, billed as "the first ever branded Patagonian Toothfish (aka Chilean Seabass) fillet to be sold in USA," from Austral Fisheries of Mt. Hawthorn, Western Australia.
Propeller Clams from Bedford, Nova Scotia, Canada-headquartered Clearwater Seafoods. Harvested from North Atlantic waters, the shellfish delicacy bears distinct yellow-white and red-orange colors.
Matlaw's Chorizo Stuffed Clams from Gloucester, Massachusetts-based National Fish & Seafood, Inc. Distributed in retail six-packs, the product features spicy Spanish chorizo pork sausage flavor, blended with golden breadcrumbs, minced red and green peppers, celery and chopped clams stuffed into a natural clam shell.
San Diego, California-based Bumble Bee Foods' SuperFresh Salmon features high quality fish that's cleaned, cut and frozen within hours of being harvested. The salmon is chef-prepped with all natural ingredients such as extra virgin olive oil, basil and parmesan cheese. Just bake the fillets in the included parchment paper. The gluten-free and preservative-free product goes from freezer to table in 20 minutes or less.
That's not all, folks! You will have to go to Boston to see and sample the even greater abundance of frozen seafood bounty available to buyers. –JMS