The frozen food market in India was valued at US $1,204.30 million in 2021 and is anticipated to grow with a compound annual growth rate (CAGR) of 8% to reach $1,841.28 million by 2027, according to a new report available from Dublin, Ireland-headquartered Research and Markets.
The high demand for convenience food items, changing lifestyles, and increasing product innovation are the key factors driving the demand. Growth in the reach of the e-commerce industry in every corner of the country due to high Internet penetration and proliferation of smart devices is accelerating the purchase of frozen products, as well as the rising expenditure capacity of consumers. The demand for processed food is driven by the busy lifestyle of consumers and the surge in population of working women in the country.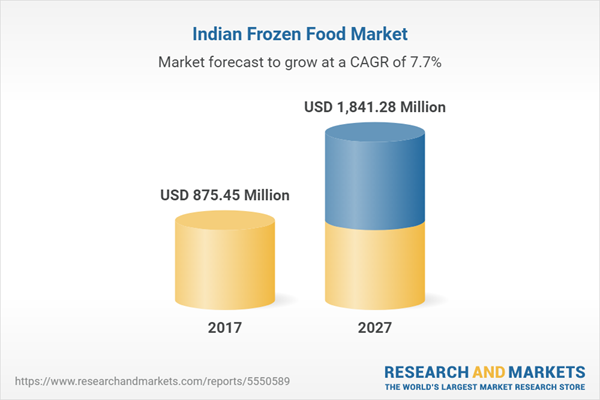 The frozen dairy and dessert segment held a market share of 6.84% in fiscal year 2021 and is expected to witness the fastest incremental growth over the next five years. Meanwhile, the increasing importance of healthy food items is stimulating sales.
The Indian Frozen Food Market is segmented into product, distribution channels, company and regional distribution, by states. Categories covered include meat and seafood, fruits and vegetables, ready meals, snacks, desserts and dairy.
Among major companies operating in India's frozen market are McCain Foods, Godrej Tyson Foods Limited (Real Good Chicken and Yummiez), Innovative Foods Limited (Sumeru), Venky's, Mother Dairy Fruit & Vegetable Private Limited (Safal), ITC Limited (ITC Master Chef), Hyfun Frozen Foods Pvt. Ltd. (HyFun),Top Fresh International Private Limited, Darshan Foods Pvt. Ltd (Meatzza) and Swadhika Foods.
For more information about the 78-page India Frozen Food Market Report 2022-2027, visit https://www.researchandmarkets.com/r/kyti0e