Kidfresh, the kid-friendly line of frozen food products featuring hidden vegetables in every bite, has added two new entrees to its portfolio of Wagon Wheel Mac & Cheese bowls: Cheeseburger Mac & Cheese and Cheese Pizza Wagon Wheels.
The New York City-headquartered company's first-to-market Cheeseburger Mac & Cheese nods to the classic cheeseburger with signature wagon wheel pasta in a cheddar cheese sauce made with antibiotic-free beef, cheddar cheese and concealed carrots, while the Cheese Pizza Wagon Wheels offering boasts a blend of wagon wheel pasta with mozzarella cheese and pizza sauce made with hidden beets and carrots.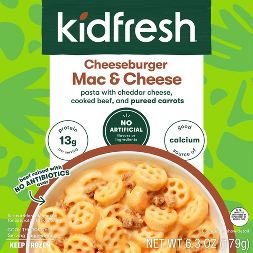 Taste and nutrition are paramount when it comes to Kidfresh recipes. Both entrees, which are free of preservatives and artificial ingredients, feature 13 grams of protein and are good sources of calcium. The producer engages panels of children aged 6-8 to taste test and provide feedback on every new product.
"Too spicy? More sauce? Our team adjusts it to their liking, because after all, kids are the toughest critics," said Lindsay Kaden, vice president of marketing and innovation. "We know kids love Cheeseburger and Cheese Pizza and knew they would make great additions to our line. Wagon Wheel Mac & Cheese is a family favorite and we're thrilled to be expanding the platform with new flavors."
Both of the new products are now available at supermarkets and grocery stores crossed the USA for a suggested retail price of
$4.59.