From BuzzBar special edition Larry King Heart Bars to Elegant Brie's Mushroom, Garlic and Scallion Baked Brie, the just concluded 60th Summer Fancy Food Show in New York City was buzzing with creative new products and tasty retro recipe dishes, many of which are distributed in frozen form. Running for three days, June 29 to July 1, the event was bustling with buyers among the estimated 24,000-plus visitors from 80 countries who showed up looking to wheel, spiel and seal a good deal.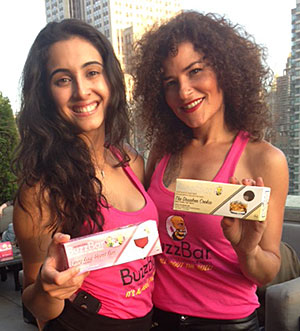 The Inglewood, California-based BuzzBar team, which specializes in marketing alcohol-infused ice cream bars for adults, used the occasion to launch, in cooperation with American celebrity TV host Larry King, a dairy-free berry sorbet and merlot wine frozen concoction. The spiked bar, produced in El Paso, Texas, features vino blended with blueberries, strawberries, raspberries, blackberries and absolutely no high-fructose-free corn syrup. The result is a highly flavorful, slightly intoxicating treat (2.4% alcohol content per 3.4 ounce bar) loaded with anti-oxidants, but just 60 calories per pop.
The second vegan flavor on the BuzzBar shelf, after Citrus Berry Drop, it joins an original six-pack of premium flavors that range from Bourbon Street Chocolate (chocolate ice cream and whiskey) to Vanilla Daze (vanilla ice cream and Cognac).
A portion of the revenues generated from Heart Bar sales benefit the Larry King Cardiac Foundation. The non-profit organization is engaged in facilitating life-saving treatment for people who might otherwise not be able to receive adequate medical care.
BuzzBar is targeting a wide market, ranging from retail stores and foodservice operators to bars, nightclubs, hotels, sports arenas and outdoor events. Bob Shimmin of Concessions Guru is zeroing in on entertainment venues worldwide, with particular emphasis on cinemas.
The new company, which began business operations in March, did not compete in the Sofi Awards competition held in conjunction with the show, but perhaps it should have. Well, maybe next year.
As for this year, out of 2,737 product entries, only 125 qualified for final consideration, of which just 32 received Sofi Awards after rigorous judging by a panel of highly regarded food professionals.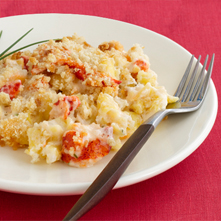 Winning the Gold Award in the Outstanding Diet or Lifestyle Product category was Hancock Gourmet Lobster Co. of Topsham, Maine, for its gluten-free Port Clyde Lobster Mac & Cheese. It is created with sweet chunks of Maine lobster and quinoa pasta enveloped in a creamy mascarpone-cheddar sauce made with rice flour. The topping is a crunchy mix of breadcrumbs made from corn and rice mixed with Pecorino-Romano cheese. The frozen retail product typically sells for $6.95 per nine-ounce pack.
The award, considered a top honor in the $88.3 billion specialty food industry, was presented with others in a red-carpet gala on the evening of June 30. Master of ceremonies was Chef Dominique Ansel, creator of the Cronut, a croissant-doughnut hybrid.
The competition is open to all members of the Specialty Food Association, the New York-headquartered not-for-profit trade association for food artisans, importers and entrepreneurs that organizes the Fancy Food Show. "Sofi" stands for specialty outstanding food innovation.
Receiving the Gold Award in the Frozen Savory category was Pleasanton, California-based Elegant Brie for its Mushroom, Garlic and Scallion Baked Brie. The brie-en-croute, frozen and ready to be popped in the oven product starts with creamy cheese that is loaded with sautéed, chopped and sliced mushrooms sprinkled with garlic and scallions. The result is brie that packs a mighty punch of flavor, with the rind removed for pure, melt-in-your-mouth creaminess. The hand-wrapped savory appetizer is decorated in flaky puffed pastry, and typically sells for $31.99 per 27 ounces.
It should be noted that Elegant Brie was up against tough competition from Uncle Irv's Caramelized Onion Kugel. The classic ethnic Jewish dish of central European origin features egg noodles and cream cheese custard accented with caramelized onions and roasted garlic. The gluten-free heat-and-eat, pre-baked kugel, produced by The Kugel Co., can be served as a side dish, main course, dessert or snack. It retails for about $6.29.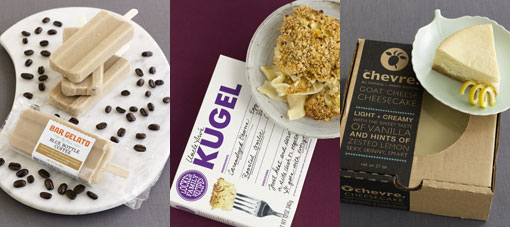 Taking the Gold Award in the Dessert or Dessert Topping category was Fromagerie Belle Chevre for its Belle Chevre Goat Cheese Cheesecake. The product, made with Alabama goat cheese and flavored with vanilla and citrus, features a light and airy texture and a graham cracker crust. Its suggested retail price is $34.95 per 27 ounces.
A product in the running that fell just a tad short of reaching the golden finish line this time around was Blue Bottle Coffee Bar Gelato from Hercules, California-based Gelateria Naia. Its flavor is enhanced by cold steeping freshly roasted coffee beans in milk to capture the rich and nutty notes from each roast. No artificial or synthetic ingredients, concentrates, or flavorings are used. The three-ounce gelato bar is conveniently packaged on a stick and contains only 105 calories. The suggested retail price is $2.50.
There were plenty of other sweet treats to eat at the show, including the latest all-natural, tea-infused ice cream creation from Norwalk, Connecticut-based Tea-Rrific Ice Cream. Its just launched Lavender's Blueberry is a floral blend of black tea and lavender with blueberry puree.
The product joins five other delights, each infused with freshly brewed loose leaf and herbal tea blends. No stabilizers, gums, high fructose corn syrup, preservatives or artificial colors or flavors are used in production.
Mario Leite, president and founder of the company, arranged for members of the FrozenFoodsBiz.com crew to enjoy an "around the world" sampling of all six products. The original lineup spans the globe in flavors to savor from Ginger Matcha (a sweet bite of fresh ginger with grassy notes of matcha green tea); London Mist (malty and citrusy notes of Earl Grey team with a hint of vanilla); Chunky London Mist (with chocolate flakes and roasted pecans for good measure); Masala Chai (blended black and rooibos tea with sweet aromatic and peppery spices); Chamomile (notes of apple and honey from Egyptian chamomile flowers).
The folks from Three Twins Ice Cream were offering show-goers bites of the Petaluma, California company's new Madagascar Vanilla Ice Cream Wafer Sandwich. It's organic, like everything else in a growing line that ranges from Vanilla Bean and Sea Salted Caramel Ice Cream to Milk Coffee, Brownie Batter Chunk, Chocolate Chip Cookie Dough, Lemon Cookie, Caramel Truffle Swirl and more.
Dimitria Delights of North Grafton, Massachusetts, was serving up samples of Dresden Stollen. Three varieties of the German classic winter holiday cake are offered: Traditional, All Natural and Mohn. Each weighs in at one pound and is loaded with fruit-soaked in rum for a week, triple-aged dough, four applications of butter, and more fruit (raisins, orange peel, cherries, pineapple, citron peel). The Mohn Stollen has poppy seed added.
Back to the center of the plate, Torrance, California-based Silver Fork Gourmet presented its retail line of seafood-based frozen entrees. Distributed in 10.6-ounce to 12-ounce packs, the growing assortment includes French Fish Market Stew (shrimp, cod fish, mussels, zucchini squash, carrots and white wine), Mediterranean Seafood Orzo, seafood Paella and Seafood Risotto.
The company, headed up by President Kim Fortune, also produces an assortment of gourmet foodservice dishes. All seafood ingredients are tracked using the globally recognized Trace Register System.
On the halal front, Shahnawaz Food of Edison, New Jersey, was dishing out "authentic taste from back home, proudly made in the USA." Its abundance of Indian subcontinenal cuisine ready meals and appetizers runs the gamut from Chicken Chalpi Kabab and Lamb Seekh Kebab to Chicken Biryani, Beef Samosa and plenty more. Distribution is in 10-ounce retail packs.
"All of our ready-to-eat products are microwaveable," said Sohail R. Siddiqui, national sales manager. "Already well represented in ethnic stores, we are now focusing more on penetrating the larger, main market supermarket outlets."
Prior to the presentation of Sofi Awards, Lifetime Achievement Awards were presented to pioneers of the industry. Five longtime shakers, movers and leaders, several of whom were on the scene when today's Specialty Food Association was founded in 1952, were honored: Anthony R. Matthews of Food from Britain, Harold Anderson of Haddon House Food Products, Russ Vernon of West Point Market, Max Ries of Reese Finer Foods, and Mario Foah of Foah International.
The next Summer Fancy Food Show is scheduled for June 28-30, 2015, again at the Jacob K. Javits Convention Center in New York City. Meanwhile, the Winter Fancy Food Show is set for January 11-13 in San Francisco. – JMS