MingsBings, a plant-based frozen food brand founded by Iron Chef Ming Tsai, will now be offered on the a-la-carte menu for suite guests and at two concession locations for the second consecutive year at Tropicana Field in St. Petersburg Florida, home of the Tampa Bay Rays Major League Baseball team.
Using his signature East meets West culinary style, Tsai blends the ancient Chinese "bing" format with familiar Western flavors, giving it a modern twist. The entire line is plant-based, gluten-free and dairy-free. Cheeseburger and Fiesta Taco MingsBings flavors will be available at Grand Slam in Right Field, Beach Drive BBQ, and in the Suite a-la-carte menu
"Tropicana Field's expanded food and beverage menu, including Chef Ming Tsai's MingsBings, provide unique options to enhance the fan experience for all guests and cater to increased demands for plant-based and gluten-free options," said Paul Miller, head of concessions at Tropicana Field. "Given the product's success in concessions last year, we're excited to expand the offering to the a-la-carte menu for all suite guests to enjoy."
To kick off the start of the baseball season at Tropicana Field, MingsBings will serve free samples inside the main entrance of the park on April 10 and 11. Chef Tsai will also cook and serve Bings to guests in the Rays Club on the 10th.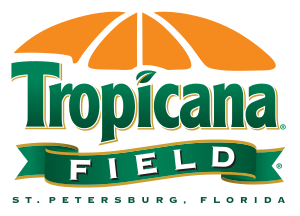 "We're thrilled to be expanding our foodservice presence at Tropicana Field," said the chef. "They've been great partners and their decision to further our presence into suites is a testament to how concessions are now bringing attention to food options that satisfy both flavor and health needs."
Florida continues to be a major target of opportunity MingsBings, which successfully activated at the South Beach Food & Wine Festival in Miami in February where over 6,000 foodies sampled its products. In the Fall of 2022 it expanded into Sprouts and Publix retail store locations after successfully rolling out to Target's earlier that year, and also launched a foodservice offering at Hard Rock Stadium in Miami.
"There's a high bar when it comes to taste expectations in this market, driven by the abundance of bold, flavor-forward food," said Ashley Christensen, chief marketing officer of the Woburn, Massachusetts-headquartered company. "Florida is our best performing state outside of New England. We're excited to be back here in Tampa for the start of baseball season and through the rest of the year into football season in Miami."