Nestlé USA is introducing Life Cuisine brand, a brand extension featuring frozen ready meals boasting gluten-free and high-protein attributes. The company is also launching new and improved meals under its long established Lean Cuisine label, with more than half of the portfolio to be relaunched.
Over the years, the definition of "wellness" has evolved from calorie-conscious eating to a more holistic approach that extends well beyond just what's on the plate. Once-niche dietary trends like gluten-free and meatless meals have also become more mainstream among consumers. This new dynamic has inspired people to learn more about different foods, seek more specific product attributes and balance their lifestyles.
New Life Cuisine products have been formulated to answer that call with a variety of nutritious options catering to four consumer preferences: low-carb lifestyle, high protein, meatless and gluten-free. Made with protein, vegetables and whole grains, these recipes offer a convenient way to explore new cuisines and global flavors.
"Eating well is no longer 'one-size-fits-all,' so our offerings can't be either," said John Carmichael, president of the Solon, Ohio-headquartered Nestlé Foods Division. "As needs evolve and expand, our team of culinary experts and nutritionists works in lockstep to deliver contemporary meals made for these emerging food lifestyles, from gluten free to meatless and beyond."
In-Demand Combinations to Feed Your Day, Your Way
Life Cuisine encompasses15 flavorful recipes – including layered bowls, cauliflower-crust pizzas and sous vide egg bites. From high-protein breakfasts to low-carbohydrate lifestyle snacks and gluten-free pizzas, the range has something for any time of day. Diners can choose from a variety of options offering a full cup of vegetables, two or more essential nutrients, high protein, high fiber and more.
"We heard from consumers that they want meals that fit their personal definitions of wellness without compromising on taste or satisfaction," said Rhonda Richardson, registered dietitian and nutrition communication manager at Nestlé. "They asked for delicious recipes with more protein, vegetables and ingredients that allow them to eat well, their way."
Each of Life Cuisine's restaurant-inspired recipes features on-trend ingredients that fit a variety of different tastes and needs, as described below:
Meatlovers Cauliflower Pizza Bowl. A meatlover's favorite with 13 grams of net carbohydrates and 20 grams of protein, this low-carb lifestyle option features Italian sausage, chicken, beef and cauliflower florets layered with mozzarella cheese and tomato pizza sauce for a hearty, comforting dish.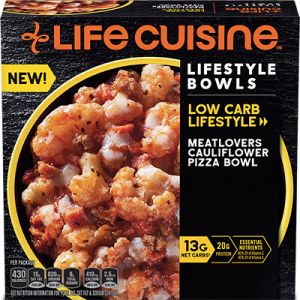 Korean-Style BBQ Beef Bowl. This high-protein dish boasts 21 grams of protein and 3 grams of fiber. Prime rib beef steak is layered with a medley of shiitake mushrooms, edamame, peppers, egg, kale and carrots, then tossed in Korean-style BBQ sauce and garnished with sesame seeds.
Vermont White Cheddar Mac & Broccoli Bowl. With 20 grams of protein and 3 grams of fiber, this bowl features macaroni and broccoli in a Vermont white cheddar cheese sauce topped with panko breadcrumbs.
Pepperoni Cauliflower Crust Pizza. With 18 grams of protein, this gluten free offering delivers pizzeria taste on a crispy cauliflower crust topped with mozzarella cheese and pepperoni over savory tomato sauce.
Uncured Turkey Bacon & Aged White Cheddar Sous Vide Egg Bites. Inspired by a coffee shop favorite, these fluffy sous vide egg bites are crafted with diced turkey bacon and aged white cheddar for a low-carb lifestyle breakfast at home, to start the day off right.
New Lean Cuisine Meals Made to Deliver More Satisfaction
Nestlé is also introducing new and improved meals under the Lean Cuisine banner. More than half of the brand's portfolio will be relaunched as part of its commitment to delivering tasty options to help diet-conscious consumers stay on track. Each recipe is created to be under 400 calories and has 10 grams of fat or less.
Central to this effort are new Lean Cuisine Bowls, a line of 18 dishes that features 13 updated best-selling recipes with 20% more ounces of food compared to similar previous offerings in the tray format, as well as five brand new recipes in this larger, bowl format.
The flavorful new lineup adapts long-time favorite recipes to fit modern tastes – from global flavors to comfort foods alike – with a way to help consumers stick to nutrition goals. And, the contemporary bowl format provides greater flexibility and portability.
The new offerings include:
Savory Sesame Chicken & Vegetables: With breaded chicken tenderloin and market vegetables folded into pasta and tossed in sesame ginger sauce, this dish offers 20% more ounces of flavor to savor.
Spicy Baja Style Chicken: With a base of creamy avocado rice, this peppery bowl combines grilled white-meat chicken, sweet corn, black beans and poblano peppers for a high-protein option.
Spice Market Chicken & Cauliflower: Offering a mix of sweet and savory flavors with 20 grams of net carbohydrates, this dish combines white meat chicken with cauliflower florets, spinach, peppers, onions and raisins over a bed of riced cauliflower and lentils with spiced tomato sauce.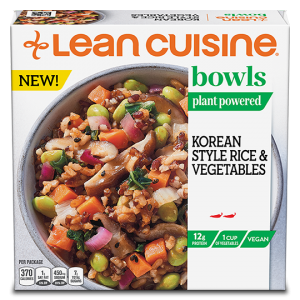 Korean-Style Rice & Vegetables: This plant-powered option combines a medley of edamame, shiitake mushrooms, kale, carrots, bok choy and pickled onions with spicy Gochujang sauce and brown and red rice.
As it rolls out new Lean Cuisine recipes, Nestlé is also debuting improvements to its current portfolio. More than 50 offerings will feature renovated, calorie-conscious recipes with more of what consumers want – and will be released in updated, modern packaging that highlight enhancements.
"From the start, it has been our mission to offer recipes that fit people's varying needs and nutrition preferences," said Suzy Ponikvar, marketing innovation manager at Nestlé. "We remain committed to doing so and will constantly ensure that our offerings empower confidence in mealtime choices."
All new and updated products from Life Cuisine and Lean Cuisine are now available nationwide, with greater availability in the months to come.