Frozen baked goods, value-added mushroom products and beer-bolstered bitterballen are among the innovative foods to be seen and sampled at the Horecava January 13-16. The hotel, restaurant and catering products show, which is ranked as the most prominent of its kind in the Benelux, is being held concurrently with the Ethnic Foods Europe at the Amsterdam Rai.
How sweet it is, this pack of Cheesecake Bites from Van Diermen Masterbakers!Now through Thursday, Van Diermen Masterbakers is inviting show-goers to "try a little sweet tenderness" at its stand by indulging in newly introduced Cheesecake Bites. The Bunschoten-Spakenburg, Holland-headquartered company presents the treats as "small wonders of American indulgence now available for the rest of the world to enjoy." Rich, yet delicate in texture and flavor, and infused with graham cracker, the New York-style Strawberry Swirl offering combines the sumptuous taste of cheesecake with the sweet freshness of strawberries.
Van Diermen Masterbakers is also debuting High Tea Box, which is filled with a collection of 43 thaw-and-eat mini cakes ranging from salted caramel cream puffs to chocolate eclairs and pink chocolate profiteroles.
Among other items showcased by the Dutch company are organic cream puffs made with whipped cream, bourbon vanilla and Belgian chocolate. Packed and delivered frozen, the products may be thawed in minutes and thus are quickly ready to serve.
Echt, Holland-based Nina Bakery Europe is launching the Nina Sub during the show. The pre-baked pita bread product is promoted as an ideal "pocket" for containing sausage and other proteins. Restaurateurs and end users are advised to simply "thaw, fill and enjoy the preservative- and additive-free product."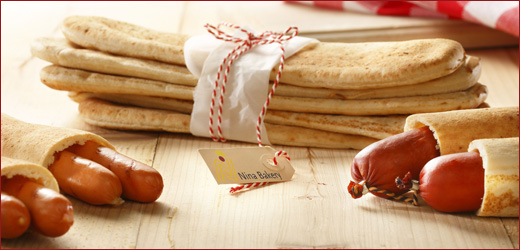 Nina Bakery Europe's pre-baked pita bread subs are well suited for saugages and other fillings.
The wide assortment of offerings from Nina Bakery's Europe, a company with origins are in Israel, range from small cocktail pita bread to extra-large pita in round and oval shapes. All are available as wheat or whole wheat bread.
It's bottoms up from De Jong Snacks, whose newly tapped La Trappe Quadruple Bitterballen hopes to make a big splash in the Benelux snack food market.While in Amsterdam attending Horecava, many visitors and natives alike will likely indulge in the opportunity to enjoy the Dutch national snack, Bitterballen. The deep-fried snack balls are battered in a crunchy breadcrumb coating and usually filled with a blend of chopped beef, beef broth, flour, butter, herbs and spices. They are typically served with mustard for dipping, and are often consumed while drinking beer.
Now, courtesy of Rijen, Holland-based De Jong Snacks, there is a version of the favorite appetizer that comes with a beer blast from the get-go. And it's not an ordinary lager brew, mind you – far from it.
Currently being served up at Horecava, while supplies last, is La Trappe Quadruple Bitterballen. This craft prepared beef croquette, made with Holland's only Trappist La Trappe Quadruple, is billed as "a true taste sensation."
La Trappe Quadruple, for those who may not yet have been initiated, is the brand name of a strong seasonal beer crafted by De Konginshoeven Brewery in the Netherlands. It is one of only two Trappist brewers not situated in Belgium (the other is the Engelszell Abbey in Austria).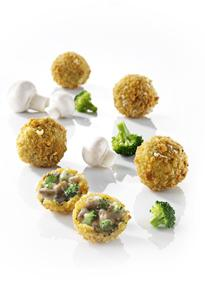 Scelta's Fingerfoodballs should appeal to bitterballen lovers looking for a meat-free version of the popular snack.For consumers who prefer to take their bitterballen straight with no chaser, and perhaps meat-free as well, Scelta Mushrooms is serving up vegetarian Fingerfoodballs at Horecava. Visitors who stop by Stand 212 in Hall 9 will be able to sample the crispy snacks in six flavors: mushroom, mushroom-broccoli, mushroom-spinach, ratatouille, sauerkraut and red cabbage-apple.
Another product being promoted at Horecava by Venlo, Holland-headquartered Scelta is the Ecopouch. It features clean label, shelf-stable mushrooms in flexible pouch packaging.