Daesang America's global brand, O'Food, launched its first frozen food offerings, Kimchi and Plant-Based Mandu, at the recently held Summer Fancy Food Show in New York City. Mandu are classic Korean dumplings, also known as potstickers, that are prepared by steaming, boiling or pan-frying.
The products, each offering 10 or more grams of protein, are made with thin wrappers filled with traditional Korean ingredients. The Kimchi Mandu features kimchi from sister brand Jongga. Combined with a blend of spicy heat, sweet and savory meat, and assorted vegetables, it aims to satisfy any meat-lovers appetite. The meatless Plant-Based Mandu is available in a choice of Gochujang, a sweet and spicy fermented condiment popular in Korean cooking, or the savory flavors of K-BBQ.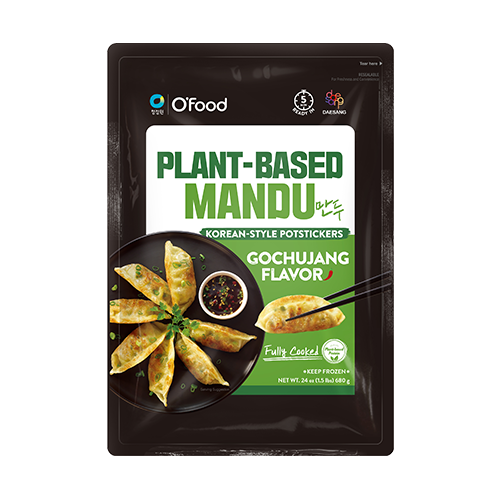 "Consumers are increasingly seeking food adventures, particularly ethnic fare that has for years received less recognition in the United States, such as Korean foods. Gochujang, Kimchi and Mandu are fantastic Korean-style dumplings, and now is a great time to bring them to market," said Brian Tompkins, vice president of sales.
As Korean-inspired ready meals continue to make a culinary impact on consumers around the worl, O'Food Mandu products are now available across the USA in select stores including Associated Supermarkets, Jungle Jims, as well as online. They are being promoted as "the perfect option for consumers looking for convenient, meat-free options."
About the Brand
O'Food is the international brand of Korea's Chung Jung One, a unit of the Seoul, South Korea-headquartered Daesang Group, which generates annual sales revenues of more than $2.6 billion. Since 1956, its pantry staples including Korean chili pepper paste, Gochujang and Doenjang fermented soybean paste have been produced in the province of Sunchang, which is widely renowned for production of quality peppers. Operating globally throughout China, Japan, Europe, Russia, Indonesia, Vietnam, Myanmar, Thailand, the Philippines and North America, its United States offices are in City of Industry, California and Hackensack, New Jersey.