The countdown is getting shorter for the October 19-23 SIAL. That's when leaders of the global food business will be showing their stuff to buyers from around the world in Paris. With 6,000 exhibitors from 100 countries and more than 150,000 visitors expected, this year's event is poised for what is set to be the biggest exhibition ever put on by the organizers.

Celebrating its 50th anniversary, SIAL is planning a celebration as well as activities to explore the various trends and innovations in today's international food business. On the evening of the biennial fair's second day, Oct. 20, a special Light and Sound Show with Fireworks will mark the exhibition's jubilee anniversary.
"SIAL Paris has fostered business opportunities as the Global Food Marketplace for 50 years. The exhibition is regarded as a showcase for the entrepreneurship alive in the international industry, a unique networking space and a true repository for culinary innovation. As an instant trading platform, in these times of crisis, the venue increasingly offers an effective means to develop business," said Nicolas Trentesaux, SIAL's group director.
The center of action for those in the frozen food sector will be in Hall 6 as usual. However, there will be plenty of frozen products to see and sample in other halls too, as well as within national and regional pavilions situated throughout the fairgrounds.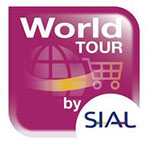 SIAL World Tour
This year at the exhibition there will be World Tour by SIAL, presented as a window into the global food market. Coordinated by the show organizers and 28 journalists from around the planet, the event will share their views and analysis of the trade with a focus on the consumption trends shaping different local markets.
Among the hot topics of discussion on the agenda at SIAL are:
The Drive: Click and Collect Food E-Commerce
France's first retail drive-in opened for business in Marcq-en-Baroeul, close to Lille, back in 2004. In recent years the concept of ordering online and picking up products without leaving the comfort of one's car has rolled on. There are now almost 3,000 drives throughout the country, and it is expected that they will generate approximately 5 billion euros in turnover in 2014.
For consumers the interest is two-fold: the prices are the same as those offered in-store, but buyers no longer have to physically step into the shop to make purchases.
The trend is catching on in other countries too. In the United States, Walmart launched an experiment at the beginning of this year with 11 sites in Denver, which has since been extended to 30 locations. In France, Leclerc is the leader of this market with 500 sites that took in 1.5 billion euros in turnover during 2013.
Valorization of Market Areas
With the increasing importance of drives and e-commerce, brands are beginning to re-assess the in-store shopping experience. Their aim is to, once again, encourage consumers to visit shops within the store, including sections that highlight fruits and vegetables, baked goods, red meat, seafood and frozen food. New presentation techniques and skilled human interaction are keys to success, and the products are carefully selected. In Toronto, Longos, a local, independent chain, places great value in its in-store market area, and been rewarded for the effort.
Brand Price Competition Intensifies
The level of competition in developed world retail markets is growing at the same time when there is stagnation of consumption coupled with the constant opening of new commercial spaces. As such, in order to attract increasingly "price-sensitive" customers, major multiples are competing strongly against each other. In England, for example, Tesco promises its customers an automatic refund of the price differential if they can show that the product SKU is offered for a lower price at a rival store. In the United States and Canada, price comparison in shops is also becoming common currency.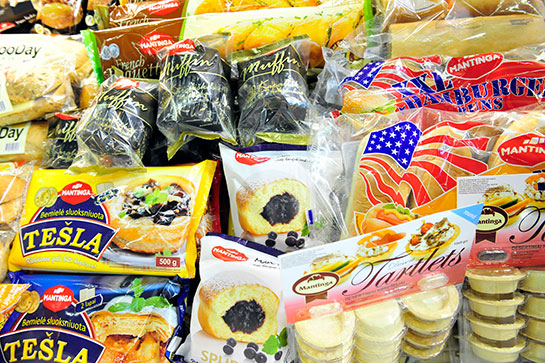 "Smart Shopping"
The smart phone has become an indispensable item for consumers. It can search for information (including offers), receive it, interact with the brand or private label, and even substitute for self-checkout terminals. As part of SIAL's World Tour, Carrefour and Walmart are going to try out new experiments relating to this, with on-site photography. Using mobile phones and NFC technology, clients will receive full descriptions of their in-store products.
Hard Discounting
The competitive situation of hard discount retailing varies depending on the country. In France, for example, this segment has been declining for four years. And in the spring Spain's Dia network was put up for sale. In Germany, the home of hard discount retailing, the once relatively basic shops of concept pioneer Aldi are increasingly more appealing, with a greater selection of brands. In a number of countries, successful hard-discounters are pushing harder than ever. This is particularly so in the UK and Ireland, where Aldi and Lidl have made significant inroads at the expense of established high street food sellers.
Globalization of Trade
Retail is more global than ever. All of the major chains are operating on several continents. One of the most globalized retailers, Auchan, rings up 60% of its receipts outside the home market of France. Walmart, Tesco, Carrefour, Auchan and Casino are present in America, Europe and Asia. The next target is Africa. Walmart, already a key player in South Africa, is ready to boost activities on the continent.
Amazon Fresh
Amazon has not turned a blind eye to the food trade, far from it. To date the American group is carrying out trials in Seattle, San Francisco and Los Angeles. Amazon sets itself apart by combining seemingly unlikely offers (before delivering to the customer) ranging from groceries and industrial fresh produce on the one hand, to locally made or specialized dishes from restaurants and top-of-the-range artisans, as well as wine merchants.

Tours de Paris, SIAL-Style
The SIAL organizers will also host a series of trend tours of restaurants and retail outlets, as follows:
Wednesday, October 22: A special tour of Paris showing highly innovative restaurant concepts in action. An experienced guide will lead participants around the city to discover some of the most creative trends transforming restaurants.
Friday October 24: A guided tour of the most innovative concepts among the leading French retailers. This will afford an opportunity to explore the latest, most creative concepts in terms of customer service, marketing, layout and merchandising.
Friday, October 24: SIAL will partner with Thoughts for Food for visits to Parisian food merchants and product tastings. The tour is aimed to address topics such as the "secret" of French cuisine, "Made in France" brands and the emergence of healthy fast food.
For more information about SIAL happenings, log on to www.sialparis.com.