American media mogul, entrepreneur and philanthropist Oprah Winfrey, in collaboration with the Kraft Heinz Company, has announced that new O, That's Good! Frozen Skillet meals are being added to the brand lineup. This launch is the fourth category from Mealtime Stories, LLC, the joint venture between Pittsburgh- and Chicago-headquartered Kraft Heinz and Winfrey, which includes frozen pizza, side dishes and refrigerated soups.
O, That's Good! Frozen Skillet Meals are presented a convenient dinner option that allows consumers to enjoy their favorite comfort foods with a twist of vegetables, ready in just 10 minutes. In the Chicken Alfredo meal, some of the cream in the sauce has been swapped with pureed cauliflower. Indeed, it contains 35% less fat than Bertolli Chicken Alfredo & Penne.
"Comfort food gets a bad rap, but not anymore," said Winfrey. "With my skillets, there's a twist of veggies in the sauce, but they taste so good you'd never know the difference. These are inspired by my dinnertime favorites and folks are going to love how easy they are to make!"
"We are welcoming our consumers back to the comfort food they love with a unique twist of vegetables and high-quality ingredients," said Christopher Urban, head of Mealtime Stories at Kraft Heinz. "We're excited to enter the skillet category with O, That's Good! And make dinner delicious and easy."
Mealtime Stories is supporting O, That's Good! Frozen Skillet Meals with a robust 360-degree marketing campaign, including a new national TV ad featuring Ms. Winfrey.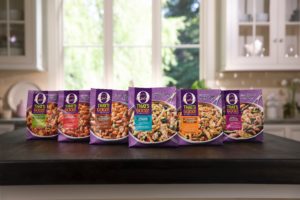 Offered at a suggested retail price of $6.99 per pack, the range is available throughout North America in six varieties: Chicken Alfredo, Chicken Margherita, Southwest Style Chicken & Penne, Italian Sausage & Rigatoni, Garlic Chicken & Potatoes and vegetarian-friendly Three Cheese Tortellini. All are made with high-quality ingredients, including antibiotic-free chicken and natural sausage, and have no artificial flavors, preservatives or dyes.
Along with skillets, O, That's Good! Is extending its pizza line to include three new frozen thin-crust pizza options (each priced at $6.99) with a twist of cauliflower in the crust: BBQ Chicken (made with antibiotic-free chicken), Margherita and White.
Ten percent of Mealtime Stories' profits will be equally split between charitable organizations Rise Against Hunger and Feeding America to support the fight against malnutrition. The Kraft Heinz Company Foundation intends to make annual donations on behalf of Mealtime Stories to these charities until the joint venture becomes profitable.

Kraft Heinz ranks as one of the largest global food and beverage companies in the world, with 2018 net sales amounting to approximately $26 billion. Its portfolio is a diverse mix of iconic and emerging brands.
About Rise Against Hunger
Rise Against Hunger (formerly Stop Hunger Now), an international hunger relief organization based in Raleigh, North Carolina, works to implement immediate and long-term solutions to fight hunger worldwide. With program locations in 20 US cities and five international offices, it has engaged volunteers to package more than 336 million nutrient rich meals for distribution to 74 countries around the globe. For more information, visit www.riseagainsthunger.org.
About Feeding America
Feeding America is the nationwide network of 200 food banks that leads the fight against hunger in the United States. It provides food to more than 46 million people through 60,000 food pantries and meal programs in communities across America. Feeding America also supports programs that improve food security among the people served, educates the public about the problem of hunger, and advocates for legislation that protects people from going hungry. Visit www.feedingamerica.org to obtain additional information.