A new range of frozen Bakes and Sausage Rolls has been rolled out in the United Kingdom by Pukka, the nation's leading chilled pies producer. The launch marks a significant expansion for the brand's frozen portfolio.
The frozen Bakes range features recipes inspired by some of Pukka's most popular pie products in the form of Steak Bakes, Chicken Bakes and Vegan Applewood & Onion Bakes. The line also includes a Sausage & Bean Bake offering combining baked beans, sausage meat and melted cheese all wrapped up in a golden pastry case.
The newly debuted SKUs follow Pukka's successful expansion into Food To Go last year with its chilled handheld assortment. Launched in September of 2021, the range already boasts the number one branded slice on the market, according to IRI data, and has helped to contribute more than half of total savoury pastry growth in the UK retail sector.
"We have been baking pies for almost 60 years, and in doing so are trusted by the people of Britain to deliver full on flavor, taste and quality," said Isaac Fisher, managing director at the Leicestershire, England-based company. "Now a leading force within Savoury Pastry, we're confident that by disrupting frozen aisles and adding taste inspiration we will achieve similar sales success to that of our Handheld range, driving significant category growth in the process.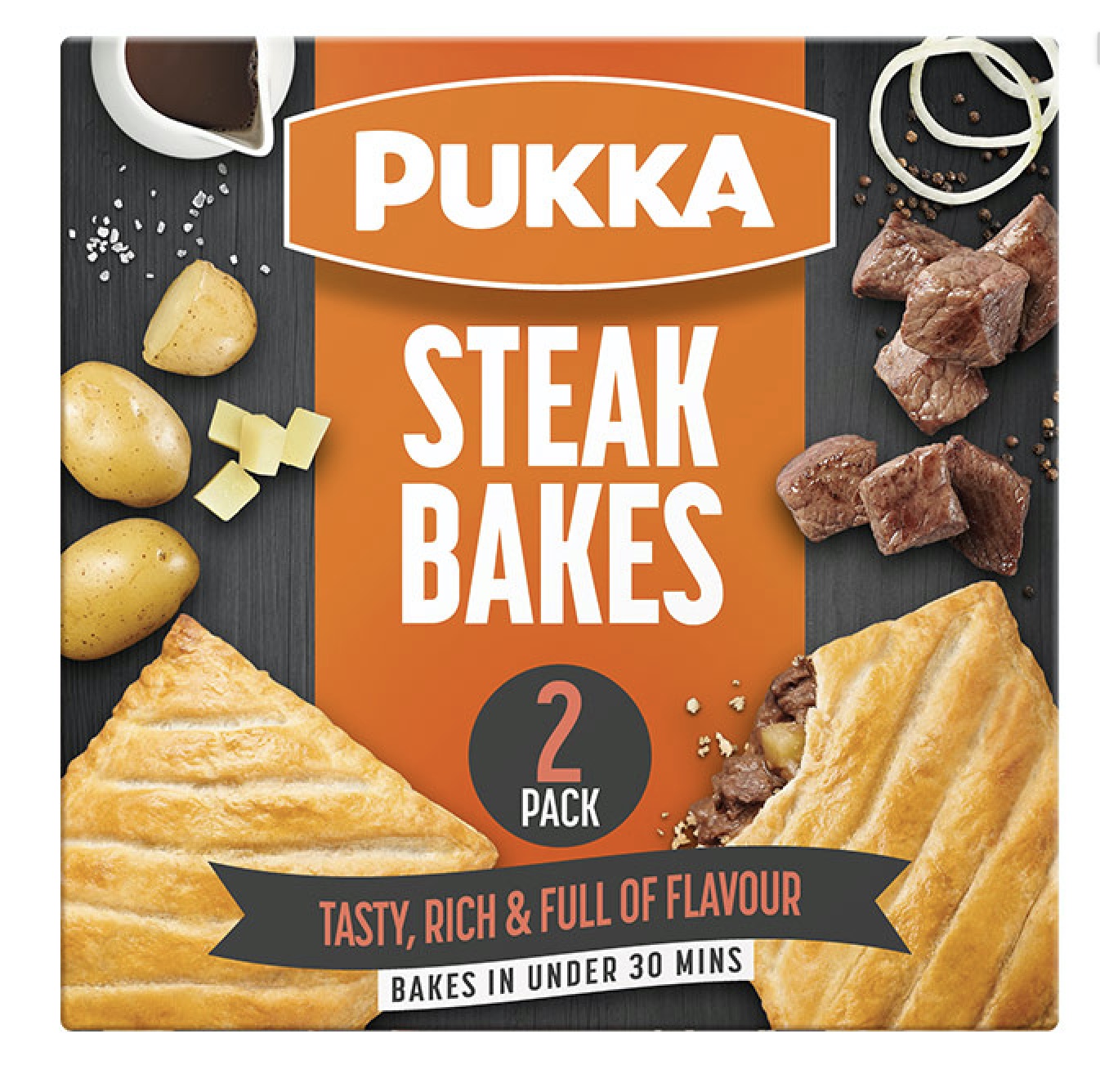 Pukka is well-versed in launching innovative NPD which delivers on both taste and quality. Its frozen Bakes and Sausage Rolls have been carefully crafted following consumer research which resulted in the brand outperforming the category leader, with over 92% of shoppers saying they'd buy a Pukka Steak Bake (VYPR Research March 2022). Coupled with the fact that Sausage & Bean, Chicken, and Steak were found to be some of the most sought-after recipes, the range is described by Fisher as set to help retailers "tap into shopper demand and drive incremental sales in the process."
He added: "Aside from that sought after distinctively-Pukka taste, convenience is also key. Cooking straight from the freezer in under 30 minutes means the range is perfect for a whole host of eating occasions – from midweek meals to work-from-home lunches, and even breakfast with our Sausage & Bean Bake.
The new range come as Pukka has posted another strong year of sales, which were up +24% for the 52-week period through September 4, according to IRI figures
Retailing at £2.50 per twin-pack, the latests frozen Bakes and Sausage Rolls are currently available at Sainsbury's, Asda and Tesco stores, with wider distribution coming soon to additional grocery and convenience stores, as well as wholesale outlets.