Positive first quarter results from leading multinational fast food chains bode well for producers and purveyors of frozen french fries, onion rings, burgers, fish fillets, desserts and other products supplied to quick service restaurants – especially those that offer customers drive-through service. The upturn has come none too soon, as the foodservice sector has been hit hard by restaurant shutdowns and operating restrictions imposed by governments around the world struggling to combat the deadly coronavirus pandemic.
Chicago, Illinois-headquartered McDonald's, the world's leading QSR operator with over 39,000 outlets in more than 100 countries, has reported a bounce back in sales to pre-pandemic levels, as revenues beat expectations after rising 9% to $5.12 billion. Same-store receipts advanced 7.5% globally, while net income hit $1.5 billion, up from $1.1 billion in Q1 2020. The result was even better than the previous year's performance.
"Our first quarter 2021 global comparable sales and revenues surpassed first quarter 2019 levels, even as resurgences (of coronavirus infections) and operating restrictions persist in many parts of the world," said McDonald's CEO Chris Kempczinski. "We're maximizing our marketing in a culturally relevant way…and doubling down on digital, delivery and drive-through to create a faster and easier customer experience."
Upwards of 90% of revenues in the United States was generated  through drive-through window transactions in Q1. Home and office delivery service is now available from approximately 75% of all units in the USA Indeed, and receipts for delivery orders are out-pacing in-store sales at many locations.
While restaurant guest counts remained negative in the first quarter, comparable sales were positive across all segments. Operators in the United States benefited from average check growth, with double-digit positive comparable sales across all dayparts. Demand surged for Big Macs, Chicken McNuggets and french fries.
Elsewhere, results were strong in the United Kingdom, Australia, Canada, Japan and China. However, comparable sales were significantly negative in France and Germany.
"As a result of Covid-19 resurgences, throughout the quarter there have been numerous instances of government restrictions on restaurant operating hours, limited dine-in capacity and, in some cases, mandated dining room closures – particularly in the international operated markets," according to a McDonald's press release.
These restrictions are impacting most of the company's markets across Europe, especially those with fewer drive-through restaurant locations. McDonald's expects some restrictions in various markets to remain in place as long as the Covid-19 pandemic continues to pose a public health threat.
Yummy Results for Yum Brands
Meanwhile, Louisville, Kentucky-headquartered Yum Brands reported an 11% surge in global sales during the first quarter, as receipts topped $5 billion. Same store sales growth was 9%, while unit growth edged up 1%.
In system sales the company's KFC and Taco Bell divisions were both up 11%, while Pizza Hut receipts rose 7%. China, which ranks as KFC's top market, accounted for 27% of total revenues in Q1 – up 24%. Receipts generated in the United States advanced 13% to account for 18% of systemwide sales.
Meanwhile, the popularity of KFC's recently debuted fried chicken sandwich in North America is continue fly high.
"Demand for our new sandwich has been so strong that, coupled with general tightening in domestic chicken supply, our main challenge has been keeping up with that demand," said Yum Brands CEO David Gibbs.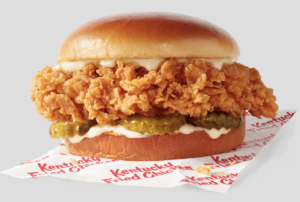 Speaking more broadly about Q1 results, he commented: "They reflect encouraging momentum across our business, including solid two-year same-store sales growth and a meaningful uplift in unit development, underpinned by the focus and collaboration of our franchise partners and restaurant teams around the world.
"During the quarter we took important steps to further boost our digital and marketing capabilities through the acquisitions of two technology-focused companies that will enhance our ability to grow sales overnight and our brands over time. Our foundation is strong and our path forward is clear. While uncertainties remain due to the ongoing impact of Covid-19 in many geographies, with our iconic brands, world-class talent and a healthy franchise system we are poised to enter a post-Covid world with a long runway of growth ahead of us."
One speed bump on the runway that may become problematic temporarily for KFC and other QSR operators meaning chicken in the USA is tight supply caused in part by slowdowns at poultry plants and other meat processing facilities.
Labor Situation Concerns Wingstop CEO
"Suppliers are struggling, just as many in our industry are, to hire people to process chicken, thus placing unexpected pressure on the amount of birds that can be processed and negatively affecting supply of all parts of the chicken in the United States – not just wings," said Charles Morrison, chief executive officer of the Addison, Texas-headquartered Wingstop chain.
Interestingly, while the Washington, DC-based National Restaurant Association estimates that 2 million restaurant jobs were lost during the coronavirus pandemic, some operators now reopening or expanding capacity and hours are finding it difficult to adequately staff up. The same problem has been reported in other business sectors, and it is being attributed in part to increased unemployment benefits that in some cases make it more attractive not to work.
Meanwhile, consumers can expect to pay more for chicken wings in the near term.
"Until we see a marked change in the availability of labor for poultry producers, a labor shortage that we believe is largely fueled by the amount of government stimulus, we anticipate that wing prices could remain elevated for the balance of 2021," said Morrison.
Lamb Weston Weighs in
On the frozen french fry supply front, Eagle, Idaho-headquartered Lamb Weston expressed optimism when releasing its quarterly figures in April for the fourth quarter of fiscal year 2021. That's because volume was up, even as net sales declined 4% to $896 million, net income from operations dropped 38% to $101 million, and net income fell 41% to $66 million.
"We delivered solid sales volumes during the quarter as consumers and full-service restaurant traffic responded favorably to the gradual easing of broad social restrictions as the quarter progressed, as well as to the benefit of relatively mild winter weather for much of the period," said President and CEO Tom Werner. "However, Covid-19 continued to significantly disrupt our manufacturing and distribution operations across our entire supply chain network, which resulted in higher costs.
"In the coming months, we believe the gradual improvement in frozen potato demand will continue to the extent governments further lift social restrictions, and as warmer weather provides more outside dining opportunities. The ongoing disruptive effects of Covid-19 on our supply chain will continue to pressure near-term costs, but should also lessen after vaccines become more widely available for our manufacturing teams and our supply chain partners. In addition, we remain optimistic that overall demand in the United States will steadily return to pre-pandemic levels around the end of calendar 2021, and that global category growth will resume at historical rates soon thereafter. Our recently-announced investments to construct a new manufacturing facility in China, as well as the expansion of our chopped and formed product capacity in the United States, underscore our confidence in the long-term health of the global category, as well as our strategy to support the growth of our customers as they continue to expand across our key markets."