Pack Expo kicked off on September 11 for a three-day run at the Los Vegas Convention Center in Nevada. Produced by the Packaging Machinery Manufacturers Institute (PMMI), also known as the Association for Packaging and Processing Technologies, the show offer attendees an opportunity to see machinery in action, discover the latest materials, hear from experts and obtain insights into critical manufacturing trends.
With 30,000 attendees expected to explore 2,300 exhibitor solutions in a sprawling environment of nearly a million square feet of exhibit space, Pack Expo Las Vegas features suppliers showcasing cutting-edge innovations for more than 40 vertical markets.
A short list of exhibitors active in the frozen food industry includes:
Anchor Packaging, Blentech Corporation. BluePrint Automation (BPA), Bosch Rexroth Corp., Bradman Lake, Cabinplant, CPS Case Packing Systems, PAM Stumabo, Fallas Automation, GEA, General Packaging, Gram Equipment, Innova Group Packaging Solutions, Intralox, JBT Corporation, Key Technology, Loma Systems, Lubriplant Lubricants, Lyco Manufacturing, Magnuson Corporation, Metler Toledo, Multifill Inc., Multipond, Reiser, Rice Lake Weighing Systems, Rite-Hit, Rockwell Automation, Rovema, Sunoco Flexible Packaging, Triangle Packaging Machinery, and Yamato Corporation.
"Our theme is 'Expect Innovation' because this show will provide more solutions and innovations under one roof than available anywhere else in North America this year," said PMMI President and CEO Jim Pittas. "It also offers our industry a chance to examine critical issues such as sustainability, AI, automation and workforce in an environment that fosters collaboration and growth."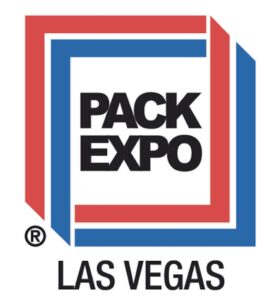 Recognizing the significance of the 2023 edition of Pack Expo Las Vegas 2023 opening on Sept. 11, PMMI strives to honor the firefighters, first responders and law enforcement personnel who made the ultimate sacrifice on that day in 2021 when four coordinated suicide terrorist attacks were carried out by al-Qaeda in the United States, resulting in the deaths of more than 3,000 people, thousands more injuries and substantial long-term health consequences for many more victims of the crime against humanity.
PMMI will match donations up to $50,000 to the Tunnel to Towers Foundation. For over 20 years, it has honored the late FDNY firefighter Stephen Siller's legacy by supporting the heroes who continue to risk life and limb in the line of duty. To date, Tunnel to Towers has delivered over 1,000 mortgage-free homes to American heroes and committed over $500 million across all its programs.
New and Expanded Show and Program
This year Pack Expo is showcasing entire production line solutions and offering 130 educational sessions free of charge. A number of the special program highlights detailed below.
• Sustainability Central: This new and highly anticipated show floor destination takes an expansive look into packaging sustainability and what it means to brands, including interactive content, and a look at actionable sustainable solutions in manufacturing, materials, and design. Check it out in the North Hall, Booth N-9455.
• Sustainability Stage: Attendees will hear from industry experts on a range of packaging sustainability topics and gain insight on making their brands more sustainable in the future. Located in the North Hall, Booth N-9967.
• The Logistics Pavilion: Logistics is a crucial part of the product journey from manufacturer to consumer. With the boom in e-commerce, the Logistics Pavilion in the North Hall will be the place to find targeted solutions related to the supply chain, including warehousing, fulfillment, distribution logistics services, and transportation providers.
• The Processing Zone: The integration of processing and packaging in the manufacturing environment is more important than ever, and the Processing Zone returns to Pack Expo Las Vegas 50% larger than it was in 2021. It is a good place to start a search for front-of-the-line solutions such as homogenizing, heat treating, forming/sizing, and coating. Located in the North Hall.
— Posted by John Saulnier