All roads within the wide world of frozen food innovation are now leading to China's center of contemporary culinary creativity, where the much anticipated SIFRE will be front and center from September 3-5. The fifth edition of the Shanghai International Frozen Food and Refrigerated Food Expo is set to run concurrently with the International Catering, Ingredients and Condiments Exhibition, which has been incorporated into the annual event.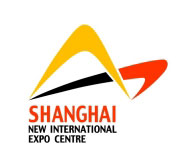 Not surprisingly, the presence of companies from mainland China and Taiwan will dominate the fairgrounds. However, there will also be products in high profile among manufacturers and suppliers from a number of other countries – among them Australia, Belgium and the USA – to see and sample.
Synear: Zongzi and Much More
Zhenzhou, Henan, PRC-headquartered Synear will be on the scene with a number of tempting Zongzi treats, which are sticky glutinous rice dumpling triangles stuffed with various fillings such as meat and chestnuts wrapped in bamboo leaves. The specialty is traditionally served throughout China leading up to the Duanwu holiday (also known as the Dragon Boat Festival) celebrated nationwide on June 23.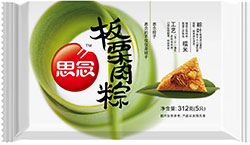 Synear's attractive packaging for Zongzi is designed to get consumers in China to buy the product not only during the Dragon Boat Festival period, but year-round.The company, a unit of Synear Food Holdings Limited, is introducing attractive new retail packaging containing five pieces weighing in at 312 grams. In addition to Zongzi, it produces savory dumplings, glutinous sweet dumplings, specialty desserts and snacks at factories in Chengdu, Sichuan Province, and Huzhou, Zhejiang Province.
Synear's product line is primarily marketed in the frozen food cabinets and cases of supermarkets and other retail outlets in China under the proprietary Synear brand name. The firm operates through numerous subsidiaries, namely: Art Advanced Group Limited, Zhengzhou Synear, Quick Surplus Limited, Kingpo International Limited, Sanway Holdings Limited, Guangzhou Nanguo Synear, Huzhou Synear, Sichuan Synear and Zhengzhou Qianweiyangchu.
Synear brand Chapati in 300-gram five-packs will also be available at the exposition. The product, known as Roti in India and other countries South and Central Asia, as well as in East Africa, is an unleavened flatbread staple.
Not Resting on its Laurels
Taipei-headquartered Laurel Inc., a pioneer in the Chinese frozen food industry, began successfully transforming traditional recipes into convenience frozen foods as Laurel Enterprises Corp. back in the 1970s. It started out exclusively as a supplier of ethnic Chinese hot pot ingredients ranging from fish and pork dumplings to meatballs, which remains an important part of the business to this day.
Now a second-generation family-owned and managed operation, founders Ben and Jamin Wang expanded their original line of products many years ago to include prawn wanton, seasame buns, spring onion cake and other ethnic eats. That was followed up more recently with a smorgasbord of international cuisine, including Japanese, Korean, Italian and American-style dishes.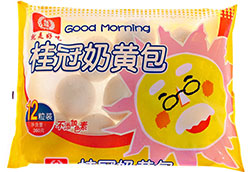 Laurel says "Good Morning" with tasty Custard Buns. Twelve pieces come per 360-gram retail bag.At the Shanghai International Frozen and Refrigerated Food Expo, Laurel will highlight a wide array of retail packs ranging from "Good Morning" breakfast Baozi (steamed buns) filled with sweet red beans, to Custard Buns and Mantou steamed bread made by pressing dough just so to remove air to assure an elastic, non-sticky texture.
Laurel's hot pot offerings to see and sample will run the gamut from fish dumplings (a favorite among consumers in Taiwan since its market debut more than 30 years ago) to mushroom and pork dumplings .
Also available to buy and try will be pork balls in 110-gram retail bags, and fish cream served up in shrimp ball form. According to Laurel, "it is essential for your hot-pot, and suitable for various cooking techniques and ingredients, including pineapple."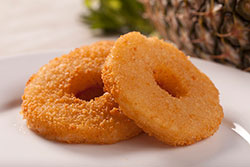 How sweet it is! Frozen Pineapple Fritters from Schnits Frozen Foods are produced in Australia.If that's not enough, the company is rolling with Sesame Tangyuan glutinous rice balls, which are traditionally served in a sweet broth during Dong Zhi, the winter solstice. They come in 200-gram retail packs, while smaller-size Tangyuan in 500-gram bags are also available. Made from sticky rice sourced from Shushuixi, the "Little Tangyuan" balls may be served as an everyday dessert as well as a celebration food.
Pineapple Fritters from Oz
Also in the realm of sweets to eat, Schnits Frozen Foods Pty Ltd. of Bibra Lake, WA, Australia, hopes that its Pineapple Fritters will be a nice Shanghai Surprise for show-goers. The frozen food company slices the fruit into rings, then covers them in a crispy crumbed coating before cooking until golden brown.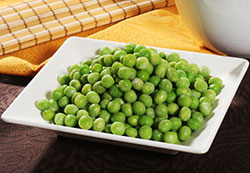 Frozen peas from the Lorain Group are sure to please convenience-minded consumers.Sweet Lorain Corn and Peas
Frozen corn and peas will be dished out by the Junan County, Shandong-headquartered Lorain Group, as it promotes healthy eating in a convenient way for consumers to prepare at home.
"Our sweet corn, which has unique nutritional value including protein, vitamins, dietary fiber, carotene, linoleic acid and other nutrients, can be cooked with many other ingredients," said a company spokesman. "And Lorain peas are rich in protein and contain essential amino acids and an especially high level of lysine. They can be used to make salads, mixed vegetable dishes and other recipes."
Hai Pa Wang Steams on
The Hai Pa Wang Group's series of Baozi steam buns at the show will feature a myriad of fillings ranging from hot dog and roast pork to peach and custard. It will also have plenty of traditional dumpling varieties on hand (with fillings featuring pork, cabbage, celery, leek and sweet corn), as well as hot pot dumplings and tangyuan offerings.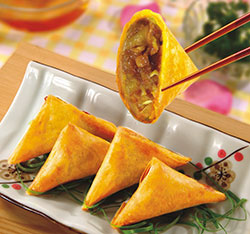 Dayang's Beef Samosa snack is spiced with Thai flavor to savor.Variety from Dayang
The Dayang Group promises to tempt the taste buds of those at the fair with a cornucopia of items, starting off with hand-made, triangularly shaped Beef Samosa accented with Thai flavors. Also on the menu will be Fujian-style Fried Pork Chops, Seafood Rods featuring sugarcane from Taiwan's Chenghai district enhanced with a choice of shrimp, fish or pork and vegetables in bamboo wrapping.
That's not all. The Dayang stand will also serve up Classic Shrimp Dumplings and Tofu-filled "money bags" enriched with soybean nutrition, vegetables, lecithin and isoflavone.
Lutosa's Belgian Potatoes


Value-added frozen potato products galore will be offered to visitors by Leuze-en-Hainaut, Belgium-headquartered Lutosa, a unit of McCain Foods. Its Lutosa Shanghai operation has been serving the China market for many years, supplying both retail and foodservice sectors with everything from Belgian Frites and Mashed Potatoes to specialty items such as Pom' Pin, Duchesse, Tartiflette and Spicy Wedges.
Like McCain, the Lutosa name is highly regarded by customers around the world. And also like McCain, the origin of Lutosa goes back to a family-owned and –operated entrepreneurial core with roots in the very soil of the potato business. That means a lot to buyers in China, who deeply respect continuity and longevity among partners.
USA Sea Cucumbers
US Marine Ranch Co., which specializes in North American and Alaska Wild Sea Cucumbers, will be at the fair. Its healthy-eating product line is loaded with natural amino acid, which is a driver for the growth of children and for women's facial cosmetology, according the supplier. It is also said to have powerful regenerative properties, and help prevent premature aging.
The sea cucumbers marketed by US Marine Ranch Co. are grown in ocean waters as deep as 100 meters. Alaska wild sea cucumbers, which are typically seven to nine years old before being harvested, are in high demand among health-conscious consumers throughout China and greater East Asia.
Many More Exhibitors
Among other frozen food companies and suppliers to the industry taking booth space at the show are: Baoding Dushi Foodstuff Co., Ltd., Fujian Xinyi Foods Co., Ltd., Fujian TopSheng Foodstuff Industrial Co., Ltd., Mudanjiang Jiahe Food Co., Ltd., Ningbo Yongji Food Co., Ltd., Qingdao Howyawl Group, Xiamen Chenji Leyaoju Food Co., Ltd., Shandong Rongsense Marine Development Co., Ltd., Shanghai Hao Cool Industries Co., Ltd., Shanghai Wancheng Foodstuff Co., Ltd., Usisen Group, Swire Cold Chain Logistics (Shanghai) Co., Ltd., J.M. Food Industry Co., Ltd., Wel-Max Food (Shenzhen) Co., Ltd., Wenzhou Fortune Food Co., Ltd., Chaohu Meadville Food Co., Ltd., Gashi Group, Zhengzhou Qianweiyangchu Food Co., Ltd., and Henan Xueying Refrigeration Equipment Co., Ltd.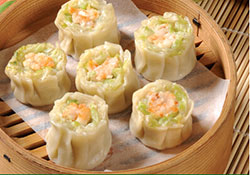 Shaomai from Shandong Hengbao Food has lots of eye appeal, which should translate to buy appeal at the show.Others companies that will be present include: Wuhan Lanesync Supply Chain Management Co., Ltd., Yak Food (Shanghai) Co., Ltd., Wuxi Xunwei Yuan Aquatic Product Technology Co., Ltd., Shandong Hengbao Food Group Co., Ltd., Nanjing Jingba Food Co., Ltd., Cryogenic (Beijing) Science & Technology Co., Ltd., Xiamen Ruyisanbao Food Co., Ltd., Shinyei Shoji (Qingdao) Trading Co., Shanghai Wanzheng Food Co., Ltd.Ltd., Shanghai Wanzheng Food Co., Ltd., Guangzhou Zhenghuizhu Food Co., Ltd., Shandong Qingguo Foods Co., Ltd., Wang Board Food, General Mills Inc. (Wanchai Ferry), Shanghai Wanzheng Food Co., Ltd., Shanghai Hang Seng Food Co., Ltd., Fujian Minwell Group, and Zhoushan Bandd Foods Co., Ltd.
Exhibitors will represent virtually every segment of the frozen food industry, from fish and seafood to poultry, red meat, ready meals, dumplings, spring rolls, cakes, pastries, fruits and vegetables, to food processing equipment and packaging, to cold chain logistics.
Focus on Hunan and Guangxi
Food products and ingredients from Hunan province and the Guangxi region will be spotlight, and there will be a special cuisine tasting in which exhibitors will be able to cook their products and serve them to buyers.
In addition to the show, a number of events will take place, including the 3rd Frozen Food Technical Seminar & Market Symposium, and the Hotel Exotic Food Ingredients and Special Dishes Promotion Conference.
Organized by Shanghai Gehua Exhibition Service Co., Ltd. and approved by the PRC Ministry of Commerce, the expo has a number of sponsors and co-sponsors. Among them are the China National Food Industry Association Frozen Food Committee, China Agriculture Wholesale Market Association Frozen Food Committee, Shanghai Frozen Food Industry Association and the Taiwan Frozen Food Processors Association.
Additional information is available by contacting Stephanie Su (Phone: +86 21-67759083; e-mail: stephaniegh@126.com), or visiting the SIFRE website: www.ffb2b.com. – Reported by John Saulnier