Smashburger has revamped its fast casual restaurant menu to feature two new items: Adult Chicken Tenders and Scorchin' Hot Chicken Tenders featuring crispy, all white meat chicken served with a choice of BBQ, Ranch or Honey Mustard sauce. Inspired by successful testing at select locations and the popularity of the chain's 2021 Scorchin' Hot Crispy Chicken Sandwich, the latest chicken offerings will be available in three- and five-piece quantities. The Scorchin' Hot Tenders have an extra kick to them.
"As a culinary food-focused brand, we take an aggressive approach into menu innovation and have continued to diversify our product portfolio with the launch of these two Chicken Tender offerings," said Smashburger President Carl Bachmann.  "After the success of our non-burger offerings, we wanted to offer our guests a more convenient way to enjoy high caliber chicken products."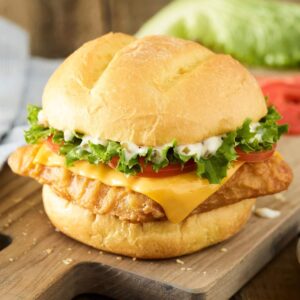 The restaurant operator is also bringing back its premium Beer Battered Pacific Cod Sandwich for a limited time leading up to and during the Lenten period. Made of wild-caught Pacific Cod lightly dipped in a signature batter infused with lager, and served with American cheese, lettuce, tomato and tartar sauce, the fish item will be available until April 19.
Additionally, the chain's popular Colorado Burger will be launched as a permanent menu item nationwide as part of this new menu rollout. It is made with Certified  Angus  Beef, and topped with grilled Anaheim chiles, melted aged cheddar and pepper jack cheeses, lettuce, tomato, and mayonnaise on a spicy toasted chipotle bun.
Founded in 2007 in Denver, Colorado, Smashburger has 236 corporate and franchise restaurants operating in 36 states and eight countries.