The largest supermarket operator in the United Kingdom, Tesco, unveiled an "affordable" own label range of plant-based food products under Tesco Plant Chef banner on September 23.
Quoting recent IRI data, the retailer believes that plant-based food has become the biggest culinary trend of the decade, with demand helping to boost the chilled vegetarian/vegan sector by 31%. Now the chain is set to widen that appeal even further by offering easy to prepare plant-based swaps of traditional family favorite dishes. And to make these products easier for shoppers to find, it will for the first time have dedicated plant-based and vegetarian zones in stores.
Priced at between £2 and £3, the Tesco Plant Chef range features the following:
Mushroom Pizza – topped with punchy garlic, spinach and aromatic herbs
Battered Fish-Free Fillets – made from seasoned soya and coated in a crispy, tempura batter
Meat-Free Burgers – packed with pea protein and accented with roasted onions and herbs
Butternut Cauli Mac – macaroni pasta coated in a sauce with cauliflower florets and diced butternut squash
Breaded Goujons – made from seasoned soya tumbled in crunchy breadcrumbs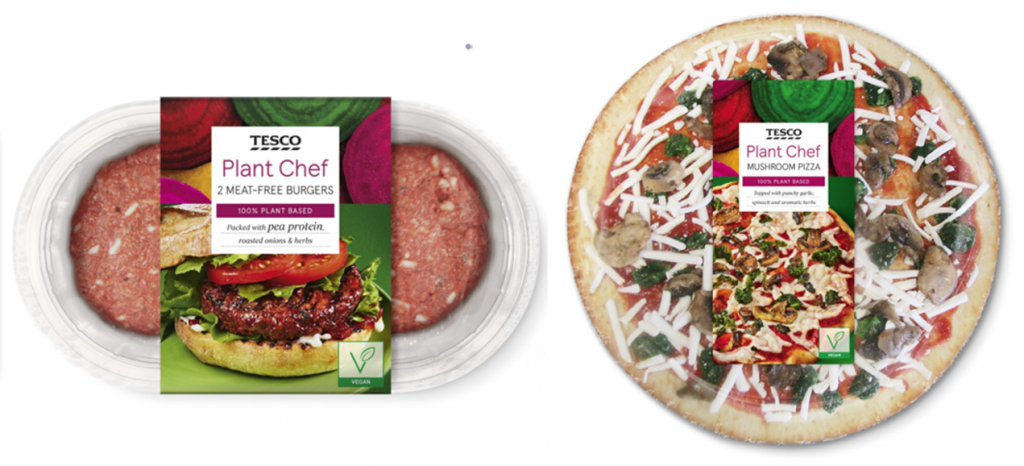 At the same time, Tesco will also add more plant-based food SKUs to its exclusive Wicked Kitchen range. The new launches mean that Britain's leading supermarket operator will now have one of the biggest selections of plant-based foods on the UK high street.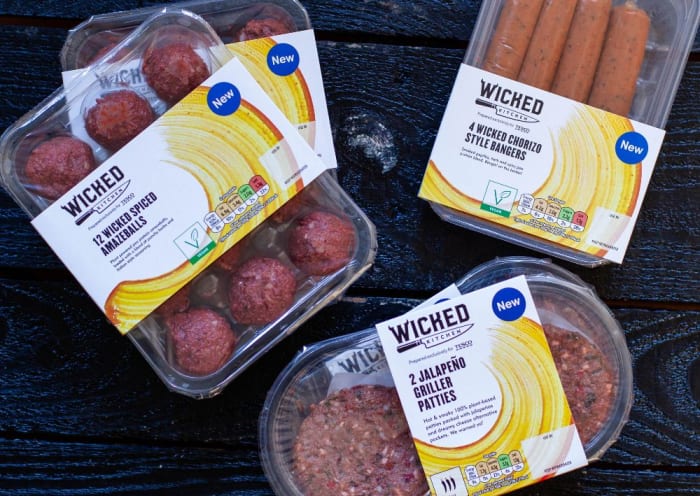 In the last two years, 68% of adults have chosen to reduce or cut out meat from their diet, according to The Source. Not surprisingly then, Mintel reports that 16% of all food product launches in the United Kingdom during 2018 were plant-based items.
Two years ago Tesco partnered with Chef Derek Sarno to introduce Wicked Kitchen – the first private label plant-based food range to be introduced by a UK supermarket.
"The biggest impact we can make as individuals, for our health but also that of the planet, is to eat more plants," said Sarno. "At Tesco we're making that easier than ever. We've turbo charged our innovative original Wicked Kitchen snacks and meals. And for those looking for everyday delicious meal swaps, we're launching the exciting Tesco Plant Chef range."
The introductions will be staggered over the next four months, with the first wave of products already available in the meat aisles of more than 450 large stores. An expansion into the prepared fresh food aisle of nearly 900 outlets will be completed by October 14, before moving into the frozen and grocery section in January of 2020.
By early next year Tesco will have increased its dedicated plant-based range by 48%, rising from 181 to 267 new items. Private label ranges will have risen from 62 to 103, while branded lines will have increase from 119 to 164.
The retailer will also be expanding its assortment of grocery foods and cooking kits to help customers make plant-based dishes at home.
These include a wide range of sauces, stir-fry kits, snacking pots and trend-leading ingredients such as king oyster mushrooms and cluster mushrooms.