The Bangkok-headquartered Thai Union Group posted all-time high sales in the second quarter of 2022, though gross profit dipped and operating profit fell considerably.
In the April-June period, the value added seafood company generated record high revenues of THB 38.9 billion, an increase of 8.5 percent compared to the same period in 2021, driven mainly by increased demand and higher selling prices. The adjusted net profit for the second quarter, without one-time impacts from the THB 424 million change in the fair value of the Red Lobster restaurant chain's preferred shares as a result of higher US interest rates, and the THB 195 million in restructuring costs at Rügen Fisch in Germany, amounted to THB 2.2 billion, down 8.4 percent, year-on-year.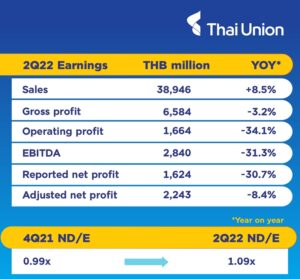 Thai Union's solid sales performance over the quarter was attributed to its balanced and diversified portfolio across three main business units. Ambient seafood sales grew 10.7 percent to THB 16.9 billion due to a combination of higher prices, depreciation of the Thai currency and strong consumer demand. However, the frozen and chilled seafood business booked a 6.5 percent year-on-year decline in sales to THB 13.9 billion due largely to a return to "normalization" of foodservice businesses in the United States after a very strong performance in 2021. Meanwhile, the PetCare, value added and other businesses unit posted an exceptional 41.7 percent year-on-year increase in sales to THB 8.1 billion, thanks to strong demand for pet food and higher sales of value-added products.
1H Results Show Sales Up, New Profit Down
Turning to the first half of 2022, sales reached a record THB 75.2 billion, while adjusted net profit declined 12.7 percent to THB 3.9 billion. The company saw fit to declare an interim dividend payment of THB 0.40 per share.
"Business diversification continues to be the cornerstone of our ongoing growth path, reflected in results for the second quarter, which remained robust despite the impact of two one-off items," said Thiraphong Chansiri (pictured above), Thai Union Group's chief executive officer. "Consumers around the world continue to be drawn to our healthy and nutritious offerings, and by delivering new and innovative products, we are attracting even more customers to our global portfolio of brands."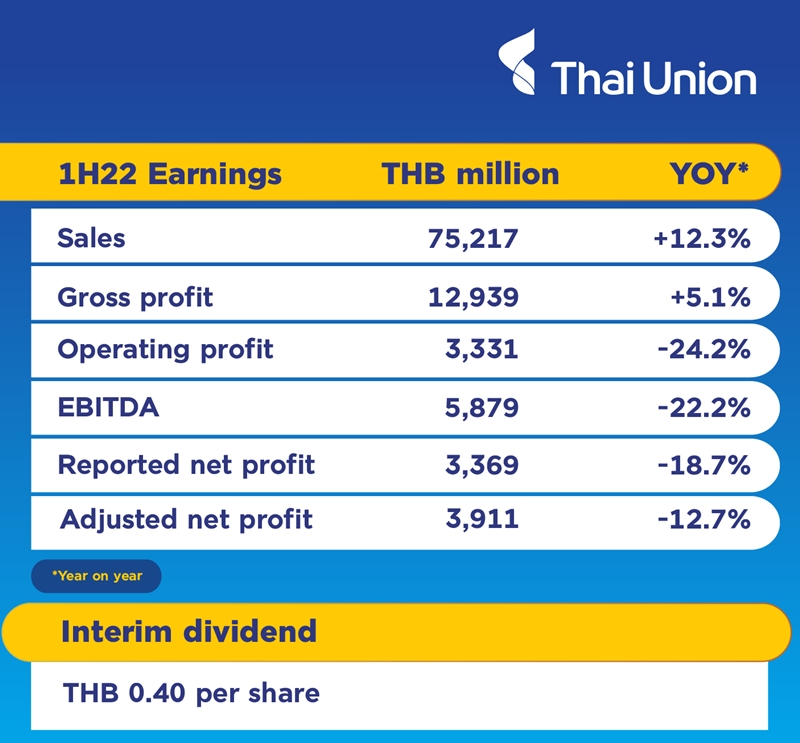 Thai Union continues to focus on higher margin businesses and, during the second quarter, announced a CAD $10 million investment in Dartmouth, Nova Scotia, Canada-headquartered Mara Renewables Corporation, a leading producer of sustainably grown algae-based bio-products.The company also moved forward on construction of its protein hydrolysate and collagen peptide facilities and a new culinary factory, which are both planned to be commercialized in 2023.
Looking Ahead
"We remain on track to achieve our 2025 financial and business targets, but recognize that economic conditions continue to present a challenge, including inflationary pressures in many markets, rising interest rates and ongoing supply chain issues. So, we are firmly focused on cost efficiency, continuing to strengthen our core businesses and building value-enhancing operations," CEO Chansiri concluded.