The novel coronavirus (SARS-CoV-19) pandemic has had an unprecedented impact on the frozen food sector in the United Kingdom, with retailers reaping the financial rewards that consumer stockpiling and reliance on frozen products has brought.
The outbreak of the contagion in the central Chinese city of Wuhan late last year has by now has caused nearly 2.4 million infections and been attributed to more than 160,000 deaths worldwide. In Britain there have been approximately 125,000 confirmed cases and over 16,500 fatalities as of April 20.
The public's panic buying frenzy has resulted in gaps in availability of frozen products and foodstuffs that are easily frozen, such as packaged bread and meats. According to Mintel, a London-based market research firm, frozen products were included in 37% of supermarket baskets in the week ending March 30, 2020.
"Demand has increased significantly, with data from IRI showing frozen sales during the week ending March 22 were up by 84% over normal levels," stated Richard Harrow chief executive of the British Frozen Food Federation (BFFF). "We have seen a spike in interest in how to store, prepare and cook frozen food via our website, which experienced a 263% increase in traffic in March."
The Iceland retail chain has seen strong demand for frozen food along with other canned food, and health and hygiene items. This is a result of consumers reacting to the government's advice that they should only shop for essentials as infrequently as possible and therefore stocking up their freezers.
"Frozen food's long life obviously makes it ideal for this purpose and it remains as ever great value, fresher and more nutritionally rich than 'fresh' food that has spent many days or weeks in the supply chain, convenient and an excellent way of cutting down on food waste," said Andrew Staniland, Iceland's frozen food trading director. "Supplies of frozen products into our stores have been well maintained so far."
In fact, sales have been ahead of forecast for Iceland since the onset of the pandemic. Meanwhile, the initial two-week surge of panic buying has subsided since shoppers began to appreciate that supplies continue to reach stores fairly normally.
"Sales of frozen food have been strong across the board, and growth has been exceptional in frozen vegetables, fruit, chips, meat and fish – all perfect for scratch cooking from frozen as consumers move to more home cooking," said Staniland. "Though people have noticeably been stocking up with staples like frozen vegetables. Iceland is the only source of Greggs' food since their own shops closed, so sales from that cabinet have naturally been particularly strong and we have secured additional supplies to meet the demand."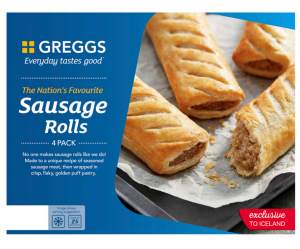 Consumers' initial response to panic buy items like frozen food has meant that many supermarket freezers were quickly emptied, while some wholesalers found that they had over stock due to the closure of foodservice outlets. Some wholesalers have been able to shift stock to supermarkets when they were at their busiest. Brakes, for example, had products in Sainsbury's. Many other wholesalers have retail and catering divisions, so they're able to move some stock from one to another. However some catering packs are not suitable to sell in the retail sector due to different food labeling requirements in retail and foodservice.
"The extra retail demand for frozen led to challenges for BFFF members," explained Harrow. "Many were struggling to meet demand as supply chains have been disrupted, plus many producers have had members of staff self-isolating so have been working with reduced workforces. For our manufacturing and wholesale members supplying the out-of-home market, the effects have been devastating as they have seen demand from pubs and restaurants disappear overnight."
The industry has quickly adapted to the challenges that the current pandemic has created, with many switching production to supply retail and many wholesalers are offering click and collect or delivery services to consumers, especially vulnerable people.
"This in no way makes up for the massive loss of business they have experienced and many of these businesses are on the brink and some will not survive in their current form," warned Harrow. "The BFFF has been able to support all our members as best we can with a range of initiatives including a dedicated COVID-19 section on our website and schemes such as the Transport Support Platform, The Frozen Food Platform and the Wholesale Support Platform. These are deigned to help match idle transport fleets with people that need them, move production from foodservice to retail and to redistribute food stuck in wholesalers to the likes of food charity."
With the initial pandemonium subsiding, consumer demand seems to have returned to more normal levels, which means overstocking isn't so much of an issue for the frozen food sector. Similarly, it means that most stores have now adopted policies to ensure that stock levels will remain constant, making sure that vulnerable people, National Health Service (NHS) staff and key workers have access to food.
Surge in Online Ordering, Home Delivery
According to Mintel, the strict lockdown rules that have been put in place by the government and fears for personal health have prompted 17% of Brits to stock up by ordering groceries online instead of visiting stores to make purchases.
"Demand for home deliveries across the industry currently vastly exceeds supply, which is why we have tried to reserve all our online delivery slots for the elderly, vulnerable and self-isolating customers, and encourage those who are fit and well to go and shop in-store," said Staniland. "We have made substantial investments to increase our online delivery capacity. This includes the recruitment of more than 3,000 additional store assistants and more than 1,000 extra home delivery drivers, as well as working with companies that currently have spare vans to expand our delivery fleet. We expect this investment to deliver a 250% increase in the number of online delivery slots we can offer compared with pre-Covid-19 levels."
Some online delivery companies are offering consumers the option to buy frozen cooked meals in bulk. This method minimizes the need for multiple daily-deliveries, focusing instead on delivering big batches of meals that people can eat throughout the week.
As the lockdown continues in the UK and unfortunately there is no sign of the spread of Covid-19 respiratory infections abating any time soon, the frozen food sector will continue to be called upon to serve the nation amid one of its greatest times of social and economic disruption.
"Customers have a responsibility to shop responsibly as not everyone can afford to stockpile," said Richard Walker, managing director of Iceland. "It's important we all work together." – Reported by Sarah Welsh