Pukpip frozen bananas dipped in chocolate are now available at Whole Foods Market outlets in the United Kingdom. Distributed by the Guayaquil, Ecuador-headquartered Semvra Group, its Real Banana range is taking on the traditional ice cream category by tapping into the rise of permissible yet indulgent frozen fruit snacks.
"Whole Foods Market is the perfect fit for Pukpip, as we strive to help people eat more fruit in fun, delicious and convenient ways, providing indulgent fruit snacks that don't compromise on taste." said Zara Godfrey, managing director at Pukpip.
The retail chain that specializes in offering shoppers responsibly sourced, high-quality foods has stocked Pukpip's first two products, Milk and Dark Chocolate Dipped Bananas, in the frozen section in all seven of its London stores. In marking the launch into Whole Foods Market, Pukpip has unveiled an eye-catching window display in the flagship Kensington High Street store as well as invested in out of home media in July around prime locations in the capital city to drive awareness of the product listing.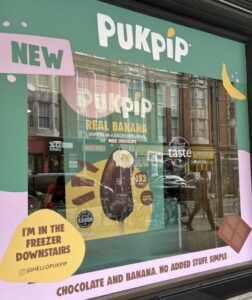 "Nine out of ten of us are looking to add more fruit into our diet, and we want to make it easy, fun, and delicious," said Godfrey. "The creaminess of a frozen banana combined with smooth satisfying chocolate makes for an irresistible treat that people will be keen to get their hands on this summer – real fruit, that's indulgent so consumers can feel good about treating themselves."
Pukpip's bananas are responsibly sourced and frozen in Ecuador. Using fruit rejected from export due to small imperfections on their skin, because because of shape or size, or simply because there are too many on a bunch, Pukpip utilizes the wonky bananas that would otherwise go to waste. The peels are then upcycled back into the ecosystem.
Positioned as a snack, treat or dessert, product calorie counts range from 152-161 calories each. Pukpip's milk chocolate dipped bananas won a 2022 Great Taste Award, and the dark chocolate dipped offering is Vegan Certified. Multipacks containing three frozen bananas sell for £3.99.