Poultry exports from the United States through the third quarter of 2013 continued on a record pace, growing marginally in quantity and value over the same period last year, according to trade data released last week by the Foreign Agricultural Service.
Total January-September poultry exports (primarily frozen) reached year-on-year records of 3.077 million metric tons valued at $4.152 billion, up 1% and 3%, respectively. September exports of US broiler meat (excluding paws) dipped by 1% to 276,135 tons, while value rose by less than a percent to $354.5 million, compared to September 2012.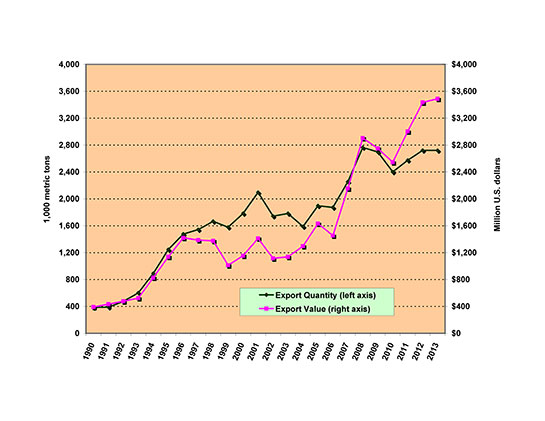 US broiler exported (including paws) in the nine-month period of January-September since 1990.
Cumulative January-September broiler meat exports (excluding chicken paws) reached 2.5 million tons, up 2%, valued at $3.21 billion, up 4%. Both export quantity and value set year-on-year records.
Exports to key markets for the period included Mexico, 484,958 tons, up 19%; Russia, 213,316 tons, up 3%; Angola, 148,256 tons, up 20%; and Canada, 127,648 tons, up 0.2%.
Shipments to other important markets included Cuba, 110,757 tons, down 1%; China, 104,113 tons, up 59%; Iraq, 120,613 tons, up 23%; Taiwan, 68,099 tons, down 31%; Georgia, 59,550 tons, up 1%; and Guatemala, 59,082 tons, up 14%.
September exports of US turkey meat slipped by 10% from September 2012 to 30,052 tons. Export value, meanwhile, rose by 1%to $59.9 million.
Cumulative January-September turkey meat exports fell by 4% to 252,700 tons, while export value rose by 2% to $496.8 million. Export value for the three quarters set a year-on-year record, while quantity was the second highest ever.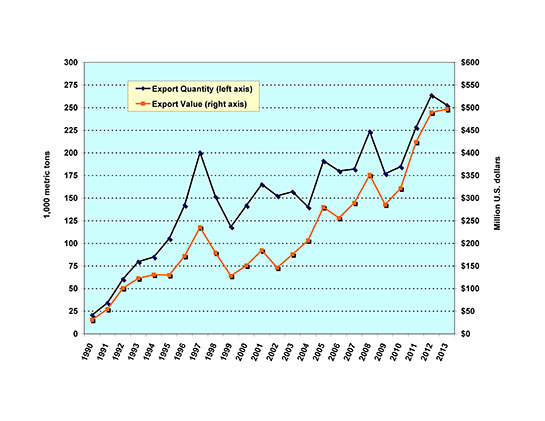 Turkey exports from the United States from January-September since 1990.
The main reason for the dip in export quantity was a decline in exports of US turkey to the top market of Mexico. Shipments dropped by just over 3% to 133,635 tons, which was offset by a rise in export value to $271.9 million. Shipments to China, the second-largest US turkey market, were 34,385 tons valued at $53.9 million, up 3% and 4%, respectively. Top markets included Mexico, China, Canada, South Africa, and the Philippines.
September exports of chicken paws fell by 19% to 25,046 tons, while export value declined by 12% to $31.1 million. Shipments of paws to mainland China decreased by 40% to 12,978 tons, while exports to Hong Kong increased by 9% to 8,947 tons.
Cumulative January-September paw exports fell by 17% to 229,069 tons, while value dropped by 20% to $279.7 million. China and Hong accounted for 82% of US export quantity for paws.