By John Saulnier, FFB Editorial Director

Looking across the rows of empty white plates atop fancy white linen in the elegant dining room, I wonder if diners on either side of the florally divided table were asking themselves the obvious question: "Where's the beef."
The venue was Buenos Aires during the recently held G-20 Leaders Summit, and Argentine steak was most likely the main course to be served. But the pre-banquet menu was full of tariff talk as US President Donald J. Trump and PRC President Xi Jinping and their advisors sized each other up.
Not long after the end of the dinner it was announced that the United States would hold off on raising tariffs from 10% to 25% on more than $200 billion worth of Chinese imports for 90 days, pending further negotiations. So when January 1 rolls around a trade war ceasefire will be in effect that will last well through the Chinese New Year and Spring Festival holidays. Thereafter, who knows what's in store.
Officials in the American meat and seafood commercial sectors responded positively to the truce. Encouraged that Washington and Beijing will return to the bargaining table, US Meat Export Federation President and CEO Dan Halstrom commented: "Global demand for US red meat is very strong, but exports cannot reach their full potential until the retaliatory duties imposed by Mexico, China and Canada on US pork and beef (in response to the imposition of tariffs on metals by the United States) are removed."
John Connelly, president of the McLean, Virginia-based National Fisheries Institute (NFI), whose members are actively engaged in both the import and export of seafood products, said that "even a pause in trade hostilities can help return a degree of confidence to the market."
He elaborated:
"Seafood exports to China and seafood imports from China both play an important role in growing and maintaining US jobs. The growing middle class in China is an important export market for US seafood products. At the same time, raw material from China fuels production of finished seafood products here. When it comes to seafood, the relationship between the United States and China has historically been symbiotic. Tariffs damage that partnership."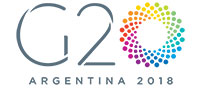 While the NFI is pleased with the progress made at the G-20 Summit, it would like to have seen a commitment from China to pause or reduce the 25% tariffs it has already placed on US seafood exports to the PRC, much of which originates from Alaska and is reprocessed in China for re-export. Up until now, Beijing as imposed approximately $110 billion in retaliatory tariffs on US imports of various products.
"We're hopeful these latest developments will lead to a long term solution," said Connelly.
While details on the Buenos Aires dinner discussions were sketchy, White House Press Secretary Sarah Huckabee Sanders issued a statement on December 1 that said, in part:
"China will agree to purchase a not yet agreed upon, but very substantial, amount of agricultural, energy, industrial, and other product from the United States to reduce the trade imbalance between our two countries. China has agreed to start purchasing agricultural product from our farmers immediately…If at the end of this period of time, the parties are unable to reach an agreement, the 10% tariffs will be raised to 25%."
News of the truce saw the US stock market rise significantly on Monday, December 3, only to see the Dow Jones Industrial Average plunge 800 points, or more than 3%, on Tuesday. Wall Street trading was suspended on Wednesday, as a federal holiday was declared to honor former President George H.W. Bush, who died at the age of 94 on November 30.
So, as investors wait to see what will happen when trading resumes on December 6, the political and financial pundits' tongues are wagging every which way. Most, of course, hedge their bets by saying the devil is in the details. Thus far details have been few and far between.
University of Maryland economist Peter Morici recently told the Wall Street Journal: "The president has fallen into the same trap as Barack Obama, George W. Bush and even Bill Clinton. He will get more platitudes and promises and very few results."
The comment was made before China's Commerce Ministry predictably quoted an unnamed spokesman as saying the Buenos Aires meeting provided a "clear timeline and road map" and that the PRC intends to quickly implement "an agreed upon consensus."
This writer, not at all sure what "agreed upon consensus" means, will endeavor to seek clarification from learned sources. But it could take a while to obtain a reliable translation, so please be patient.
Meanwhile, Yu Yongdin, a former advisor to China's central bank and a current researcher at the Chinese Academy of Social Science, offers the following advice: "China should prepare, but not rush to make concessions. This is a competition of endurance to see who breaks first."
The whole world is watching what's next from what President Xi has called "two major countries with great influence." And as President Trump looks forward to the consummation of "an incredible deal," perhaps he also remembers the wise words of Confucius (or was it Alexander the Great?) often discovered in fortune cookies served in Chinese restaurants outside of China: "There cannot be two suns in the heavens, nor two emperors on the earth."
For what it's worth, let's refer leaders in both the East and West to the immortal words of Rodney King: "Can't we all just get along?"
May they do the right thing to assure that global commerce and the livelihood of millions continues to swing positively.