Wicked Kitchen has launched an innovative plant-based collection of ice creams and novelties made with the lupini bean, a first-to-market product in the United States. The product line is promoted as featuring "extraordinary creaminess, texture, mouthfeel, and flavor that is unlike any other non-dairy frozen treats."
Wicked Kitchen has launched an innovative plant-based collection of ice creams and novelties made with the lupini bean, a first-to-market product in the United States. The product line is promoted as featuring "extraordinary creaminess, texture, mouthfeel, and flavor that is unlike any other non-dairy frozen treats."
The Minneapolis, Minnesota-headquartered company's chef-crafted pints and hand-held stick and cone novelties are now available at 2,200 Kroger stores and its other store banners including City Market, Dillons, Foods Co, Fred Meyer, Fry's, Gerbes, Jay C Food Store, King Soopers, Mariano's, Metro Market, Pay-Less Super Markets, Pick'n Save, QFC, Ralphs, Ruler and Smith's Food and Drug.
"The ultimate ice cream experience is luscious creaminess, rich mouthfeel, zero aftertaste, and bold flavor and the Wicked Kitchen plant-based ice creams and novelties are unlike anything else in the US market," boasted CEO Pete Speranza. "These products are game changers and won't be considered an alternative – just great tasting premium ice creams."
Founded by chefs and brothers Derek and Chad Sarno, Wicked Kitchen helped ignite the plant-based movement in the United Kingdom. The brand successfully launched the ice creams first in Tesco, one of the largest retail food chains in the world.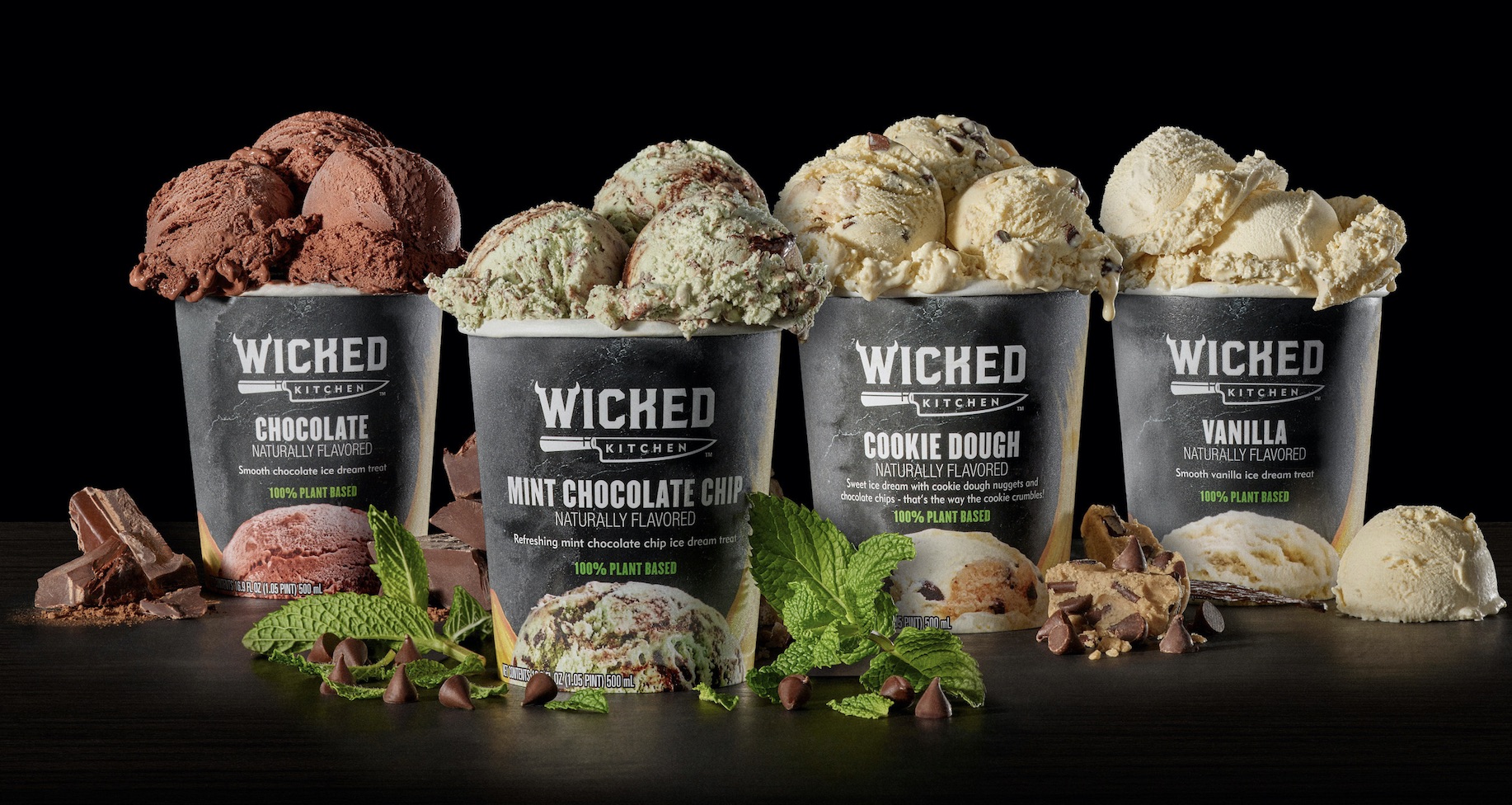 The products that will now be available in the United States are:
• Vanilla, Chocolate, Mint Chocolate Chip and Cookie Dough pints.
• Chocolate & Almond Sticks, featuring vanilla plant-based ice cream with toasted almond pieces and indulgent chocolate-flavored coating.
• Berry White Sticks, featuring a berry sauce swirl and indulgent white-chocolate flavored coating and red berry pieces.
• Chocolate & Red Berry Cones, featuring vanilla with red berry sauce and chocolate chips in a gluten-free maize cone.
Wicked Kitchen plans to grow its product set by 50 percent across multiple categories in Kroger and Sprouts stores across America. In addition to plant-based ice creams and novelties with a lupini bean base, it will introduce three new frozen pizzas and a variety of frozen heat-and-eat entrées later this year at Kroger.
With more than 200 SKUs in over 15 product categories – from sauces and condiments, to meal kits and ice creams at Tesco in the UK – Wicked Kitchen aims to repeat that success in the United States and other countries.