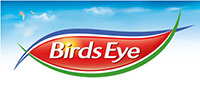 The London-headquartered Iglo Group, a holding of the Permira private equity fund, has announced that it will invest about £60 million in a brand re-launch that includes introduction of new logo and packaging across Europe. The campaign, called "The Food of Life," also features a photogenic made-for-TV family, complete with a "comedic dad," that has been cast to "bring added warmth and personality" to Iglo's product range adverting on television.
In Great Britain the Birds Eye unit has budgeted £5 million for the initial phase of the "The Food of "Life" promotion – and £16 million for media spending over the year. And Iglo is significantly boosting digital promotion spending as well, as it targets a younger generation of consumers. So one wonders what is to become of the former helmsman of its advertising campaigns.
There is no definitive word yet on whether Captain Birdseye is facing retirement and heading to the "old sailors home" after well more than half a century on the job promoting Iglo products. However, a company spokesman reportedly assured a British newspaper: "The new campaign means a new era for the Captain," who, by the way, while still gracing the boxes of a number of products, has not appeared in ads for several years.
The frozen food advertising icon entered service in the UK in the late 1950s, along with his Continental counterpart, Captain Iglo, who quickly became familiar to fish fingers shoppers in France, Germany, Portugal, Italy, Spain and Greece.
After establishing himself on packaging and in print advertising, the Captain became a star in Britain as a mainstay in Birds Eye television adverts in 1967, before being "lost at sea" in 1971, only to be resurrected from Davy Jones' locker several years later following popular outcry from consumers who wanted him back on deck.
But, alas, we are now living in a digital world, and it seems that the executives at Birds Eye and their ad agency have figured out a cooler and more efficient way to appeal to the today's consumers.
"Research shows that meal times are one of the only moments in the day when households have a chance to come together and connect. Our campaign celebrates these moments and the powerful role food plays in everyday life," said Andy Weston-Webb, managing director Birds Eye. "To do this we sat with real families from across the UK for dinner and captured their natural mealtime conversations. The result is a campaign that is a genuine snapshot into real life, real food and real people."
The first three television advertisements, slotted to run on ITV during the prime time airing of popular soap opera Coronation Street, focus on Birds Eye products including Fish Fingers and Field Fresh Peas, Chicken Grills and Bake to Perfection Fish with two new major product launches supported later in the year. The Fish Fingers and Field Fresh Peas commercial first appeared on March 3 and will be amplified with outdoor and cinema advertising beginning on March 10.
To support "The Food of Life" advertising campaign and to break down traditional barriers to shopping for frozen food in-store, Birds Eye is also launching a digital hub to give consumers all the ingredients for a better mealtime. The digital tool, which provides sharable social content themed around specific meal occasions, is designed to enhance the total meal experience – from food and drink ideas to ambiance, topics of conversation and must-have accessories or props. Social and search and display will be used to raise awareness and engagement with the meals hub.
The ad campaign is being coordinated by Havas Media, which is tasked with assisting the Iglo Group in achieving its goal to double sales volume to EUR 3.2 billion by 2020.
Meanwhile, in January Iglo announced that Luca Miggiano was hired as chief marketing officer to spearhead the new brand and marketing strategy and increase its digital presence. He has over 20 years' experience from leading FMCG brands across Europe including Cadbury, Jacobs Coffee, Kenco, Coca-Cola and Mars.
As part of Iglo's focus on digital, a key part of the new business strategy, two positions were created. The group's new head of digital sales is Francis Nicholas, who joined from Procter & Gamble where he was EMEA eCommerce business development leader. The new head of digital marketing is Jerry Daykin, who came from Mondelēz where he served as EU social media marketing manager.
"These appointments are a key part of delivering the new strategy, and digital sales and marketing are at the heart of this. Many of our consumers now go online not just to shop, but also for recipe ideas and inspiration as to what they eat. As a result it is essential that Iglo Group increases its focus on online platforms and messaging," said Iglo Group CEO Elio Leoni Sceti.
The Iglo Group promotes itself as Europe's leading branded frozen food business, with sales reported at over EUR 1.5 billion and a market share of 28%. It produces and markets premium branded frozen food products in 11 EU member states and distributes them further afield to a number of countries in Central and Eastern Europe. Core brands are Iglo, Birds Eye and Findus (in Italy only), and products range from fish fingers and frozen peas to innovative new ready meal offerings such as Bake to Perfection and Rice Fusions. The UK, Italy, Germany and Austria rank as the Group's largest markets, representing approximately 85% of total turnover.