Dave Yanda of Manitowoc, Wisconsin-based Lakeside Foods, Inc. was elected chairman of the American Frozen Food Institute (AFFI) during the annual meeting held in conjunction with the trade association's 2014 Convention February 22-26 in San Diego, California.
Also tapped to fill leadership positions were Paul Bakus of Nestlé USA, as vice chairman; and Jeff Varcoe of The Schwan Food Company, as immediate past chairman.
Yanda is president and ceo of an international private label food manufacturing company, which operates 15 production facilities and eight distribution centers in Wisconsin, Minnesota and Ohio.
Bakus is president of corporate affairs for Nestlé, which has been named one of "The World's Most Admired Food Companies" by Fortune magazine for 16 consecutive years.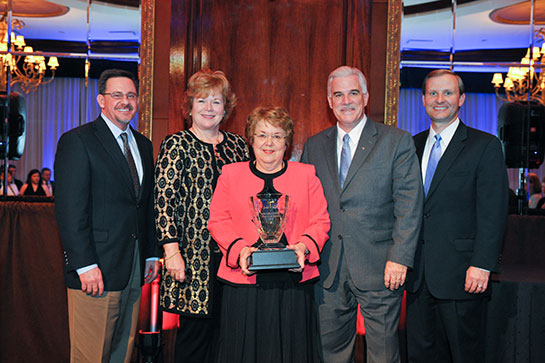 A highlight of the AFFI-CON gathering in San Diego was the induction of Julia Wells (center) of The Pictsweet Co. into the Frozen Food Hall of Fame. Congratulating her are (left to right) Kraig R. Naaz, president and ceo of the American Frozen Food Institute (AFFI); Leslie Sarasin, ceo and coo of the Food Marketing Institute; Skip Shaw, president and ceo of the National Frozen and Refrigerated Foods Association; and Corey Rosenbusch, president and coo of the Global Cold Chain Alliance.
Varcoe is vice president of food safety and quality for The Schwan Food Company, a privately-held firm based in Marshall, Minnesota, that makes and sells a wide range of branded frozen food products through home delivery, retail and foodservice channels in North America.
Nine board members were elected to serve three-year terms: Bob Ashmun of National Frozen Foods; Denny Belcastro of Hillshire Brands; Paul DiGenova of Bonduelle North America; Stan Firestone of Firestone Pacific Foods; Andrew Loucks of The Kellogg Co.; Tom Madden of Rite Stuff Foods; David Moore of Superior Foods; Paul Palmby of Seneca Foods; and Mark Schiller of Pinnacle Foods.
More than 1,300 frozen food industry leaders and suppliers attended the annual "AFFI-CON" gathering, which featured educational sessions as well as business meetings and exhibitions. Products and services on display ran the gamut from frozen fruits and vegetables from Egypt offered by Alexandria-based Givrex, to Fashion Diet brand Italian Mushroom Chow Mein from Lianyungang Befe Foods Co. of Jiangsu, China, to insulated work clothing from RefrigiWear of Dahlonega, Georgia, USA, to vegetable and fruit sorting system solutions from London, England-headquartered Buhler Sortex Inc., and Walla Walla, Washington-based Key Technology.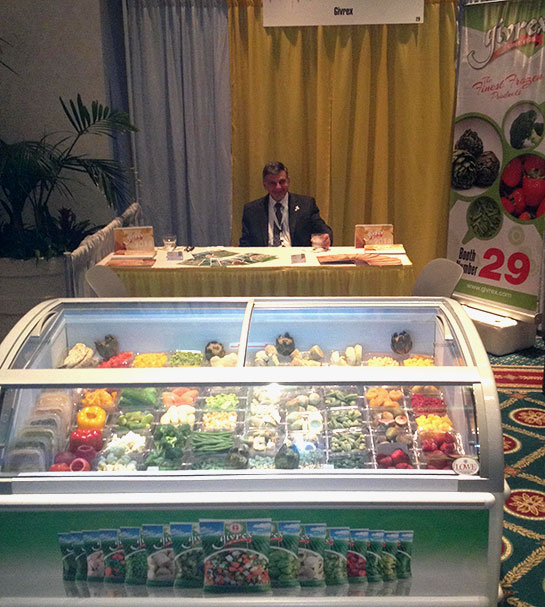 "Our attendance at this year's convention, along with its sold-out meeting rooms, suites and exhibit space, clearly demonstrates the value members of the frozen food industry derive from AFFI-CON," said Kraig R. Naasz, the Institute's president and ceo. "AFFI-CON provides frozen food companies a unique opportunity to conduct business, network with colleagues and learn the latest on critical frozen food topics and trends."
AFFI joined with the National Frozen & Refrigerated Foods in San Diego to organize the Distinguished Order of Zerocrats' induction of Julia Wells of The Pictsweet Company into the Frozen Food Hall of Fame. She was honored during a special dinner at the Manchester Grand Hyatt on February 22.
Ms. Wells is the vice president of marketing services for the Bells, Tennessee-based frozen vegetable company, and has spent her entire career dedicated to building and promoting the Pictsweet brand. She was the first female elected to The Food Institute's board of directors in that organization's more than 100-year history, and has deep connections with AFFI, having chaired its nutrition data base, convention and category promotion committees. In 2007 she was chairman of AFFI's board of directors, and currently chairs AFFI's legislative affairs committee and serves on the Frozen Food Foundation board of directors.
TaylorMade CEO Mark King, whose company grew from $300 million in annual sales to over $1 billion in less than a decade, served was the featured speaker at annual meeting breakfast on February 24. Introducing himself as "a 54-year-old single guy who, I promise you, eats frozen food almost every night," he shared insights and advice on achieving profitable growth, even in a difficult economy.
A new component of AFFI's annual meeting was a video spotlighting achievements made during 2013 in service to membership. Forty-eight additional dues-paying companies joined the Institute in 2013, of which 18 were frozen food processors. The others included 25 associate members, or suppliers to the industry, and five retail and foodservice companies.
As for finances, the trade association generated total income $6.2 million in 2013. Expenses amounted to $5.2 million, and reserves were $3.6 million. AFFI's complete Annual Report is available for download here.
AFFI-CON 2015 will be held February 21-25, at the Hilton Anaheim in Anaheim, California. For more information, visit www.affi.org/afficon.