The Baskin-Robbins chain of ice cream specialty shops in the United States is celebrating the Thanksgiving holiday season with the return of the brand's popular Turkey Cake. The all-ice cream stuffed "turkey" is topped with two sugar cone legs and "basted" in a rich caramel praline glaze sitting on top of a bed of frosting garnish.
Meanwhile, the Boston, Massachusetts-headquartered franchise has unveiled Snickerdoodle Chai as its flavor of the month in November. An unexpected, not-so-traditional yet classic twist of fall flavors, this seasonal scoop is a combination of snickerdoodle dough pieces and vanilla chai flavored ice cream with a cinnamon streusel ribbon swirled throughout (as seen below).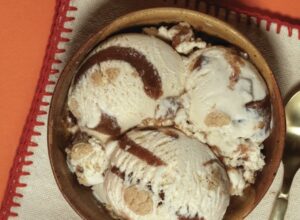 "Fall is all about flavors that remind guests of seasonal treats enjoyed at home, and we're thrilled to bring some of these flavors into Baskin-Robbins shops across the country this November," said Charlie Nutting, brand marketing director at Inspire Brands, the chain's parent company.
In the spirt of giving thanks, Baskin-Robbins is also offering a free kids scoop of ice cream to customers spending $15 or more at its stores starting on Thanksgiving Day (November 25) through the end of the month.