Schwan's Consumer Brands, Inc. has launched Bon Appétit, a specialty frozen pizza brand featuring a thin, artisan crust and ingredients chosen to pair well with a glass of wine and a salad.
"Meals should be moments that matter, especially for those who appreciate fine food and the good times in life. Bon Appétit thin crust pizza is crafted for the consumer who wants to connect and linger over a delicious meal at home," said Kevin McAdams, president of Marshall, Minnesota, USA-headquartered Schwan's Consumer Brands.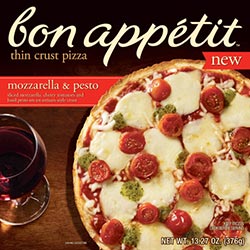 Formulated to appeal to sophisticated tastes, the line features high quality ingredients such as basil pesto, sliced mozzarella and halved cherry tomatoes, resulting in a more upscale flavor profile. Its 10-inch product size is designed to fit in with a variety of eating occasions ranging from "girls' night in" to book club gatherings, grilling out and more, while delivering value for money.
Five varieties are offered, featuring 100% real cheese and sauce made from vine-ripened tomatoes. All are easily prepared straight from the freezer, either oven-baked or grilled. They are:
Mozzarella & Pesto, which is accented with tangy basil pesto, sliced mozzarella and cherry tomatoes.
Spinaci, featuring a combination of mozzarella, Asiago and Parmesan cheese, spinach and garlic sauce.
Pepperoni & Pesto is a combination of pepperoni, basil pesto and a zesty herb blend, along with mozzarella, Provolone and Parmesan cheeses.
Roasted Vegetable offers fire-roasted tomatoes, red onion and red, green and yellow bell peppers paired with a blend of mozzarella, Romano and Parmesan cheeses.
Trio Bacon is a combination of Canadian bacon, traditional bacon and Pancetta, caramelized sweet onions and mozzarella cheese.
About Schwan's
Schwan's Consumer Brands, Inc., a subsidiary of The Schwan Food Company, produces and markets a wide variety of frozen products ranging Red Baron, Freschetta, and Tony's pizza, Mrs. Smith's and Edwards desserts, Larry's potatoes and Pagoda Asian-style foods. Its products are available in grocery and club stores throughout the United States.