All three of Cool Beans' globally inspired frozen plant-based wraps are now available at Sprouts Farmers Market grocery stores throughout the United States, the Chicago, Illinois-headquartered producer announced on October. 7. Distributed in 5.5-ounce (156g) single-serve packs, the protein rich product line is gluten-free and contains only non-GMO ingredients that have been minimally processed.
"Not long ago the frozen wrap category was lackluster and lacked innovation. Cool Beans set out to change the 'convenience store burrito' stereotype by offering unique flavors," said CEO Tyler Mayoras. "We are committed to plant-based, but we want consumers to experience our food, where you can see and taste whole beans, rice and vegetables. Our products are balanced food that's good for you and your karma."
Cool Beans varieties are available in Moroccan Gold, Spicy Chipotle and Tikka Masala flavors, and can be found in the frozen food sections of all 344 Sprouts Farmers Market locations, as well as at Midwest retail outlets including Plum Market, Hy-Vee and Dierbergs.
 The Moroccan Gold recipe, inspired by outdoor spice markets of the Maghreb region of North Africa, features kidney beans. Spicy Chipotle offers a bold kick of poblano chili peppers, black eyed peas and a flavorful mix of vegetables. The Tikka Masala wrap blends chick peas with traditional Indian-style spices and coconut milk for a rich and aromatic flavor that is both sweet and peppery.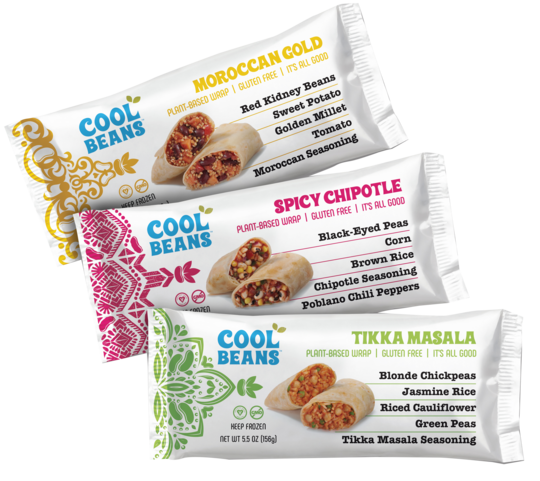 Believing that there are three major factors driving the migration of flexitarian consumers away from diets centered on animal products to more plant-based foods, Cool Beans Co-Founder Eric Schnell remarked: "Whether for personal health, environmental or animal welfare reasons, more people are opting for plant-based products as a long-term, conscious choice. Our innovative approach within this rapidly changing market is to provide a convenient, whole food, plant-based option – but one made without processed meat alternatives."
World Finer Foods
Unlike other vegan food brands that are processed and filled with empty calories, all Cool Beans wrap varieties are packed with bean power and made with plant-based protein and nutrients that don't weigh down the consumer. That's why Bloomfield, New Jersey-headquartered World Finer Foods, a leader in building brands from around the globe, is managing sales and distribution efforts and is an investment partner that supports Cool Beans' expansion plans throughout North America.
"We celebrate the growth of Cool Beans into the vastly enhanced and increasingly important frozen food category. The company delivers unique and convenient innovations that consumers are looking for," said Susan Guerin, chief executive officer of World Finer Foods. "We are proud to leverage our expertise in sales, marketing, and distribution of high-quality foods as we partner with Cool Beans on its journey to success in this multi-billion-dollar industry."