The DiGiorno frozen pizza brand is celebrating National Pizza Month this October in the United States with a "31 Days of DiGiorno Sweepstakes," in which consumers can vie for a chance to win merchandise as well as pizza. Plus, a lucky contestant will be chosen at random to win the "Ultimate Pizza Experience" – a $5,000 check, which can be used to cash in on one of the following:
• Pizza Pass: Tickets to a concert, comedy show or pro sports event
• Fresh-Baked Slice of Life: Pizza-inspired trip anywhere in the United States
• Taste of Italy: Pizza tour through Italy
"As the top frozen pizza brand in the category, we know how much people rely on pizza – whether it's for big occasions, pizza night with the family or even breakfast," said Kimberly Holowiak, DiGiorno brand manager at parent company Nestlé USA. "With 31 Days of DiGiorno, we not only want to celebrate National Pizza Month in a notable way, but also help enhance pizza occasions for everyone and reward our fans' loyalty."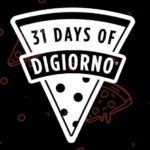 How To Enter
Now through October 31, there are three ways to enter the sweepstakes up to three times each day:
• Online sign-in entry: Visit the designated sweepstakes page and follow the instructions to sign up. Then enter daily by simply signing in.
• Shop and upload a receipt photo: Purchase any DiGiorno pizza from October 1- 31, then visit the sweepstakes page and upload a photo of the receipt that clearly shows the date and time of the purchase.
• Snap a 'Pizza-ccasion' shot: Submit a memorable 'pizza-ccasion' photo to the sweepstakes page each day! The picture may well be re-posted on DiGiorno social media channels.
DiGiorno, which was founded as a pasta and sauces company in 1991, has been selling frozen pizza throughout North America and beyond since 1995. Promoted as "pizzeria quality," the wide range of products features toppings including cheese, pepperoni, sausage, beef, chicken, bacon, supreme, veggie, spinach and more. Rising Crust, Stuffed Crust, Personal and Breakfast Croissant are among many varieties offered in retail stores.