Dippin' Dots, the Paducah, Kentucky-based beaded ice cream brand, has announced that its recently launched ICEE Cherry 'n Blue Razz flavored ice will be in higher profile as the weather warms. The colorful combination comes on the heels of Mount Laurel, New Jersey's J&J Snack Foods' purchase of Dippin' Dots in June of 2022.
The mashup mix of classic ICEE cherry and raspberry flavors and Dippin' Dots' frozen beads will be in high profile this summer at sports stadiums, amusement parks and other entertainment venues. It is now available at Dippin' Dots retail outlets, shopping centers and convenience stores across the United States, as well as online for purchase in scoopable bulk and individual serving pre-packs.
"A sweet collaboration between two beloved brands is impossible to pass up," said Dan Fachner, president and chief executive officer at J&J Snack Foods. "When we acquired Dippin' Dots last year this is exactly what we had in mind – combining our expertise in frozen novelties to create new, exciting products for customers and fans to enjoy."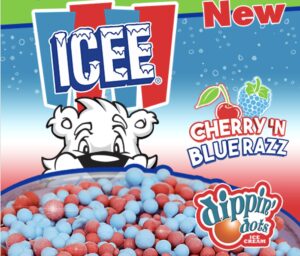 Fachner added: "The response to the new Dippin' Dots ICEE Cherry 'n Blue Razz flavored ice has been overwhelmingly positive, with nearly 400,000 servings sold already during the coldest part of the winter."
Dippin' Dots has produced a wide range of flash-frozen beads of ice cream, yogurt and flavored ice since 1988 at the company's factory in Kentucky. In addition to the USA, customers in seven other countries are served through franchised and direct distribution networks.