As fallout from the Great Recession continues to affect the United States, which is experiencing the slowest economic recovery since reliable statistics have been collected and crunched in modern times, what has the impact been on retail frozen and refrigerated food sales?
Future growth for frozen and refrigerated food categories "will be dictated by innovation efforts and how you connect with customers that matter the most, along with your ability to create demand across diverse population segments," says Nielsen's Todd Hale.
People have to eat, so the US food industry must be recession-proof, right? If folks are dining out at restaurants less and eating at home more, shouldn't retail frozen sales be benefiting?
Well, yes, though the aggregate gain has been marginal during the past year at just a tad under 1%. That's about even with the inflation rate for food consumed at home, but less than half of the 2.1% inflation rate for food consumed away from home.
The big winners have been among the so-called fresh food categories, led by meat (+8%), produce (+7%) and deli (+6%). Alcoholic beverages ranked No. 4 in percentage growth at +5%.
Todd Hale, Nielsen's senior vice president of consumer and shopper insights, provided a detailed, "by the numbers" analysis of the market in a "State of the Industry" presentation made during National Frozen & Refrigerated Foods Convention held recently in San Diego, California.
"The economic climate is still problematic, and consumer confidence is on the right track," he said. "But their ability to spend is impacting recovery and future growth," he told the gathering of food retailers, manufacturers and suppliers.
Indeed, for most Americans there is less disposable income on hand as median household income has declined in nine of the last 13 years. Pre-tax income in 2012 was $51,017, compared to $55,987 in the year 2000, according to the US Census Bureau.
Breaking it down demographically in terms of race and ethnicity, Blacks and Hispanics have been hit the hardest, as their median household income respectively fell -15.8% and -11.8%, retreating from $39,556 to $33,321 and from $44,224 to $39,005. Asian-American median household dipped -7.7%, from $74,343 to $68,636, while non-Hispanic Whites experienced a -6.3% decline, from $60,831 to $57,009.
During the same period, the price of gasoline paid at the pump by automobile drivers more than doubled from approximately $1.50 per gallon to nearly $4 in some states. While fuel costs have stabilized recently, they remain "painfully high" for most consumers at well over $3 a gallon, said Hale. The average motorist is paying approximately $1,200 more per year to fill the gas tank than in the recent past.
But the pain is not shared by all consumers, he pointed out, as the top 1% of earners in the United States saw their incomes escalate by nearly 20% in 2012, compared to an average of just 1% for others holding jobs. And for those without work (the official jobless rate is 7.3% nationwide), the buying power of limited duration unemployment insurance compensation is significantly less than that of steady payroll checks.
The unofficial "underemployment rate" (which includes workers who have given up searching for a job, search infrequently, or have part-time jobs that barely pay the bills) is believed to be over 15%, though no statistics for this group are available from the government.
"The top 1% took in 19.3% of all income last year, the biggest share in Internal Revenue Service figures since 1928," said Hale. In 1974 their piece of the economic pie was just 7.7%.
As America's middle and lower-middle classes struggle to find ways to make more of their decreasing purchasing power, it comes as no surprise that sales are increasing in 'value' channels (club stores, dollar stores, mass-merchandisers, supercenters and military commissaries) across the country.
Meanwhile, even as the Great Recession has created a "new norm for private label, brands are hanging tough," commented Hale.
Frozen and refrigerated food retail sales combined topped $126 billion during the 52-week period ending on August 3, 2013, according to Nielsen Scantrack, which monitors UPC-coded purchases. While this was up 2% from the previous year, unit volume rose just 1% – same as the average unit price.
In scrutinizing the two categories, one finds that frozen sales at all measured channels rose +0.9% to $50.2 billion, while purchases of refrigerated products advanced +2.0% to $75.9 billion. Interestingly, sales of frozen products declined by -0.7% in supermarkets while refrigerated product purchases advanced by +0.7%.
The value market is where the greatest growth was seen for both categories: +5.1% for refrigerated and +4.1% for frozen.
Frozen sales fell -1.4% in convenience stores, while the value of refrigerated transactions rose +2.6%. Both categories logged 1.8% gains in drug stores.
Prepared frozen foods, which rang up approximately $8 billion in sales at supermarkets during the 52-week period – behind beer and ahead of paper products – ranked No. 9 in the "Top 10" selling categories at supermarkets. However, paper sales are well ahead of frozen prepared foods in other retail outlets, generating about $22 billion per year, compared to $14 billion for prepared frozen foods.
Noting that innovation and demand are driving growth, Hale pointed out that the frozen fruit segment (which includes desserts and toppings) racked up an impressive +8% gain in dollar sales, followed closely by breakfast foods at +7%.
Sales of unprepared meat and seafood rose +3%, while ice cream scooped out a +2% gain, and the pizza/snacks and baked goods segments respectively logged +1% results.
Frozen fruit sales are benefiting from the trend toward greater demand for "better for you" items among wellness-minded consumers. At the same time, noted Hale, indulgence products such as upscale ice cream "can still be winners."
Frozen fruit sales are sweeter than ever these days, and so is the popularity of indulgence products. Put the two trends together and you get Dole Banana Dippers with Almonds. The product, sourced from the Philippines, features fresh frozen banana slices covered in dark chocolate. Six individually wrapped packages, each containing four slices, come per box. The calorie count is only 120 calories per pack.
Sales of frozen vegetables and prepared foods were flat during the last year.
On the downside were frozen juices and drinks, -11%; ice, -7%; and novelties, -2%.
Sales growth rates for frozen private label products have outpaced brands during the past two years, though in terms of absolute dollar value brands advanced an average of $0.35 billion compared to $0.15 billion for private labels.
Nielsen Scantrack reported UPC-coded frozen brand sales at a relatively flat $38 billion in both 2012 and 2013, at +1% and +0.9%, respectively. During the same period, private label growth was reported at +2.5% and 1.3% on sales of approximately $10 billion.
However, branded refrigerated food sales scored better than private label, driving growth in both 2012 (+2.4% to $45 billion) and 2013 (+2.7% to $46 billion). During the same time frame private label sales were flat at $25 billion (down -0.2% in 2012 and up +0.5% in 2013). In absolute dollar terms, branded refrigerated product sales gained $1.2 billion, compared to $0.1 billion for private label.
Citing Nielsen Homescan statistics for the 52-week period that ended on December 29, 2012, Hale reported that there were similarities in private label purchases among America's rich (those defined as making $200,000 or more per annum) and poor citizens (earning $25,000 or less). But there were pronounced differences in branded product purchases, where higher income consumers opted for more frozen pizza, snacks, breakfast foods, desserts, fruits and toppings.
Looking at demographic drivers, Nielsen Homescan confirmed that both frozen and refrigerated categories have broad appeal among all income groups. Refrigerated products, however, are more appealing to affluent and young consumers.
Females overwhelmingly continue to be purchase decision makers, accounting for 68% of all frozen food buys.
On average, according to Hale, heavy buyers of frozen and refrigerated products spend about twice as much per annum as do other shoppers. The heaviest buyers in both categories were members of large families, while there was a broader demographic base among heavy buyers of refrigerated foods.
The frozen purchase ratio was calculated at $754 among heavy buyers to $ 343 for others, compared to $757 to $376 for heavy buyers of refrigerated products.
Dollars per transaction were higher for heavy frozen buyers at $14, compared to $10 for heavy purchasers of refrigerated items.
As for purchase occasions, heavy buyers of refrigerated products averaged 74 transactions per year, compared to 48 for non-heavy buyers. The ratio was 55 to 33 among like purchasers of frozen products.
Wrapping up the "State of the Industry" presentation, Hale offered four key takeaway points:
Financial headwinds and ability to pay are long-term issues.
Manufacturers and retailers need to innovate and work harder than ever to differentiate their offerings and give consumers a reason to buy.
Focus should be sharpened to better connect with consumers who matter the most.
The pace of change will continue to escalate, so if you aren't thinking about it all the time, you can be sure that someone else is doing so.
Following Hale's remarks, a panel of food manufacturers and retailers offered comments about trends and fielded questions.
Shawn Buckner, group vice president of merchandising for Grand Rapids, Michigan-headquartered Meijer, Inc., addressed the electronic revolution and how it is reshaping shopping behavior.
"Our digital platform is becoming more important," he said. "We are communicating with customers faster and better than with print advertising. And we are finding that customers are trading both up and down."
Steve Mayle, vice president of trade and marketing for Minneapolis, Minnesota-based General Mills, said that his company is stepping up marketing programs targeting both low- and high-income consumers.
"We have to know customers better than they know themselves," he remarked. "Value is different for different customers, so we tailor promotions to particular family demographics."
He went on the say that promotions can range from shifting deal emphasis from small- to large-size packs of Green Giant vegetables, to offering special 10 for $10 deals to encourage shoppers to fill up their freezers.
Jim Walsh, executive vice president of Lynnfield, Massachusetts-based H.P. Hood, LLC, said that his dairy company's broad portfolio has expanded significantly through store brand production and co-packing.
"H.P. Hood got into the Greek yogurt business entirely through a private label platform, as we did not want to get into a situation of competing with a customer," he commented.
That turned out to be a pretty good move, as the Greek yogurt segment has exploded. According to Nielsen, sales have skyrocketed by more than 100% during the past three years. It has been estimated that Greek yogurt could soon account for close to half of all volume in the US yogurt market, which is currently valued at approximately $7.6 billion. – JMS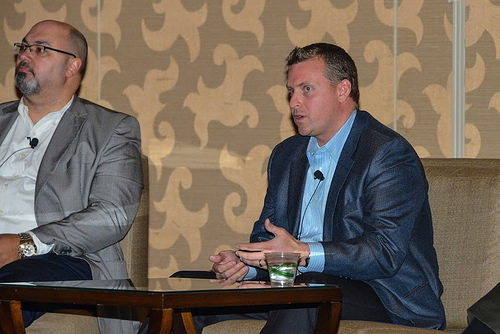 "Our digital platform is becoming more important," says Shawn Buckner (right) of the Meijer supermarket chain. "We are communicating with customers faster and better than with print advertising." Sitting next to him is Steve Mayle of General Mills, who earlier remarked: "We have to know customers better than they know themselves."