Saint Simons Island, Georgia, USA-based Farm Rich has introduced two new frozen products under its Signature Snacks line: Pepperoni Pizzeria Bites and Loaded Potato Skins. Other items in the range include Queso Cheese Bites and Mozzarella Sticks.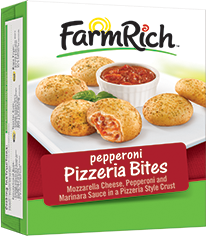 Pepperoni Pizzeria Bites can be found exclusively at Walmart Supercenters, and Loaded Potato Skins are currently available at Delhaize, Ahold and Meijer. Prices vary from $5.49 to $6.99 per box, depending on the retail outlet.
Made with 100% mozzarella cheese wrapped in pizzeria-style crust filled with pepperoni, Farm Rich Pepperoni Pizzeria Bites are ready to be popped into the oven or microwaved for a quick, convenient snack.
"Packed with protein, the cheesy bites with seasoned marinara sauce go from the freezer to the table much faster than waiting for delivery," said Shannon Gilreath, senior marketing manager for Farm Rich.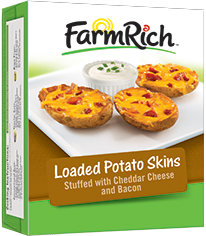 The Loaded Potato Skins bring a classic restaurant appetizer home to be enjoyed anytime. Ready in minutes, the upscale appetizer features Idaho potatoes stuffed with cheddar cheese and bacon.
"Our brand is all about making the busy lives of moms and dads a little easier," said Gilreath.