At the beginning of every year since 2014, various international organizations have mounted campaigns encouraging consumers to adopt vegan diets or reduce intake of animal products. To this end supermarkets and discounters in many countries now offer a large variety of meat alternatives. Jörg Koch, head of innovation at the Rietberg, Germany-headquartered Frostkrone Food Group, addresses the development of vegetarian and vegan diets and product trends in the paragraphs that follow.
"It is not only in the food trade, but also in the gastronomic world that we increasingly see vegetarian and vegan items becoming a regular feature of the products and meals on offer. And the diversity of these products, which has gained a remarkable share of market, has grown enormously," said Koch.
Approximately five per cent of residents in the United Kingdom today declare themselves to be vegan or vegetarian. And according to a survey, during the Covid-19 pandemic every fourth Briton reduced their consumption of animal products. Younger people are much more concerned about things like animal welfare, the environment and awareness of healthy eating. But the older population is also choosing vegan and vegetarian products more frequently. In the light of this, it is assumed that the market for plant-based alternatives in the UK and in the European Union is set to be worth £6.6 billion a year by 2025.
High Concentration of Competence
Koch, who has been with Frostkrone for nearly a decade and is responsible for product development within the entire group, is in contact with all offices via weekly team calls. And every month a joint meeting for the product development teams across all locations takes place.
"We discuss new product concepts and technologies and offer one another support wherever we can," he said. "Within the Frostkrone Food Group there is so much expertise and diverse kinds of competence, so the sharing of knowledge enables us all to benefit from each other's skills. We're always on the lookout for what is changing in the market. What are the new trends? What could we imagine as the new finger food and snack constellations? How can we improve on products?"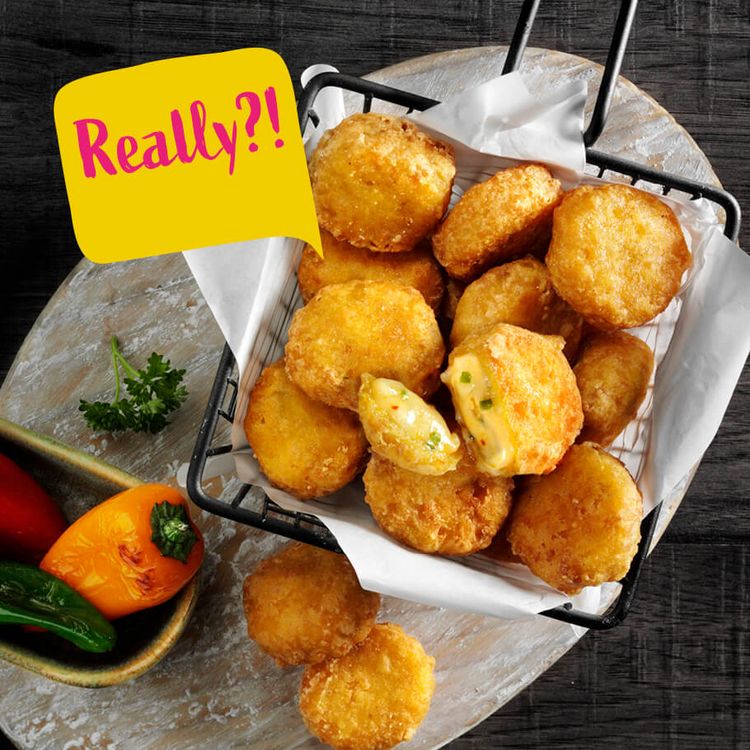 In Germany the UK that the Frostkrone Group offers customers an especially extensive assortment of vegan and vegetarian frozen finger food and snack options. It was only last year that a plant-based food range called "Really?!" was launched in Germany. The line includes:
• Fish Goujons – Vegan fish sticks enveloped in a crispy coating made of rice flakes.
• Vegan Chilli Cheese Nuggets – This treat features crunchy coating surrounded by hot and punchy creaminess made of vegan cheese and fiery chili pieces.
• Fried Chicken – Presented in an aromatic, crispy coating, this vegan-style fried chicken serves up as a tasty snack.
Innovation and Quality
On the subject of food additives, Koch commented: "When the first products came on the market, the list of additives found in many of them was long. I was hoping that we had eliminated many of these. At Frostkrone we have been striving for years to rid our products of modifiers, aromas, flavor enhancers and the like. So for that reason we did not wish to return to such a beginning with the vegan finger food and snacks.
Since then much has changed for the better and Koch now sees all future developments in an optimistic light. "With the vegan products, too, we are heading most certainly towards clean label goods."
Another reason for this is that suppliers have developed new alternatives, thus providing manufacturers with more possibilities.
"The big challenge as regards substitutes or replacers is that we can recreate the taste and consistency of the original ingredient. So in our product development we try out and taste and test and test again until we feel that a product is ready to be launched on the market," concluded Koch.