With consumers embracing the notion of eating more vegetables and lowering their animal protein consumption, 29% of meals in the United Kingdom are now meat- and fish-free, according to Kantar Worldpanel – and 92% of that growth can be attributed to non-vegans.
"The frozen vegetables market is growing by 6.4% said Gareth Thomas, Category Manager – Frozen for fruit and vegetables at Iceland, in referring to Kantar statistics for the week ending July 14, 2019). "They offer a number of benefits versus fresh that are being recognized by customers – value for money, no wastage, increased choice and innovation are widening the appeal. Also the industry is educating more about the enhanced nutrient lock-in of frozen compared to fresh."
Although this is great news for the industry, the spike in sales could be attributed to the current political situation in Britain. The ongoing Brexit saga has seen companies making larger purchases than normal due to the uncertainty surrounding the ease of purchasing following the UK's upcoming departure from the European Union. This has stimulated companies to buy more than usual with the intention of stockpiling.
"Foods deemed as superfoods have also seen an increase in sales," said Mike Hardman, marketing manager at Alliance Online. "Sweetcorn and broccoli lead the charge, with items such as kale, spinach and green beans also enjoying a boost in sales."
Brand Power
The rising figures in the sector have driven innovation, with retailers and foodservice operators providing a wider range of choice to customers. This has also expanded the scope for big brands to compete with own label frozen fruit and vegetable products.
Birds Eye, for example, has invested £6 million in a new marketing campaign called "Eat in Full Colour," which focuses on encouraging consumers to add more essential nutrients and vibrant colour to their plates with frozen vegetables.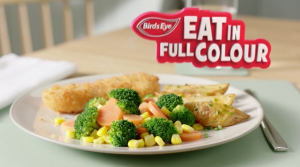 The push, which started in August and will end in December, aims to playfully educate families to eat an array of vegetables for more flavor and texture on their plate. The campaign features on national TV, out-of-home, social media channels Facebook and Instagram, Snapchat lens, Video on Demand and PR.
Steve Challouma, marketing director at Birds Eye, commented: "Eat in Full Colour is our biggest frozen vegetable campaign to date and forms part of our ongoing mission to not only grow the category, but double the consumption of vegetables in the UK. For the vast majority of Brits, vegetable consumption is still lagging behind the World Health Organisation's 5 A Day recommendation, at just 1.6 – hardly surprising given that only 1.2% of all food and drink advertising on TV is for vegetable products."
Frozen food's misconceived reputation as being inferior to so-called fresh food has long been a challenge for the industry, but the fact is that the frozen food category has now overtaken fresh in terms of growth, and opinions are clearly changing.
"This fun and entertaining campaign will inspire the nation to eat a little more goodness every day through our convenient product solutions and tasty recipe suggestions. We want shoppers to realize the overwhelming benefits of using frozen vegetables; how they can be conveniently added to any meal, how many of the nutrients are locked in during the freezing process, and how they can help to minimize food waste," said Challouma.
Frozen Staples
According to the Iceland retail chain, the most popular frozen vegetables remain the smaller variants – petit pois, garden peas, sweetcorn and green beans, with mixed berries, raspberries and blueberries ranked as the most purchased frozen fruit items.
These little green vegetable are big business for the likes of Birds Eye, as peas account for 24,000 tons of the 36,000 tons of frozen vegetables that Birds Eye sells each year.
"Close behind peas and sweetcorn are carrots and broccoli," said Hardman. "Carrots' popularity is thanks to their multifunctional applications to a variety of dishes and numerous serving formats. Broccoli's high ranking on the frozen veg scale is a result of two aspects. Firstly, it has a ubiquitous nature when it comes to what it can be served with. The second is due to its new-found status as a superfood. Health advocates champion broccoli as a must have in your diet due to its high vitamin and mineral content."
Healthy Profits
Veganism has increased among consumers, while any non-vegans are opting for flexitarian diets that include more plant-based food. This has resulted in a rise in demand for a greater variety of frozen fruit and vegetables that includes items not traditionally seen in freezer aisles, such as butternut squash, avocado and edamame.
Iceland, for example, has widened its range of frozen vegetable products to encompass more varieties that includes tenderstem broccoli, edamame beans, broad beans and sugarsnap peas. To enhance the value the brand promotes a deal offering any five for £4 promotion.
"Fruit ranges are also expanding away from the core," pointed out Thomas. "We've introduced frozen pomegranate, avocado chunks, pineapple and mango, alongside some pre-mixed smoothie products that can be used straight from the freezer. We have just relaunched our fruit offer, with a range of £2 packs at two for £3 which encompasses core fruit lines as well as smoothie mixes."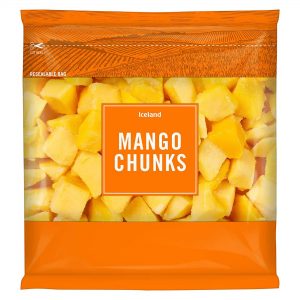 The trend towards clean eating and convenience has seen major supermarkets, including ASDA, Tesco, Morrisons and Sainsbury's, stocking own label fruit for smoothie mixes.
With Mintel reporting that 43% of Brits have consumed smoothies in the three months to August 2018, with 3% indulging in smoothies daily, 7% drinking them two to six times a week, 11% once a week, 9% two to three times a month, and 14% once a month or less, there is clearly serious profit potential to be had.
Seasonal Sales
Of course, the beauty of frozen food is that seasonality will not affect the availability of frozen fruit and vegetables. However, certain items are in higher demand at specific times of the year.
"Once the UK is in full autumnal swing you will find menus beginning to offer Brussels sprouts in place of cabbage," said Hardman. "Red cabbage also enjoys greater use during the colder months, its heavier weight of flavor, along with its sweetness makes it ideal winter roughage."
The seasons have equal influence on fruit sales too, with summer fruits such as raspberries, strawberries and redcurrants in high demand during the warmer months. Similarly, apples and darker fruits such as blackberries are go-to options when it's colder, as they are perfect for wintery desserts like pies and strudels.
With better education surrounding the benefits of frozen fruit and vegetables and the trend towards clean eating, this sector has experienced significant growth. It's likely that this growth within the frozen fruit and vegetable sector will continue for the foreseeable future. – Reported by Sarah Welsh