Crush Cubes, a Westlake Village, California-based company with a fresh take on frozen ingredient cubes, is introducing a line of flash-frozen, individually-sealed, pop-and-use herbs, butters, sauces and seasonings.
Made in the USA with locally-sourced ingredients at a BRC-certified plant, Crush Cubes are aimed at today's generation of busy, at-home cooks who want the quality of a home-cooked meal but without the hassle of peeling, chopping, measuring or mess. The products' convenient design brings variety and ease to the kitchen and allows consumers to spend less time cooking.
Crush Cubes' flash-freezing production process preserves the original taste, colors and nutrients of each fruit, vegetable and premium ingredient sourced. No artificial flavors, colors or preservatives are used. All varieties are natural, gluten-free and hormone-free. In addition, the product's packaging is designed to prevent freezer burn and maximize shelf life. Available in trays of 24 portioned, ready-to-use cubes, current offerings include:
Herbs: garlic, basil, cilantro, ginger, parsley, dill, epazote and shallots (all vegan)
Butters: garlic and herb butter, maple butter (hormone free)
Sauces & Seasonings: pesto, teriyaki, chicken (all-natural, no preservatives)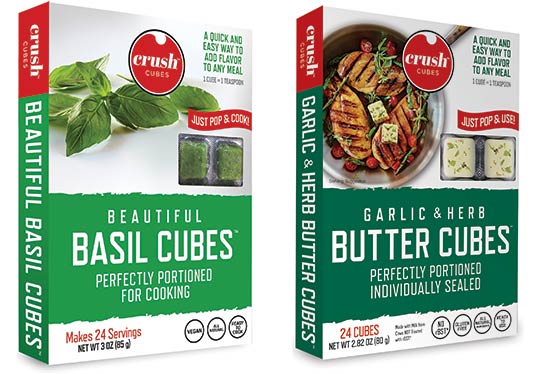 "Freezing is nature's purest preservative," said Crush Cubes founder and 30-year food veteran Jon Startz. "It captures ingredients at their peak of freshness. Our cubes make it easy for on-the-go cooks to add fresh, all-natural ingredients and bold flavors to their meals with little prep time, which means more time can be spent with the family and living life."
As for value, the cost per serving is much lower in comparison to purchasing ingredients separately. Furthermore, there is no need for concern about certain herbs being out of season or about produce going bad before it is used.
Crush Cubes can be used in the preparation of poultry, meats, seafood, stir-fry recipes, pastas, sauces, dips, salads, soups, omelets, stews, curries and other dishes. The three-ounce packages, which take up little space in the home freezer, are available at retail stores throughout the USA priced at approximately $3.99 for the herbs and butters and $4.99 for the sauces and seasonings. The products are also distributed in bulk size packs for foodservice customers.
The debut of herbs, butters, sauces and seasonings is just the beginning of Crush Cubes' plans. Startz is working to take the line into new territory with an introduction of rice seasonings, soup-er cubes, smoothie supplements, and beverage/cocktail cubes.