Gardein Protein International Inc., the Vancouver, BC, Canada-headquartered producer of gardein, a plant-based protein, has added three gluten-free products to its retail range: beefless ground, veggie burger and black bean burger. Each is made with non-GMO soy, pea proteins and vegetables.
Containing 84% less fat than regular ground beef, and featuring a meat-like texture, gardein beefless ground is promoted as a "healthy and easy way to make burgers, wraps, tacos, burritos, chili, meatballs, sloppy joes, shepherd's pie, or for use crumbled up in pasta sauce or on top of nachos."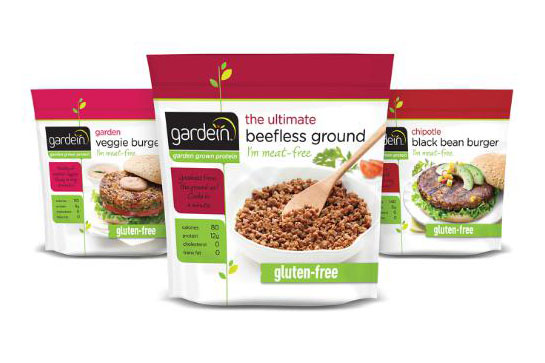 Gardein veggie burgers are touted as "an excellent source of vitamin A, and a good source of fiber, while the gardein black bean burger is loaded with fiber. Both products are poised to hit the frozen food sections of stores throughout the United States in April of 2014.
Meat consumption has reportedly been on a steady decline in the US for nearly a decade, with per capita consumption projected to decrease by 4.8% in 2014. Over one-third of Americans are said to eat meat alternatives for a variety of reasons, including concerns over their health, food sustainability and food safety.
Consumers are also increasingly seeking gluten-free options, as the US market for such products has reached $4.2 billion in annual sales, with a projected increase to $6.6 billion by 2017. While there has been an increase in individuals with gluten allergies, over 30% of adults are cutting back or avoiding gluten for health benefits as opposed to medical necessity. According to The NPD Group/Dieting Monitor (52-week data ending January 30, 2013), there are perceived health benefits to not eating gluten.
"We are excited to introduce these delicious, gluten-free beefless products," said Yves Potvin, founder of gardein. "As so many consumers move to a gluten-free lifestyle, it was a natural next step to develop these products and fulfill an important market need."