Eli's Cheesecake, a Chicago-based producer of frozen dessert products, has launched a promotion to "share the love with those who keep us safe." For every Valentine's Day cheesecake purchased online by February 10 for delivery on the 14th, the family-owned and -operated company will donate a cheesecake to front line workers at Cook County's John H. Stroger, Jr. Hospital in Chicago and Alivio Medical Center in Pilsen.
The mail order menu includes:
• Eli's Sweetheart Cuties. Bite-sized frozen squares of Original Plain Cheesecake (pictured below), enrobed in bittersweet chocolate, all dressed up for Valentine's Day.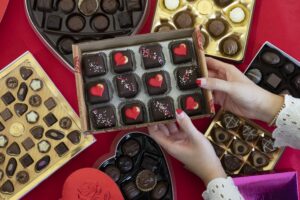 • Eli's Valentine's Day DIY Dipper Decorating Kit. Includes six frozen "naked" Original Plain cheesecake slices on sticks, Belgian chocolate for dipping, and fun decorations.
Then there are heart-shaped cheesecakes in three flavors, as detailed below:
• Turtle. Caramel cheesecake topped with bittersweet chocolate, caramel and toasted pecans.
• Six Miniature Belgian Chocolate Hearts. Made with deep, rich Belgian chocolate, topped with a crunchy layer of chocolate and hazelnuts, dusted with imported cocoa.
• I Heart Cheesecake.  White chocolate cheesecake topped with whole raspberries.
 About Eli's Cheesecake

In 1980, Eli Schulman declared cheesecake would be the signature dessert for his legendary Chicago steakhouse, Eli's The Place for Steak. His unconventional fast and hot baking method resulted in the creation of "Chicago style" cheesecake: a caramelization on the outside and a creamy consistency on the inside, baked on an all-butter shortbread cookie crust.
For more information, visit: www.elicheesecake.com